SEH started as a one-person operation during a time of exceptional growth and change around the country. Since, it has become a nationally recognized Company of more than 900 engineers, architects, planners and scientists.
But all of that growth didn't happen without solid principles.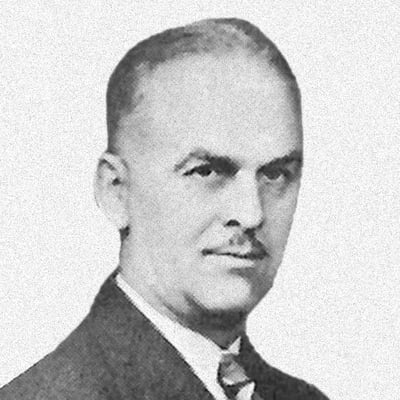 Family beginnings
SEH began in 1927 as a family endeavor in a small Minnesota suburb when Percival (P.R.) Bannister launched, "P.R. Banister, Consulting Engineer." The one-man firm in North St. Paul, Minnesota, quickly outgrew both its office and name. By 1934, the Company became "Banister Engineering Company" and moved to the City of St. Paul, Minnesota. In the beginning, Banister worked primarily on survey and rural electrification projects. Many of the clients that our Company served in the late 1920s and 1930s are still SEH clients today. Banister always kept his clients' best interests in mind, operating with the same values we have today: honesty and integrity.
As the country entered World War II, businesses pitched in to help with the war effort, which was common with companies across the United States at that time. Banister Engineering Company did its part by teaming up with an outstate engineering firm and working on millions of dollars' worth of major defense projects, including a $13 million Army air base in Sioux City, Iowa. Other efforts included working with the Aluminum Company of America, supervising aluminum casting and extrusion plants in Minnesota, Indiana and Missouri.
By 1945, the Banister Engineering Company had begun its journey into the Company we are today.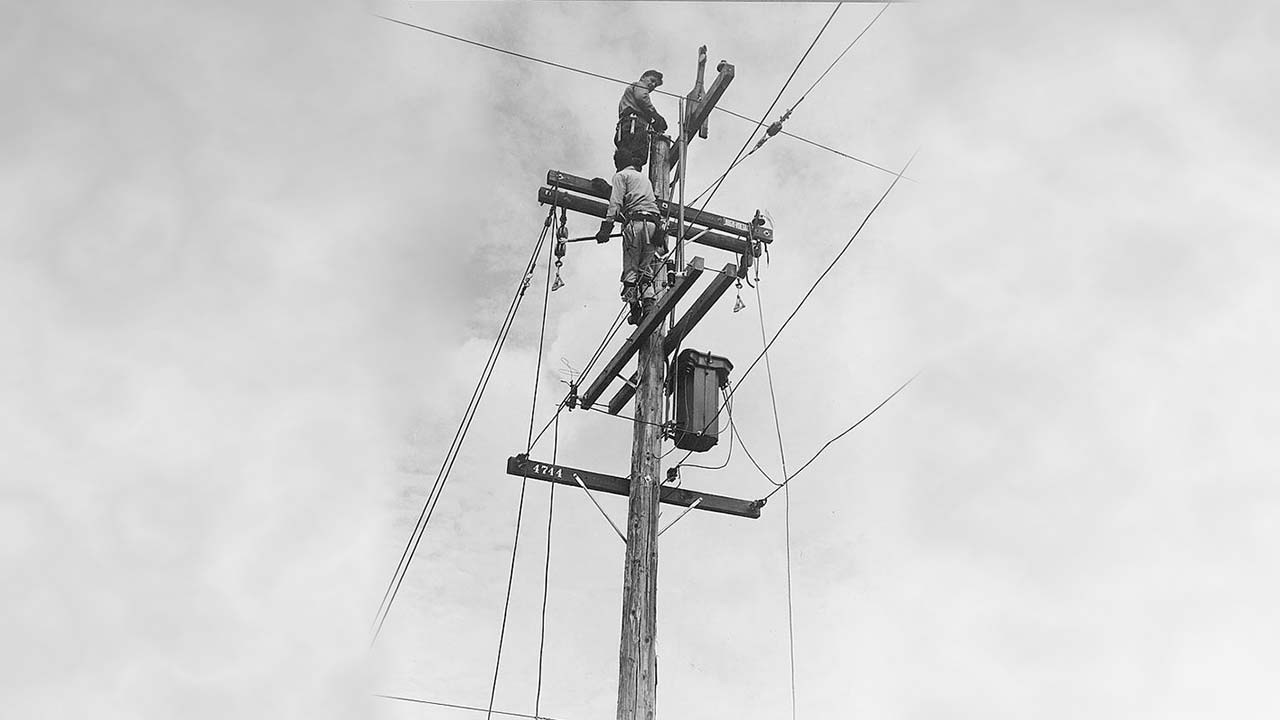 Father-son team
P.R.'s son, Bill (A.W.) Banister, joined the Company in 1945 and his positive impact was felt right away. Bill developed a Municipal Division, alongside a Rural Electrification Division that same year. That creation helped build the framework for the kinds of work SEH does today. At that time, there was a team of seven – the Banister men were the only professional engineers.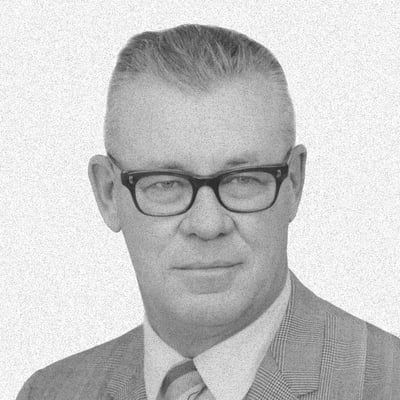 Roger Short
1947 ushered in a new era for our Company, as an enterprising young engineer, Roger Short, joined the team.
Roger Short, a 1942 civil engineering graduate of the University of Minnesota, specialized in all phases of water and sewage work. Roger was known for his gruff, yet amicable nature. He became partner in 1952, a year that would mark a turning point for the Company.
During the early 1950s, homes without electricity became scarce, prompting the Banisters and Roger Short to make the decision to phase out the longstanding Rural Electrification Division. By 1952 our company stopped doing this kind of work. But not before bringing power and light to more than 60,000 farms across Minnesota, Wisconsin and North and South Dakota
As the 1950s drew to a close, our Company lost founder P.R. Banister, his death closing one chapter of our SEH history and opening another.
From the beginning through the 1950s, the early team of engineers worked on many of the same kinds of projects SEH works on today. Projects like waste treatment plants, sewer and water supply systems, street and bridge projects, cemetery layouts, airports, and rural electrification distribution systems highlight our early resume. There were also a large number of private clients in our early work history.
A time of growth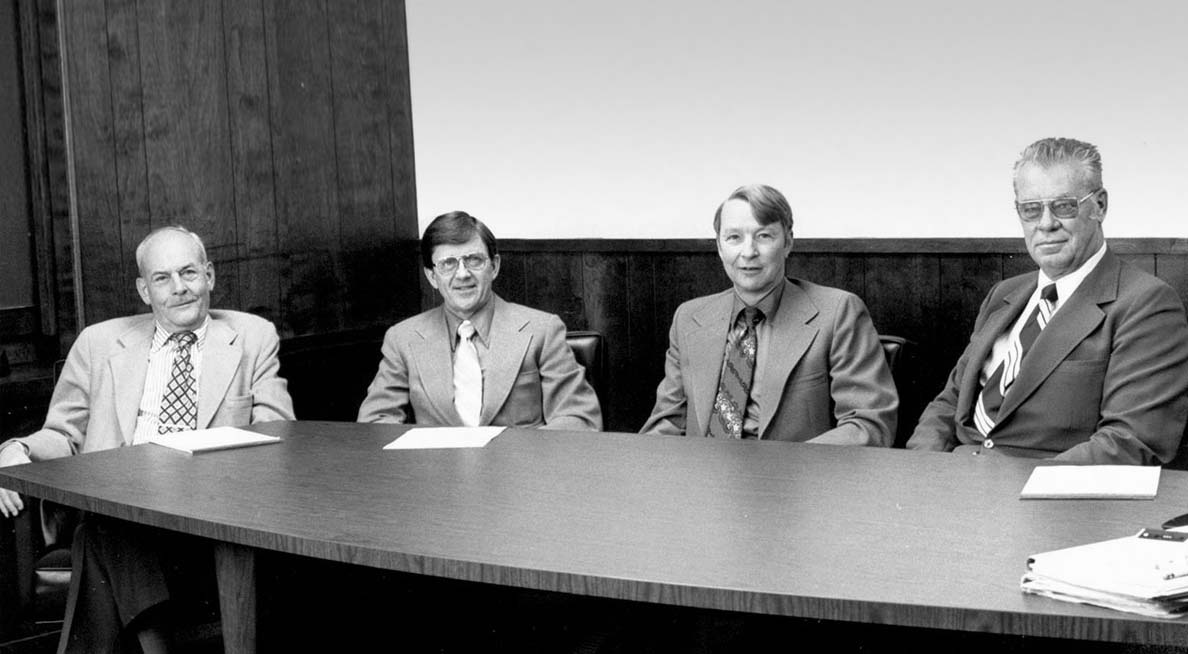 Our Company saw exceptional growth in the 1960s – growth in both the projects we worked on and the people that worked here. It was that foundation of hiring good people that remained key to our growth.
Banister Engineering Company expanded beyond Bill Banister and Roger Short. They hired more engineers, and added additional services to our repertoire.
Notable figures in our history were hired in the 1960s: Duane Elliott, Norman Hendrickson, Gary Gray and Don Lund. Elliott, Gray and Lund would each eventually serve as company president.
By the mid-1960s, SEH had four principals, Banister, Short, Elliott, Hendrickson, nine registered engineers and a team of 38.
Expanding portfolio and geography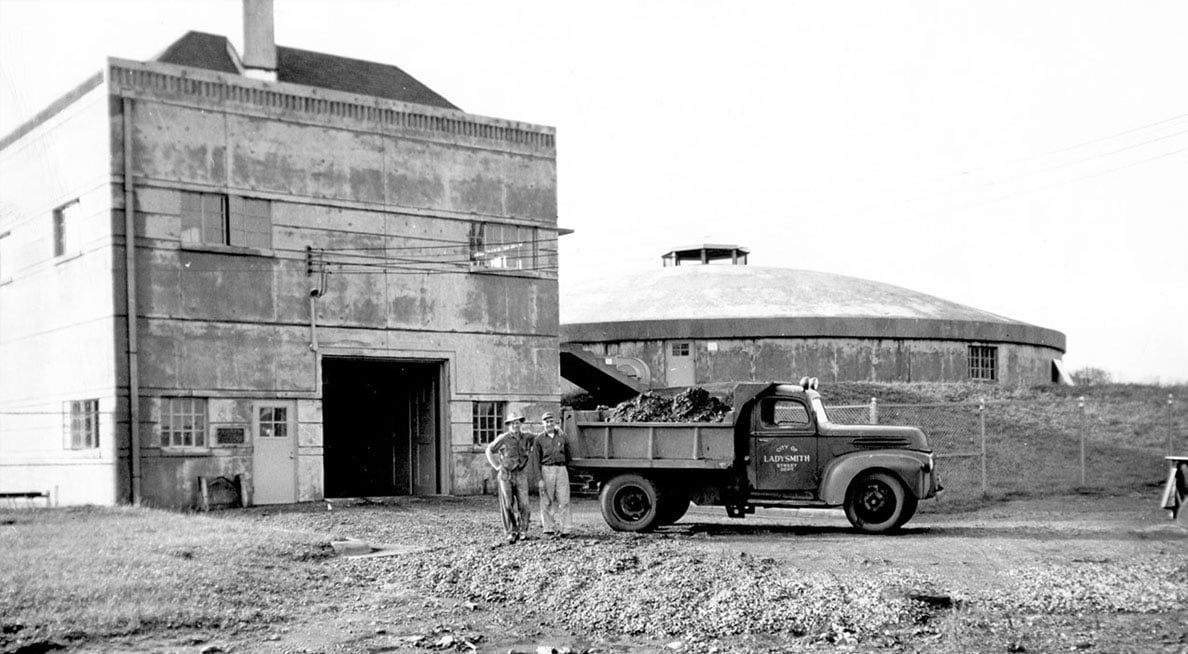 The growing team worked on an ever-expanding portfolio of projects. While sanitary sewers and sewage and wastewater treatment plants remained our backbone of work, other projects emerged as well. Water supply, treatment, storage and distribution system projects began to take off as well. Banister Engineering-built water towers and plants sprang up across Minnesota and Wisconsin.
A notable project in 1963 included the plans, specifications and supervision of construction for a water booster station and supervisory control system for a 1.5 million-gallon elevated water tank for the growing City of Roseville, Minnesota. That water tower is still in operation today.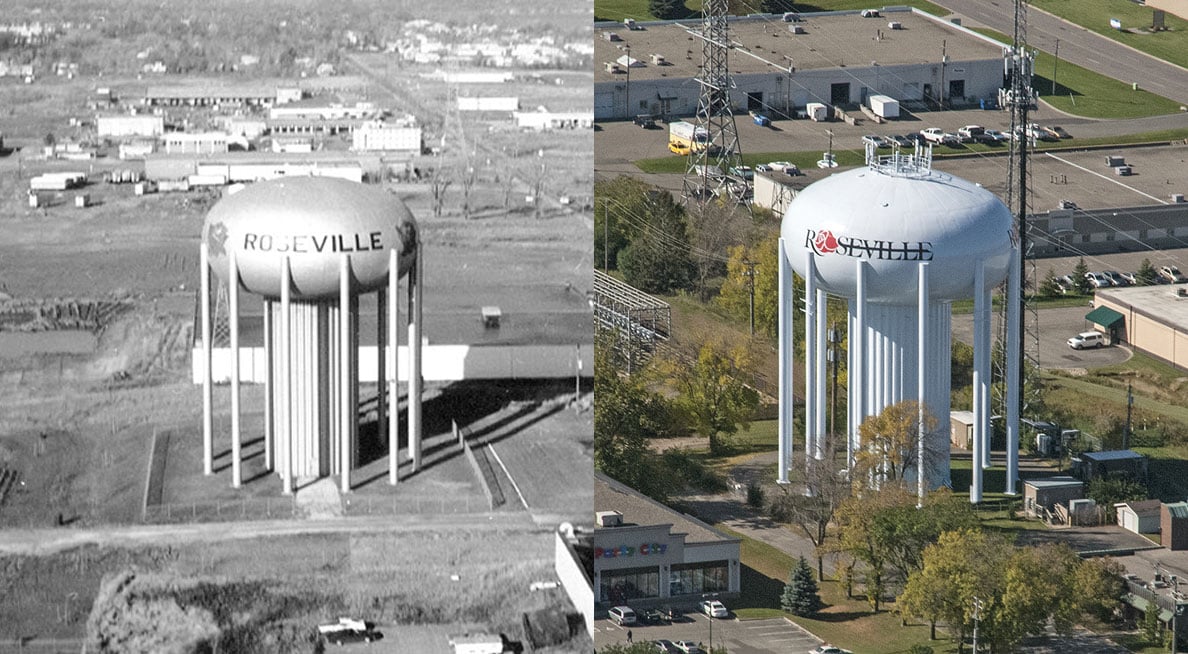 Our Company also added storm sewer and transportation projects to our resume. We began working with more private clients, including Andersen Corporation, the Boy Scouts of America, Culligan and the Y.M.C.A.
By the 1970s, our Company continued to expand services. In 1971, Duane Elliott and Norman Hendrickson were named partners. That same year, our name was changed to Banister, Short, Elliott, Hendrickson & Associates, ushering in the modern era for our Company.
SEH also opened a second office in the 1970s. The Chippewa Falls office in Wisconsin opened in December of 1973. Gary Gray was the office manager there until 1987.
Complex projects
By this time, complex projects began to emerge as a Company trademark.
Design and technical work now coupled with environmental and social concerns, legal and funding issues and planning and inspection processes. Downtown developments and shopping mall projects, along with complicated highway and interchange designs now sat alongside stalwart projects like wastewater and water supply facilities in our catalogue. Some new services began to arise at this time as well.
Computer technology, construction inspection, site planning, environmental studies and government relations were some of the other new services our Company added in the 1970s.
Government legislation at the time also had a significant impact on the industry.
The Clean Water Act
The Federal Clean Water Act of 1972 had a huge impact on SEH and the industry as a whole. The law changed the way we thought about wastewater facilities. Facilities had to be built with more precision than ever before. To reach these high levels of accuracy, they were often computer-controlled, a technology that was new at the time.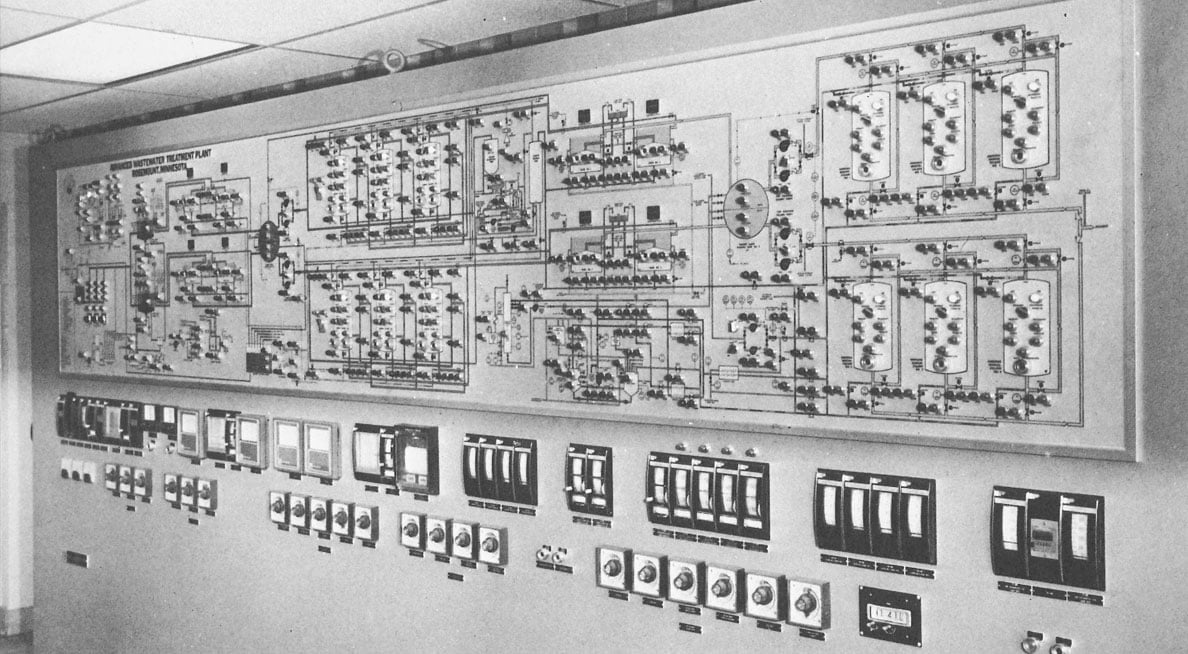 As the 1970s came to a close, so did an important legacy in our Company's history. Bill Banister retired in 1977, 32 years after starting work with his father, company founder P.R. Banister, in 1945. Roger Short would replace Banister as Company president.
The birth of SEH
By 1977, Roger Short, Duane Elliott and Norman Hendrickson were the remaining Company principals. That year we changed our name to Short-Elliott-Hendrickson, Incorporated. It is the same name we operate with today.

Roger Short retired in 1982, ending the classic era of our Company. Duane Elliott replaced him as president and continued to pursue the breadth of projects that dotted our Company history since the early days. Government actions also continued to provide avenues of growth and strategic development.
The Federal Highway Administration established a nationwide bridge inventory to identify deficient bridges and a bonding program to replace them. Following this act, our Company began working with cities, counties and transportation departments to help develop solutions for bridge deficiencies.
Norman Hendrickson retired in 1985, followed by Duane Elliott, three years later. This brought an end to the founding era of SEH. In 1986, we welcomed our first female engineer when Sue Mason joined the Municipal Department as a project engineer. She led a team of civil engineers focused on renewing infrastructure across the Twin Cities metropolitan area. Sue retired in 2023.
By 1988, long-time Civil Engineer Don Lund had taken over as Company president. Lund had been with the company since the early days of Banister Engineering Company, and was poised to bring SEH into our next chapter.
Beyond engineering
In the 1990s, our Company began the first of what would be several mergers over the next couple decades.
In January of 1992, the SEH merger with Pauly, Olsen, Bettendorf, Eastwood & Associates of St. Cloud, Minnesota brought an expanded architectural capability.
As the 1990s moved forward, SEH added technological advancements and a hallmark Company initiative.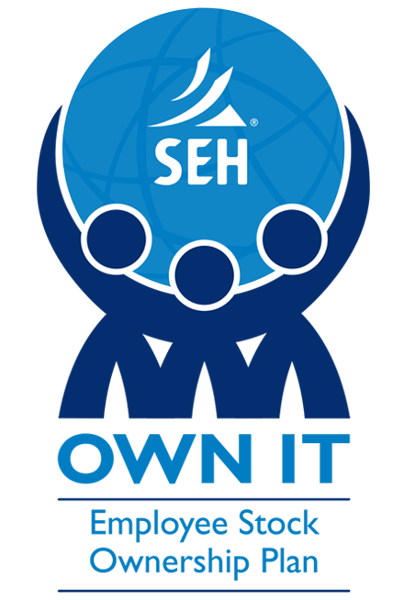 Employee ownership
SEH became employee-owned in 1995, with the installation of the Employee Stock Ownership Plan (ESOP). This program would become the backbone of our Company, giving our employees a unique sense of pride in ownership.
Expanding our footprint
President Don Lund retired in 1997 and was replaced by Gary Gray. Gray first began working for Banister in 1969. Gray also helped to broaden our Company's horizons, expanding our footprint in all directions.
New office locations opened across Minnesota, Indiana, South Dakota and Wisconsin throughout the 1990s and 2000s.
A 1999 merger with Reike, Carroll, Muller (RCM) of Minnetonka, Minnesota, added key office locations and instrumental personnel, including former CEO, Sam Claassen. The merger also brought a solidified base of services and a longstanding list of clients.
Our Company continued to expand in the early 2000s as we ventured west to Colorado, Wyoming and Montana, the result of a merger with four different companies.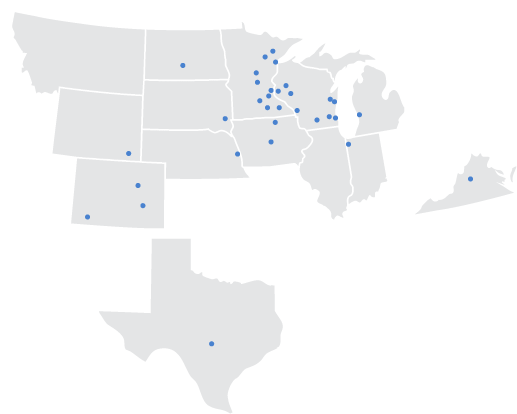 By 2006, long-time Civil Engineer Mike Kraemer became CEO. He had been with our Company since 1974. His expertise would help SEH in some key ventures, including echoing founder, P.R. Banister with beliefs of putting the client first, and relationships built on trust.
Sam Claassen, an RCM veteran and long-time wastewater engineer, was appointed CEO by the SEH Board of Directors in 2010. He successfully navigated SEH through the tough economic times experienced across the U.S. During this time, he introduced the SEH core purpose of Building a Better World for All of Us® and SEH expanded our work internationally, with projects in Canada and South America, while continuing to spread our work across the United States.
In 2019, David Ott was named the CEO/President of SEH by the SEH Board of Directors. Dave's focus is creating a unified vision for SEH where employees have the opportunity to grow their careers and achieve success. He believes leadership is motivating employees to contribute their best ideas and efforts. This leads to company growth and our clients experiencing exceptional service. He inspires us to embrace new technologies, discover innovative approaches and seek opportunities to collaborate to execute and deliver quality work that exceeds expectations.
Four months after Ott took the helm, SEH merged with Russell Planning & Engineering (RPE), a Durango, Colo. company. RPE offered civil engineering, highway design, and planning and land development services to public and private clients in Southwestern Colorado, New Mexico, Utah and Arizona.
In alignment with our commitment to strategically drive innovation and collaboration with valued clients and partners, SEH continued its expansion throughout 2022-23 by opening offices in Michigan, Texas, and Virginia.

An October 2023 acquisition of RAM USA (now RAM Companies, LLC) reinforced SEH's commitment to leveraging technology for improved facility and infrastructure solutions. RAM Companies is widely recognized for its groundbreaking patented technology for facility and infrastructure assessment, specializing in the non-destructive detection, investigation, and resolution of water intrusions in multifamily, commercial, industrial, and institutional roofs and pavement.
Core purpose
At SEH, our core purpose of Building a Better World for All of Us® was founded on the same principles P.R. Banister began with in 1927 – always keeping our clients' and world's best interests in mind. The principles that guided us then coupled with our core purpose today provide a solid foundation that will take us into the future.