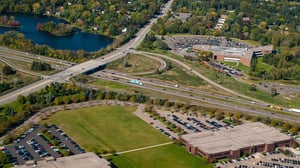 Environmental Services
Our environmental scientists and engineers partner with you to ensure compliance while protecting our land, air and water resources.
Whether transforming polluted land parcels into community assets, restoring damaged waterways, reimagining solid waste management strategies or assisting our clients through complex regulatory compliance and permitting processes, we are experienced in a variety of environmental projects. Our teams of experts provide an array of services for clients in solid waste, mining, chemical and fuel storage, among other facility types and industries.
We help our clients identify environmental issues and mitigate long-term risks though site-specific solutions. We address legacy contaminant issues and emerging contaminants like PFAS and 1,4-dioxane.
No matter the demands of your project, we understand that balancing the needs of your community and businesses with the needs of the environment requires swift action and smart choices.
Related Services
Due diligence
Environmental documentation
Environmental permitting and compliance
Remediation and redevelopment
Solid waste management
Stormwater engineering
Wetland services
Habitat restoration
Invasive species management
Wetland delineation