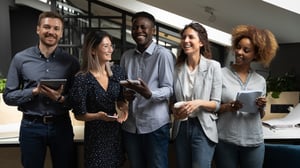 Join us. From anywhere.
At SEH, you'll bring your talents and work alongside employee-owners solving the world's most complex challenges.

Together from anywhere
Whether you work in an SEH office, a hybrid environment or work remotely full-time, you have choices. You can choose where you work best.

Diversity makes all of us better
The Employee Resource Groups (ERGs) at SEH help ensure that our commitment to diversity, equity and inclusion extends throughout the company. Our ERGs connect employees with similar interests and passions, promote inclusion, and create a collaborative (and fun) workplace. The ERGs also provide professional and personal development opportunities and help drive innovation.

Employee-owner
You become part of a 100% employee-owned company when you join SEH. With our Employee Stock Ownership Program (ESOP), employee-owners are rewarded at the end of each successful year. More than that, we know the best ideas come from employees who are vested in the SEH's future.

Enter a workplace that supports you
Are you looking to start a family or perhaps exploring your long-term career growth aspirations? SEH will be there to help you strike a healthy balance between what you do for a living and what you want out of life.

Design a career that grows with you
At SEH, we help you design the framework for the career of a lifetime. Build your technical expertise. Hone your project management skills. Become an expert in your field. Anything is possible. The SEH Associate and Class B Stock Programs recognize and reward employees for strong performance.

Work on legacy projects clients love
Be part of a team that installs a bridge over a bustling metropolitan rail yard, transforms a polluted waterway into a revitalized river, or designs an innovative fire station. At SEH, we're working together to solve complex challenges on award-winning projects that leave a legacy.
Equal Employment Opportunity Statement
SEH is an Equal Opportunity Employer and as such committed to maintain equal pay for equal work and base all employment decisions without regard to race, color, religion, sex, national origin, genetic information, disability, protected veteran status, age, sexual orientation, gender identity or gender expression.
IER Right to Work Poster (English/Spanish)
E-Verify Participation Poster (English/Spanish)
Notice to Third Party Agencies
Please be advised that SEH does not accept unsolicited resumes from recruiters, staffing services, or other employment agencies. If a recruiter or agency submits a resume or candidate without a previously signed Service Agreement by SEH's Director of Talent Attraction expressly requesting recruitment/staffing services for specific position(s), SEH reserves the right to pursue and hire these candidates without any financial obligation to the recruiter, employment agency, or other staffing service. In such cases, any unsolicited resumes, including those submitted to hiring managers or other business leaders, are deemed to be the property of SEH.