How do you reconstruct a major urban thoroughfare home to hundreds of businesses, 130,000 pedestrians and 120,000 cars? With a lot of careful planning.
Nicollet Mall in downtown Minneapolis needed a complete reconstruction to align with the City's goal for better social and pedestrian experiences. The project called for more green space, enhanced sidewalks and gathering spaces, improved lighting and better bicycle and bus transit stops. With 34 million square-feet of office space, famous store fronts and a major bus transit corridor, the project team committed to keep the Mall accessible at all times. Business storefronts had to be accessible, sidewalks needed to be open and traffic had to flow in each direction along the 12 cross streets.
With multiple contractors, a strict timeline and difficult Minnesota winters, the project required a strategic construction plan as well as safety, and accessibility and communications plans.
It began with an important element — phasing.
Construction Phasing
With phasing, a project can progress on four to five construction components at once. Traditionally, a street may close to complete excavation, utility work, grade an aggregate base and pour concrete on both sides of street in separate steps at different dates. This creates potential for long traffic delays for residents or commuters, and the necessity for travelers to choose alternate routes. With phasing, a team has the ability to proceed with excavation on one block, while utility work may be done on the next block and paving on the next. Working in different stages of construction simultaneously allows a project to stay on schedule and maximize efficiency between the different types of construction crews.
The Nicollet project didn't allow for a relaxed construction schedule. Because of the magnitude of the construction work and the tens of thousands of people who walk, bike, bus or travel across Nicollet Mall each day, a carefully planned phased construction approach was the best way to tackle the complexity of the project.
Each intersection along the 12-block project area was required to be rebuilt. To accomplish the task, the team closed half of the cross street to traffic, reconstructed it, then flipped the traffic to the other side, repeating the process.
The only way to make it work is to phase. When you're digging with a back hoe, the electrical crew can't be there. And we can't send crews away to go sit and wait. It's like a train. We had to go one step at a time working from south to north.
– Justin Gese, SEH construction manager
Here are the steps in which the Nicollet Mall project was phased: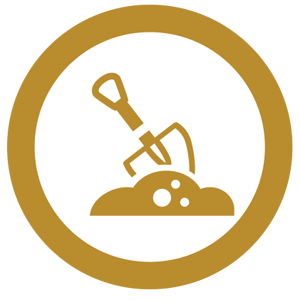 The pavement crew removed the existing Nicollet Mall pavement down to the dirt level. They used large backhoe-mounted breakers or jack hammers, then loaded out the rubble in dump trucks.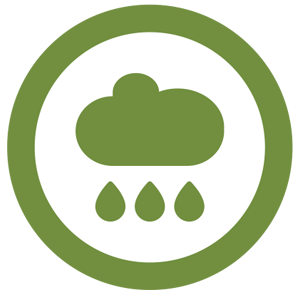 The new storm sewer was installed using backhoes and pipe crews.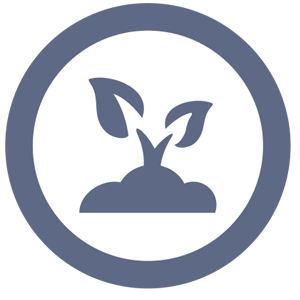 The planting areas were excavated with backhoes and new planting soils were delivered premixed with dump trucks, installed and graded with skid steers.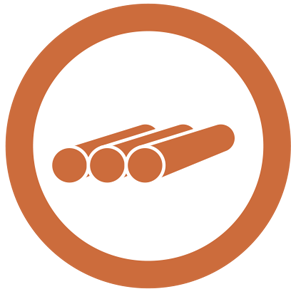 Irrigation and electrical conduits, signal and lighting foundations and other foundation work was laid. The remainder of the underground components were also finished in this step's timeframe by the irrigation and electrical contractors.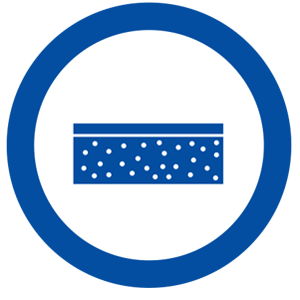 The grading was performed and aggregate base for the new roadway was installed using a combination of dozers and skid steers.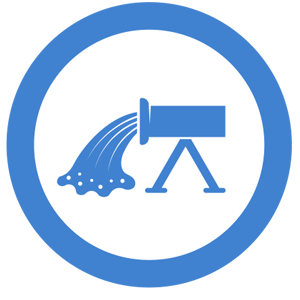 The concrete crew poured concrete for the sidewalks and road. The curbs and gutters were poured using a curb machine, while the flat work was poured and formed by hand.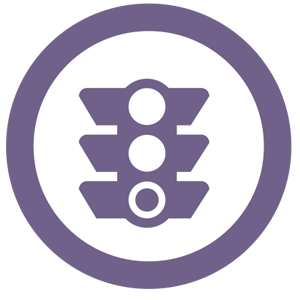 Signal systems for lighting and fiber optics were installed, and trees are planted. The large trees were installed using large fork lifts.
By incorporating a structured and coordinated phasing approach, the team was able to efficiently revitalize Nicollet Mall block-by-block to meet the construction timeline in under two years. Additional utility upgrades were also able to be incorporated during the phasing process in coordination with the utility companies, saving the City another construction effort in the future.
Safety and Accessibility
Keeping the streets safe, and open
Every intersection on every cross street along Nicollet Mall had to remain in use for the duration of the revitalization. The reason? The City wanted to keep traffic moving on all streets to help ensure commuters did not encounter increased traffic issues during heavy rush hour and commuter peak times.
The project team had to orchestrate a solution to keep to keep two lanes open –– at each cross street throughout the two-year construction. In very rare occasions was a street reduced down to one travel lane, and when it was, it was for a very short duration.
Fortunately, many intersections operated with four lanes, only reducing to two lanes occasionally. As a result, those traveling downtown realized less inconveniences due to construction and the solution created a better traffic flow during peak hours.
To keep pedestrians and vehicles safe during the construction, the project team maintained a constant line of communication.
Each area had to be carefully mapped out, making sure people and vehicles were directed where they were supposed to be, and kept out of where they shouldn't. It was a team effort between everyone. If something wasn't working, the teams had to work together to find better solution
– Justin Gese, SEH construction manager
To keep pedestrians safe, the team used an extensive system of barricades and bridges. There were 96 pedestrian business access points and four driveways that accessed Nicollet Mall. The majority of the access points had to remain open, but some were able to close temporarily since there was another access. The team maintained an 8' wide pedestrian corridor along the length of the project, at least on one side or the other. Plus, custom lightweight steel bridges were fabricated to provide safe and ADA compliant access to restaurants and businesses.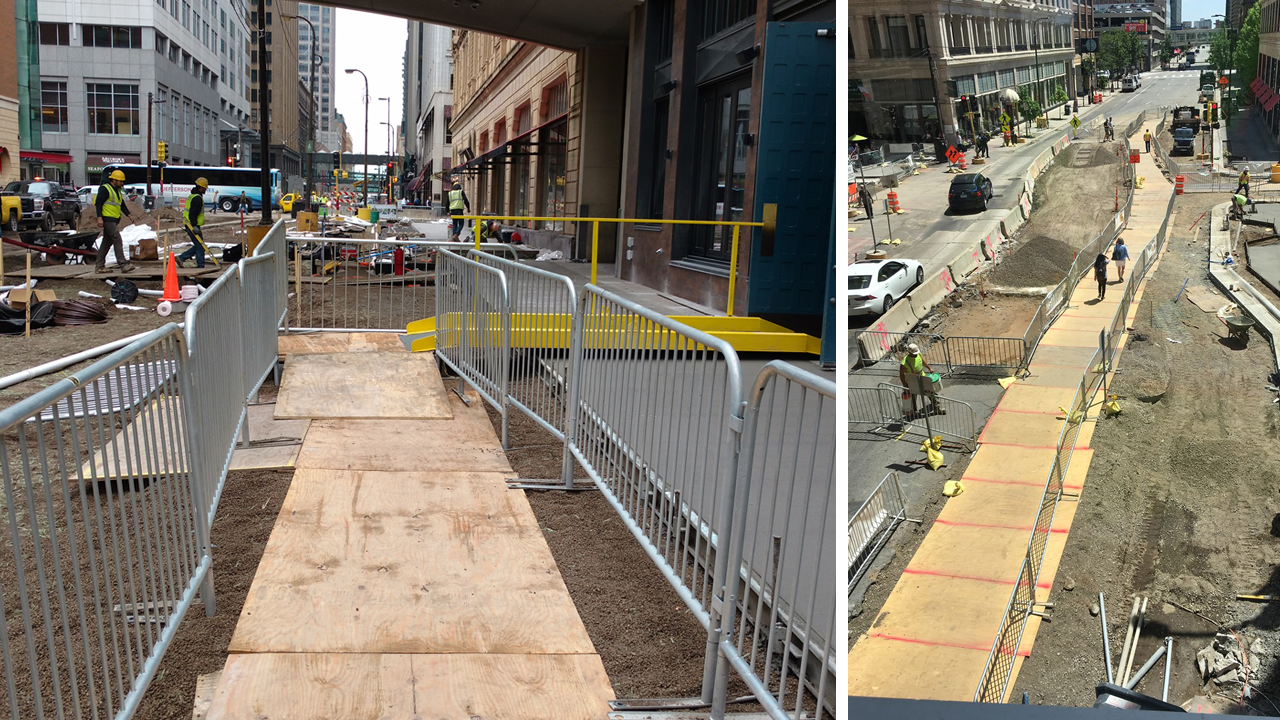 Communications
Keeping all of the stakeholders informed
The Nicollet Mall project included numerous stakeholders — and they all needed to be kept informed. To keep everyone in the know, the project team used a comprehensive communications plan to update contractors, consultants, the City of Minneapolis, and the public and local businesses. The tools of communication included weekly email updates, a dedicated website and phone line and weekly on-site stakeholder meetings.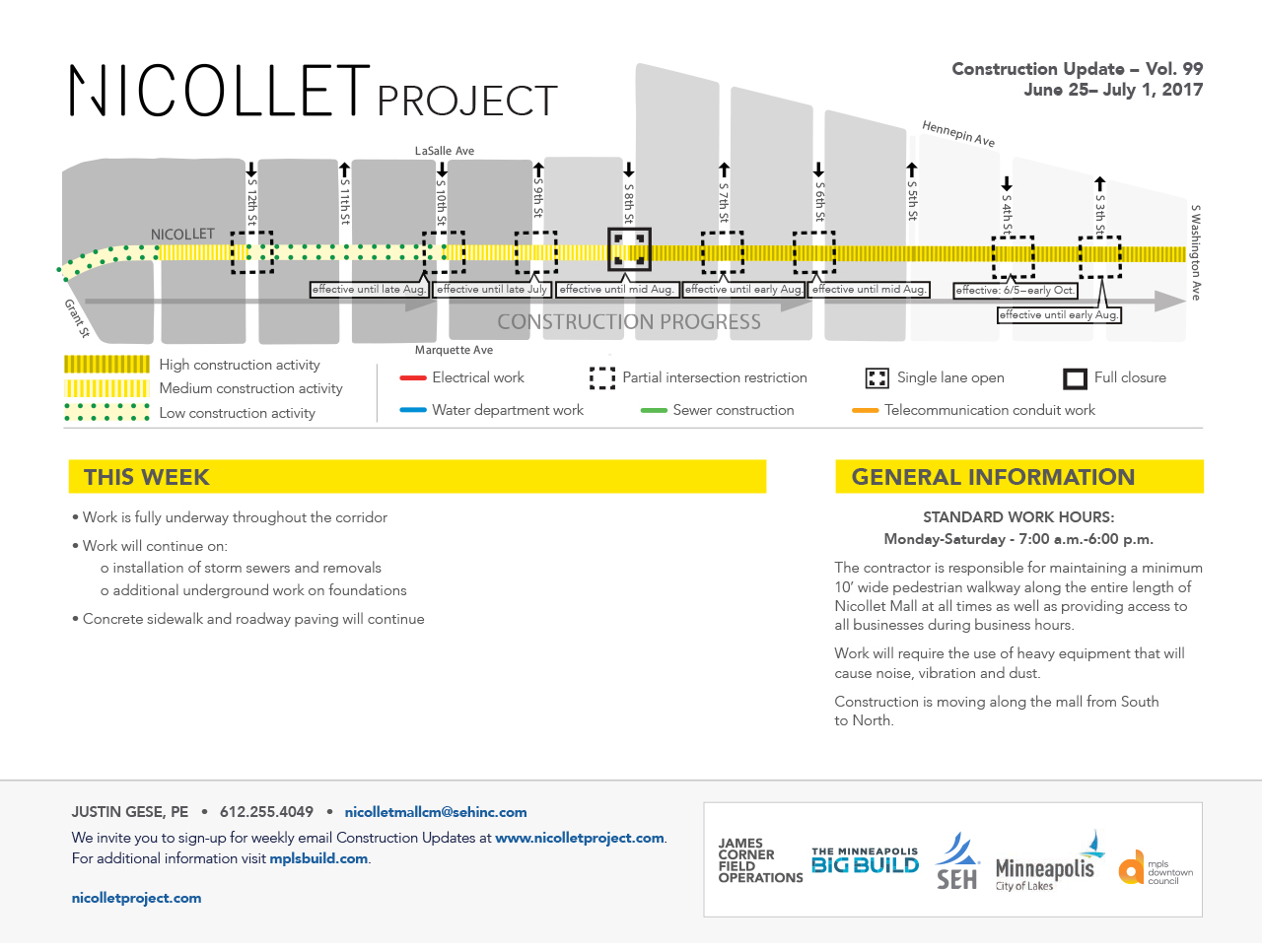 Every Thursday stakeholders received an email with project updates. The update included a high-level overview of each block and the construction progress. It outlined restrictions for travel or access, and identified the routes which remained open. It also included a look ahead to help stakeholders plan for the next phase of improvements.
The website dedicated to provide project updates allowed people to sign up to receive regular updates. This helped to reduce the number of questions and concerns from stakeholders. A dedicated telephone line provided opportunity to answer questions. The project team issued business cards to stakeholders informing them of the opportunities to access project updates.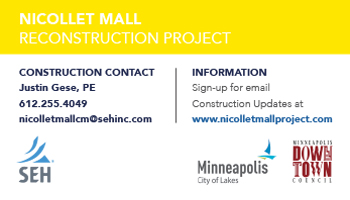 Recognizing the impact to business and property owners, a stakeholder meeting was held every Friday on location. The weekly meeting gave Nicollet Mall building managers, property owners and businesses a venue to hear more detailed construction updates and tailored updates if a particular building or business was impacted. The project team paid close attention to include updates that could impact the project stakeholders.
"By meeting face-to-face, we could coordinate with specific events and locations." Gese said. "If a building manager had an event to plan for, or a question pertinent to only their building, this was a great opportunity to connect and plan for these crucial details."
There were numerous special events on Nicollet Mall to plan for. One of the biggest was the Target Corporation's annual team meetings, where 10,000 employees visited the corporate headquarters for three days. Brit's Pub, an 11th Avenue English soccer bar, hosted massive live gatherings for viewings of the FIFA World Cup. The local CBS affiliate, WCCO, held live broadcasts nearby and Orchestra Hall was also in session.
"We tried to make sure we didn't interfere with any of these special events," Gese said. "We made sure they each had enough room and that we didn't create loud noises during the events and made sure to shut down during Orchestra Hall recordings."
Bringing It All Together
Ultimately, the careful coordination of construction, safety and communications of the project provided the City of Minneapolis with an elegant new heart of the city promoting community, sustainability and a greener future. Most importantly, 400 onsite employees provided 95,000 man hours without any time lost to injury, and a combined 250,000 daily pedestrians and motorists could navigate the complicated revitalization project without an accident.
About the Expert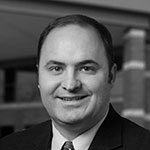 Justin Gese, PE, LEED, is a project manager who understands the most complex projects can move forward seamlessly with just the right amount of planning and know-how. Contact Justin