They brave the depths of our sewers, encountering rats, roaches, dark passages and rank smells. We're talking about a day in the life of SEH's senior lead Inflow and infiltration (I&I) technician, Paul Kubesh, and other I&I field experts who set up flow monitoring instruments in your community's sanitary sewer collection system.
Flow monitoring is a trusted method for identifying I&I and involves pinpointing problem areas, isolating areas that have the highest contribution of I&I and establishing a formal program to continue these efforts. Below, you'll uncover what a day in the life out in the field looks like for Paul along with an in-depth look at the flow monitoring process – hopefully providing insight you can use when evaluating your program, assessing your team(s) or selecting a consultant to lead I&I efforts.

In the video directly below, Paul details the flow monitoring process and why "quality" data is such a vital component of the process when seeking to identify I&I.
What is inflow and infiltration?
I&I describes what happens when stormwater (inflow) and groundwater (infiltration) enter a wastewater system. This water, which ideally should drain into the ground or be routed to storm drains, can easily overload wastewater systems – causing sewage overflows to creeks, backups in basements and impaired operations, among other challenges.
Inflow is stormwater that enters the sewer collection system through direct connections such as roof leaders, yard drains, catch basins, defective manhole covers and frame seals, sump pumps or throughout indirect connections with storm sewers. It can also be caused when foundation drains are improperly connected to a sewer line.
Infiltration is groundwater that enters sewer pipes (e.g., interceptors, collectors, manholes or side sewers) through cracks, leaky pipe joints, connection failures and deteriorated manhole covers.
Why do communities need to monitor?
I&I can result in adverse environmental impacts, regulatory compliance issues, higher treatment costs, basement backups and excess wear and tear on the collection system. Additional water from I&I sources reduces the useful life, and the capacity of sewer systems and treatment facilities to transport and treat domestic and industrial wastewaters.
Sewer flow monitoring helps communities determine whether their pipes are undersized in a specific location, what pipes need replacing and where leaks might cause problems, among other things.
What is sanitary sewer flow monitoring? Who leads the process?
Sanitary sewer flow monitoring is led by an I&I technician, who sets up flow monitoring instruments in a community's sanitary sewer collection system. The process generally involves placing equipment into or above the sewer flow depending on the type of equipment being used.
The entire package or process of flow monitoring consists of using a flow meter, which consists of three main parts:
Mounting band to attach the meter inside of a pipe
Flow sensor to measure the flow
Data logger/technician to record and store the data captured
The sensor measures the depth and velocity of the flow, then uses these parameters along with pipe size and shape to calculate the flow rate. Sensors are placed inside of the sewer pipes, as noted in the bulleted list, and a data collector is hung by a technician near the top of a manhole.
"Season matters," says Paul. "Cities should install flow/water meters in February or March to capture dry winter weather flow and meltwater." Having these meters in place early in the year ensures they're ready to capture sizable rainfall events in the spring and early summer months – the more data you capture during seasons of high activity, the more precise and informed your analysis.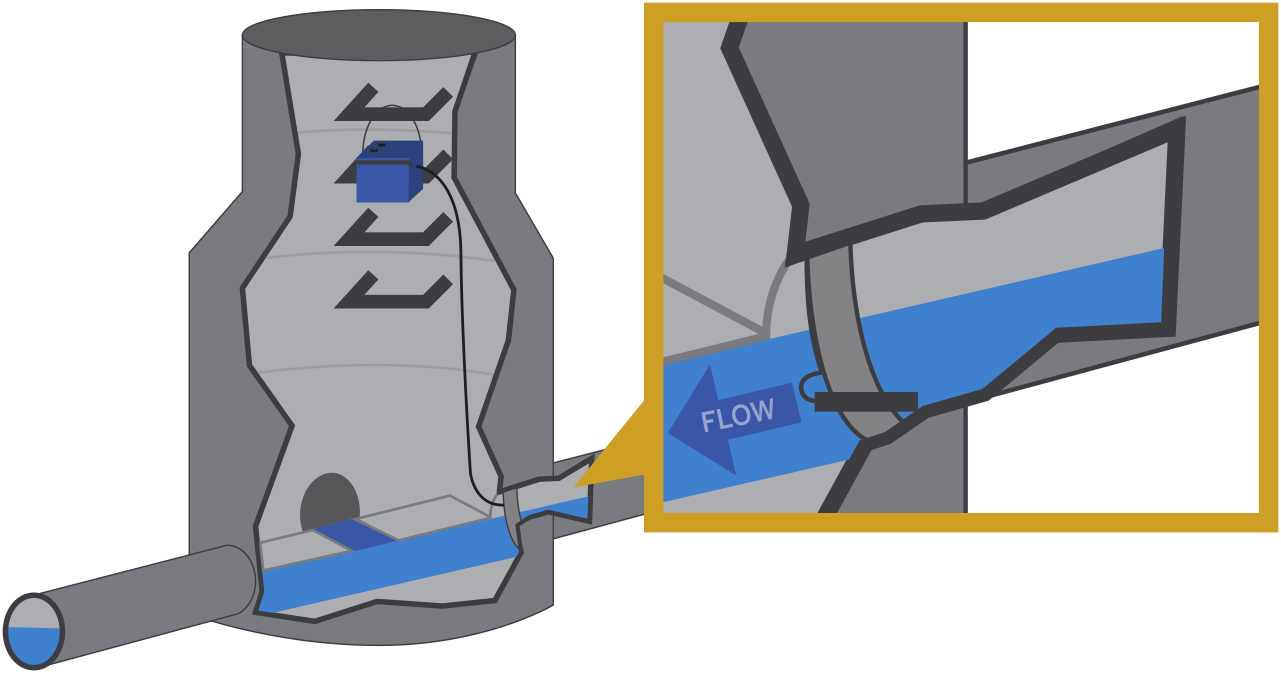 What is the goal of flow monitoring?
Proper flow monitoring can help you identify the presence, quantity and type of I&I issues that exist within your sewer system. Specifically, it can help you determine whether pipes are undersized in a specific location, what pipes need replacing and where leaks might cause problems. Flow monitoring also provides communities with the information needed to comply with the Clean Water Act.
The mission of flow monitoring is to gain knowledge and collect precise, timely information on the flow characteristics of the study area. Flow monitoring should be conducted at the earliest possible stage of any I&I efforts to help effectively prioritize costs for the full investigation. The process involves flow monitor installation within manholes and sewer systems across a carefully identified area.
How can you conduct a flow monitoring installation?
Flow monitoring installations consist of four key components:
Mapping out specific locations
Safety
Flow monitoring installation procedures
Evaluate the results
1. Mapping out specific locations
"Whether your community has one district or 50, it's important to map out the collection system before you begin any flow monitoring efforts," says Paul. For example, I&I technicians often use geographic information system (GIS) to map out a sewer system – including sewer, water and storm drain systems.
GIS mapping locates hot spots within each district of your community and ensures technicians have the locations needed to then analyze the necessary infrastructure.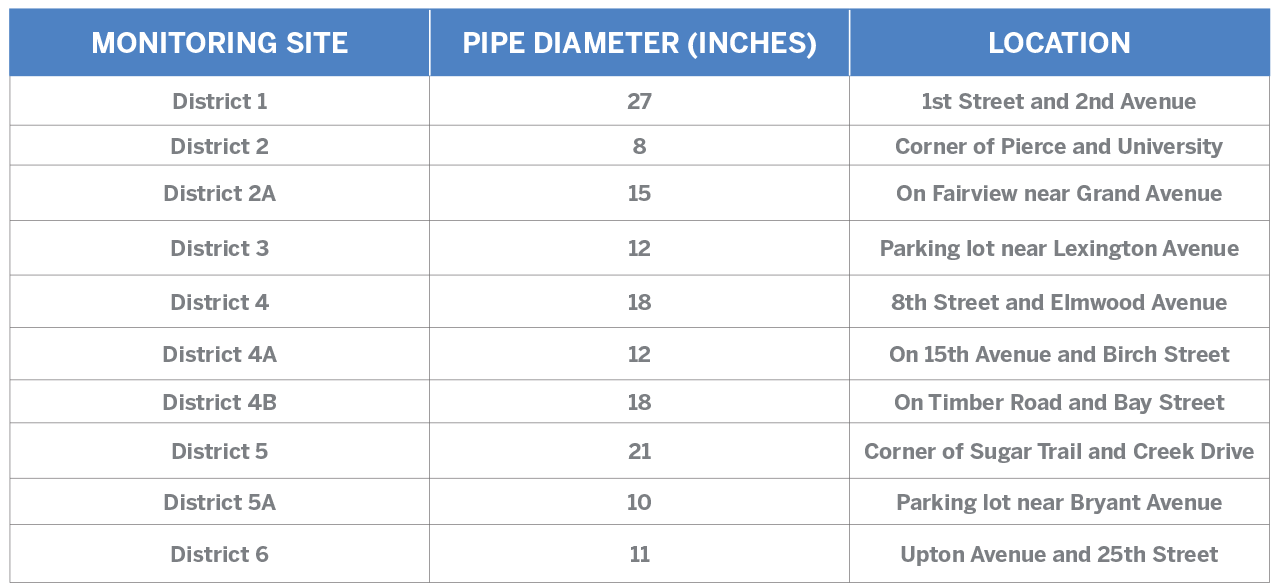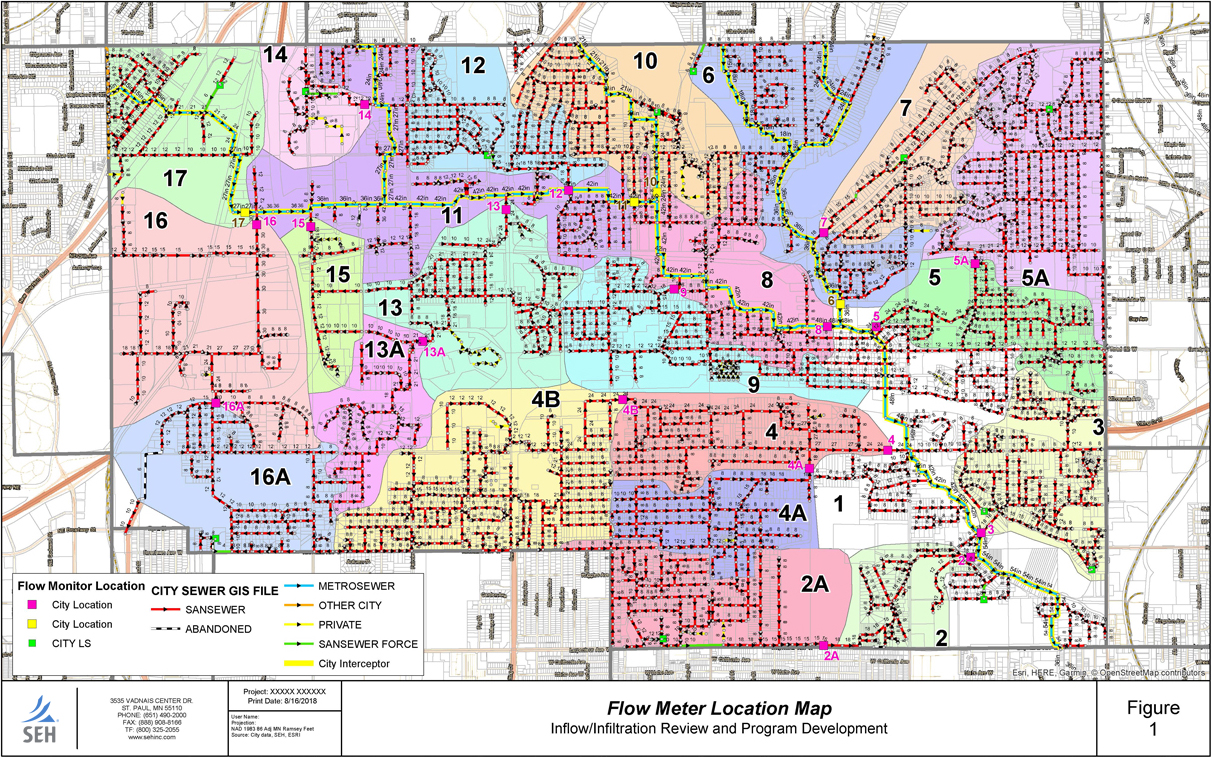 2. Safety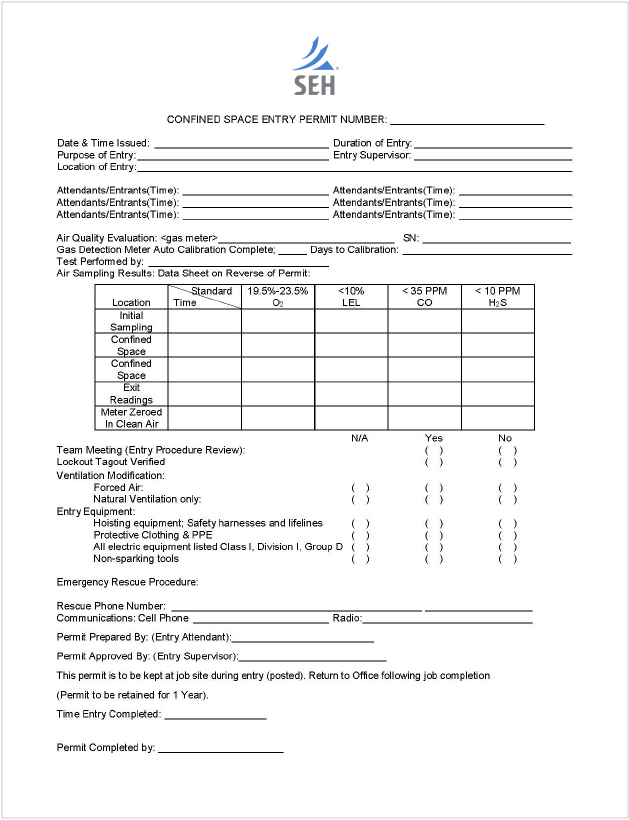 Confined space entry
A confined space is defined as any space that is large enough and so configured that a person can bodily enter and perform assigned work, has limited or restricted means for entry or exit and is not designed for continuous employee occupancy. In general, the atmosphere must be constantly monitored for sufficient levels of oxygen, and the presence of hydrogen sulfide gas, carbon monoxide gas and lower explosive limit levels.
"All professionals who undertake flow monitoring work must be 'confined space trained' – safety is always the priority," says Paul. "By protecting ourselves during inspections we're protecting our clients and partners."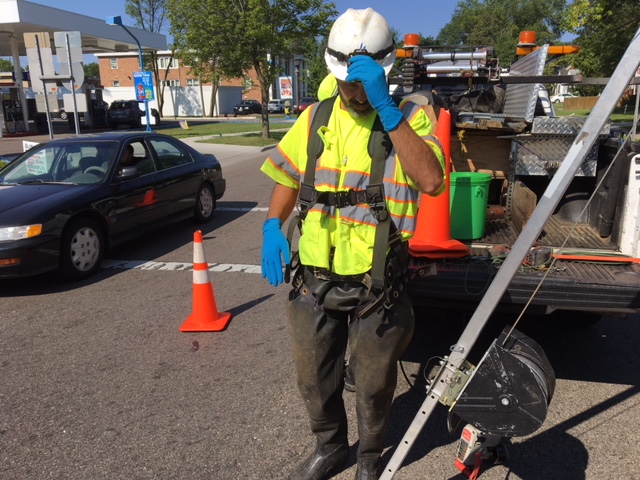 Traffic
Traffic is another important safety issue, and one SEH field experts manage on most projects. "We may only be at one location for 30 minutes depending on the size of the pipe, so we take care of traffic throughout the entire process," says Paul. "Because we are a moving system, we get traffic plans from the cities we're working with, then manage the set up and tear down."
Gear
When SEH field experts are ready to install flow meters, they make sure they have the essential field safety gear and equipment. Here's a checklist of the recommended gear to help them do their job safely, or make it easier: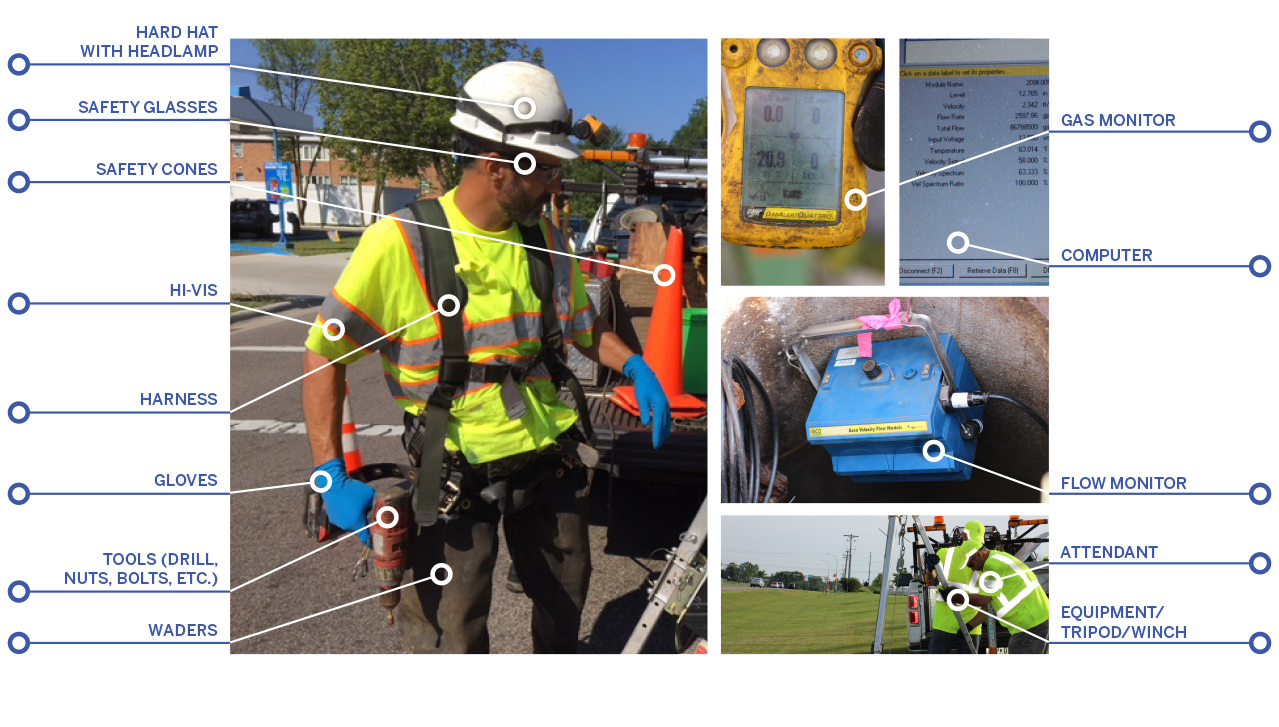 Additional field gear includes, but is not limited to:
Vehicles and traffic control equipment
Measuring tape
Manhole pick and shovel
Ladder
Jacket
Now prepared with the recommended safety gear and a plan, they're ready to venture to the project site and begin the meter installation. When they arrive at the first project site, what's next? These are the field procedures followed:
3. Flow monitoring installation procedures
Within a planned flow monitoring site, SEH I&I technicians document the existing and physical conditions of the collection system being evaluated. They also identify and evaluate all available manhole(s) in the area, and diagnosis any problem areas, before selecting which will be used for meter installation.
Specifically, field technicians select manholes based on flow characteristics – identifying locations free of sediment and look for smooth linear flow conditions through the manhole. Sites are also often selected based on ease of equipment installation and whether the physical characteristics of the manhole are suitable for flow meter placement.
After a thorough site evaluation, the manhole cover is opened. The technician lowers an air monitor device into the manhole to test the levels of oxygen as well as the presence of hydrogen sulfide gas, carbon monoxide gas and lower explosive limit levels.
Once complete, I&I technicians set up and manage the equipment needed for installation – following safety protocols throughout the process. They then prepare to be lowered into the manhole. Another field expert (or two) stays above ground and communicates with the field expert in the manhole; communication is key between the I&I technician in the manhole and the confined space entry supervisor above ground.
Flow meter installation
Flow meter installation involves lowering a metal band into the manhole, followed by lowering the I&I technician. A probe is attached to the metal band and sits in the pipe below the waterline. The metal band is secured in the sewer pipe. A cord is cinched to the rungs on the ladder. Lastly, a data collection box is secured at the top of the manhole and feeds the following measurements, at minimum, to the computer:
Depending on the pipe size and tools available, one installation can take as little as 15 minutes. With many flow monitoring programs requiring tens if not hundreds of installations, technicians need to be precise and efficient with their time.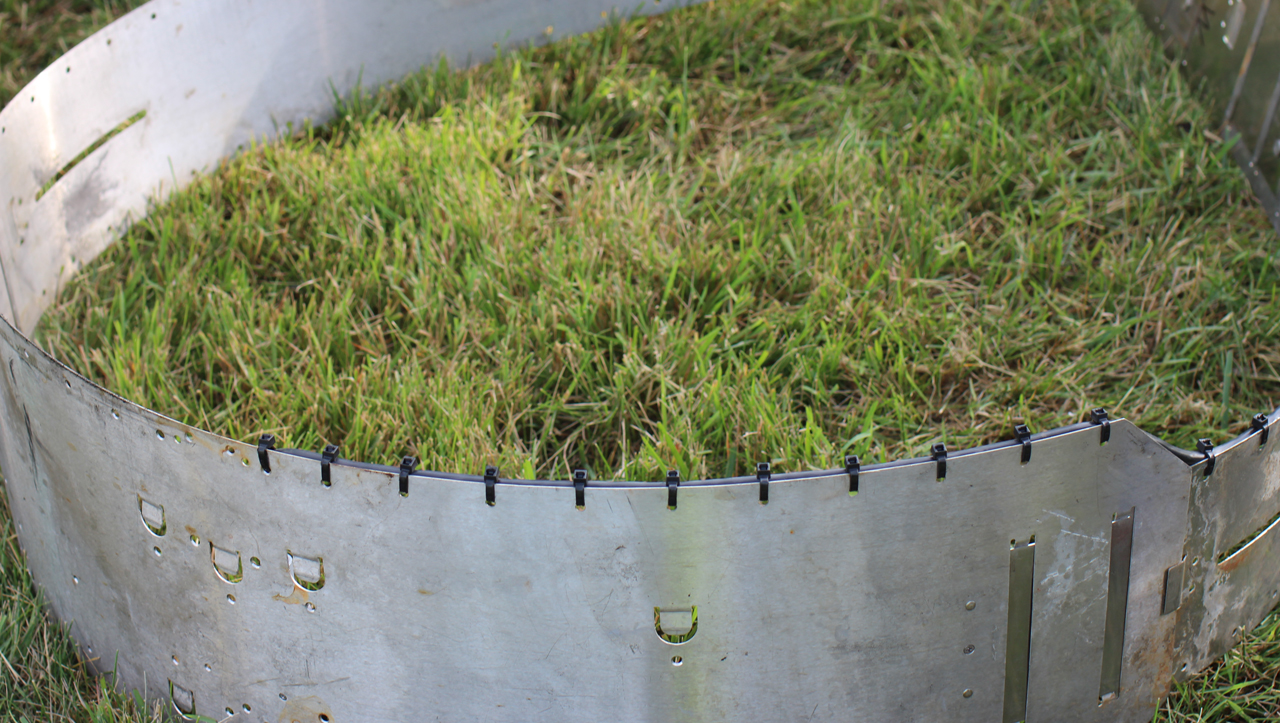 4. Evaluate the results
I&I technicians then use a GIS-based application to capture and evaluate specific pieces of I&I information, such as pipe size, condition of the manhole and silt level, among others.
This data is downloaded every 1-2 weeks and uploaded to a server where project teams and community leaders/project owners can review and analyze it for I&I contribution based on wet weather events. The flow data is used to identify I&I hot spots/problem areas and establish additional investigation measures to target specific I&I sources.

"Anyone can capture data – communities need to be confident in the quality of the data. Trusted I&I technicians and, in turn, trusted data will help you make the most informed decisions," says Paul.
Conclusion: It's all about the data and what you do with it
I&I can result in negative environmental impacts, regulatory compliance issues, higher treatment costs, basement backups and excess wear and tear on your collection system. Flow monitoring is the first step to identifying where problems are occurring and can empower communities to set up continuous, proactive flow monitoring programs.
Flow monitoring hinges on capturing the right data; the data you need to be fully informed and move forward strategically, efficiently and proactively. Whether you rely on flow monitoring, dye testing, smoke testing or some combination of the methods available, what's most important is that you remain proactive in your efforts specific to I&I.
Identifying issues early and moving forward in a timely fashion, or partnering with a consultant expert who can, is the most reliable route to avoiding unnecessary costs and ensuring the health of your infrastructure.
About the expert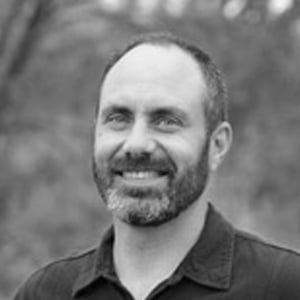 Paul Kubesh is a water resources technician, hydrologist and SEH's senior lead I&I technician with 20+ years of experience. His primary responsibilities include conducting flow metering, leading smoke testing and dye testing projects, and undertaking sewer system evaluation surveys. Contact Paul