PFAS (per- and polyfluoroalkyl substances) are top of mind for many municipalities, and rightly so. They have been found in all 50 states. Here's what you need to know about these emerging contaminants and five ways to protect and prepare your community for what's ahead.
What are the potential health risks of PFAS? Where are they found? What treatment options are available? Most importantly, how can you plan and design your infrastructure in a way that keeps your community safe and positions you to navigate the regulations and requirements ahead? We answer these questions and more in the following FAQ – including action steps and a complimentary treatment guide with cost considerations, benefits, and challenges.
What are PFAS?
The unique physical and chemical properties of the human-made PFAS create oil and water repellency, temperature resistance, and friction reduction for a variety of products used by consumers and industries. PFAS have a range of applications in the aerospace, photographic imaging, semiconductor, automotive, construction, electronics, and aviation industries.
Created in the 1940s, PFAS are referred to as "forever chemicals" because they don't break down when released into the environment and can build up in the bodies of humans and animals. PFAS are among a group of "contaminants of emerging concern" or simply emerging contaminants. Emerging contaminants are a priority across the U.S. because they pose potential risk to public and environmental health. However, the risk is not yet fully understood.

Federal agencies are investing heavily in the research of emerging contaminants and improving the methods used to quantify and identify removal technologies. In fact, more than $10 billion from the Infrastructure Investment and Jobs Act (IIJA) – also known as the Bipartisan Infrastructure Law – is earmarked to help communities address emerging contaminants.
What are the health risks?
One report by the Center for Disease Control (CDC) and Prevention's National Health and Nutrition Examination Survey states that PFAS have been found in the bloodstreams of 97% of U.S. residents.
The eye-opening amount of exposure is leading to more and urgent testing, new monitoring plans and policies, and other timely efforts that will provide communities with critical guidance. Monitoring, and in some cases treatment, will likely be required by federal and state law. Yet, many questions remain about the health effects, testing methods, timing, and who is responsible for leading reduction efforts.
Some of our understanding is based on reports of the effects shown in animals who have been exposed to high concentrations. Though of course not all effects observed in animals will occur in humans. Our understanding is further complicated by the many thousands of PFAS compounds that have been identified, each with potentially varying effects and toxicity levels, as well as the multitude of exposure pathways and timelines.
Various peer-reviewed scientific studies have shown that exposure to certain levels of PFAS may lead to an increased risk of cancer and reproductive issues. Yet, as touched on above, there is still much to learn about the health risks of PFAS in humans.
Where are PFAS found?
PFAS are nearly everywhere. Because of their unique properties, they have found their way into many of the products we use every day. Here is a closer look:
Food packaging – Grease-resistant paper, fast-food containers and wrappers, microwave popcorn bags, pizza boxes, and candy wrappers.
Non-stick cookware – Pots, pans, and baking sheets.
Paints, varnishes and sealants – Chemicals used to clean carpets, paint homes, and varnish wooden tables and chairs, among others.
Stain-resistant textiles – Chemicals used on carpets, upholstery, and other fabrics.
Water-resistant products – Bedding, table clothes, yoga pants, hiking gear, and raincoats.
Personal care products – Certain shampoos, dental floss, and cosmetics.
Fire extinguishing foam – Aqueous film-forming foams (AFFFs) are used to extinguish flammable liquid-based fires, and often in training and emergency response events at airports, shipyards, military bases, firefighting training facilities, chemical plants, and refineries.
Because these chemicals are used in so many consumer products, PFAS have been detected in our groundwater and drinking water, in soil and air, in the food we eat including fish and animals, and in the blood streams of people.
How are PFAS released into the environment?
There are many pathways for PFAS to enter the natural environment. One example, long before experts were aware of the health impacts, PFAS-containing firefighting foam (AFFFs) was widely used – exposing soil and groundwater to these emerging contaminants. Another example, as certain industries create products made with PFAS, the manufacturing process can cause their release into the air and waste streams.
Due to their stable bonds and resistance to breaking down, PFAS are very difficult to destroy. Removing PFAS from one source without destroying the compounds shifts the problem to another location. PFAS can be removed from drinking water, but these treatment processes concentrate the PFAS in another waste stream that might be landfilled or routed to a wastewater treatment plant. Even landfills are not the final resting place for PFAS, because landfills produce a liquid waste stream that is treated at wastewater treatment plants, and conventional wastewater treatment does not remove or destroy PFAS.
Here's an illustrated look at how PFAs enter and cycle throughout the environment, industries and our homes: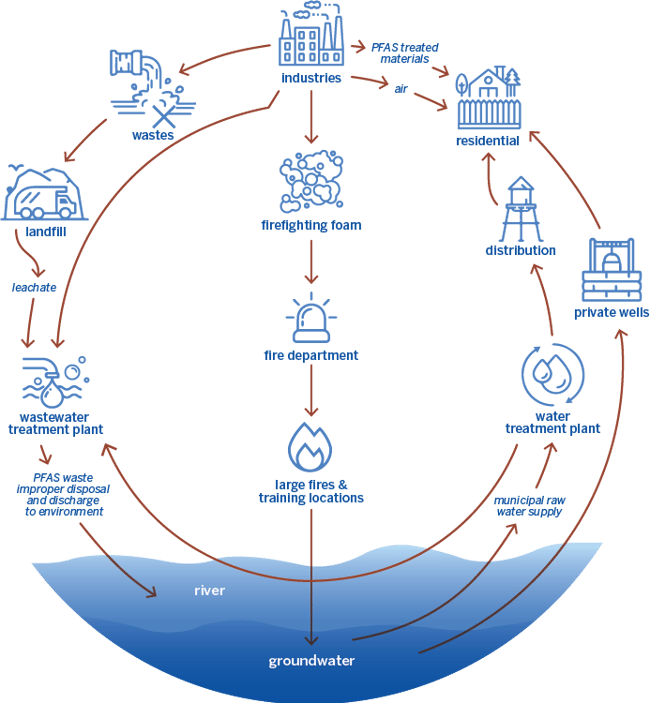 5 Ways to Prepare Your Community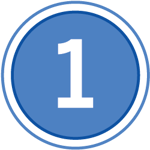 Research your state; look to your neighbors
Research applicable state agencies to learn about upcoming plans and policies, find live webinars and recorded webcasts, FAQs, and other resources to inform your teams and community. Some states are further ahead than others and offer actionable insight.
For example, the state of Michigan launched its Industrial Pretreatment Program PFAS Initiative in February 2018. Through its testing program, in 2020, the state identified primary sources of PFAS discharged to wastewater treatment plants and has since begun implementing drinking water and wastewater regulations for PFAS. Michigan.gov offers an overarching look at the state's PFAS efforts, including latest news, educational resources, and even a helpline for local communities with questions.
Another example, 12 states have banned the manufacturing, sale and distribution of PFAS-containing AFFFs – Arkansas, California, Colorado, Connecticut, Georgia, Indiana, Maryland, Michigan, New Hampshire, New York, Washington, and Wisconsin.
Whether the efforts are specific to drinking water, wastewater, fire prevention, or other areas, it's helpful to know what's being done in your state and what's ahead.
Join a statewide or national organization
Membership or subscriptions with organizations like the Virginia Municipal Drinking Water Association or Texas Commission on Environmental Quality give you access to key resources, news and regulation alerts, and information-sharing events. Agencies like these are often first to report the news and happenings that you need to know.
In addition to state-specific reports, national membership organizations like the Water Environment Federation and American Water Works Association offer free resources, webcasts, and collaboration opportunities to gain deeper understanding and learn the steps you can take.
Stay current with upcoming plans and policies
PFAS news is coming more frequently and with more direct actions. The Environmental Protection Agency (EPA) released its PFAS Strategic Roadmap: EPA's Commitment to Action 2021-2024. The roadmap lays out a "whole-of-agency" approach to addressing PFAS in waterways, drinking water, wastewater, stormwater, and air – "setting timelines by which EPA plans to take specific actions and commit to bolder new policies to safeguard public health, protect the environment, and hold polluters accountable."
The EPA expects to issue enforceable PFAS regulations by the end of 2023. Until mandates arrive, they continue to offer guidance and recommendations. For example, in June 2022, the EPA issued more rigorous drinking water health advisory levels for perfluorooctanoic acid (PFOA), perfluoro octane sulfonic acid (PFOS), perfluoro butane sulfonic acid (PFBS), and Gen X – all chemicals under the PFAS umbrella.

Do the little things (i.e., preventative education)
In the near term, you can reduce risks within your community by educating residents on the actions they can take to prevent the spread of PFAS in their daily lives. Though seemingly simple, every intentional effort plays a role in reducing PFAS in our families and communities.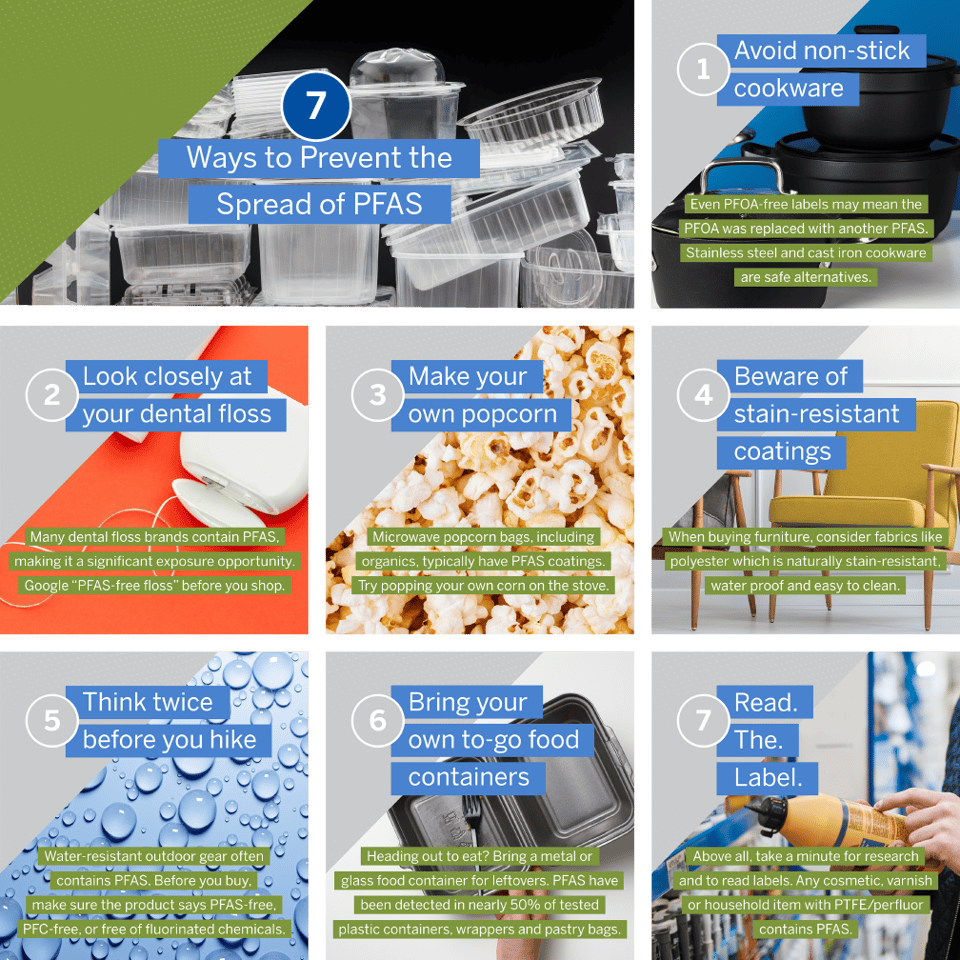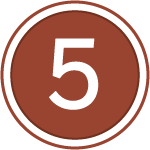 Plan and design ahead
Start planning and designing your community to be prepared for and equipped to navigate PFAS. When designing a new water treatment plant, consider leaving space for a potential addition should PFAS be found and removal processes needed. Make sure new water supply wells are upstream from potentially contaminated sources like industrial waste sites, AFFF sites, Brownfields and Superfund sites, wastewater treatment plants, and land-applied biosolids. Look closely at the AFFFs used by your emergency response teams and local airport, as well as other PFAS-containing products your community may be relying on. And, consider your treatment options.
---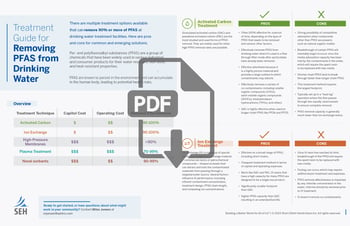 Treatment Guide for Removing PFAS from Drinking Water
Several technology-driven treatment methods have proven to remove 90% or more of PFAS in drinking water treatment facilities. This guide explores costs, effectiveness, and pros/cons of the most common methods, and can serve as a helpful resource as you seek the best solution for your community.
Access your complimentary copy!
---
Take heart! Proactive and preventive measures are working.
Many efforts have been taken to prevent the spread and eventually eliminate PFAS from the products we all use, foods we eat, water we drink, and the environment. The progress is highly encouraging. In the early 2000s, PFOS was voluntarily phased out of production in the U.S. by its primary manufacturer. In 2006, eight major corporations voluntarily phased out their global production of PFOA and PFOA-related chemicals. Most noteworthy, while scientists have found PFOA and PFOS in the blood of nearly all people tested, the same studies show that the levels are decreasing.
Whether overseeing a water treatment facility, wastewater treatment plant, public safety facility, or leading the planning of upcoming infrastructure projects, invest time in gaining an understanding of PFAS and what the levels are within your community. But most importantly, do not panic or react too quickly. Guidance and regulations will arrive in time; with these in hand you can make the most strategic decisions about your infrastructure.
We're here to answer your questions and help uncover the steps you can take.
About the Authors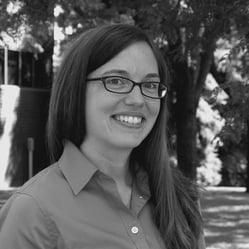 Susan Danzl, PE*, is SEH's wastewater market lead and a trusted resource to her clients – partnering with communities, facilities, and operating staff to guide them through all kinds of wastewater challenges, questions and regulations. Passionate about water quality and providing better service day after day, Susan is a member of the Water Environment Federation, Central States Water Environment Association, and Minnesota Wastewater Operators Association.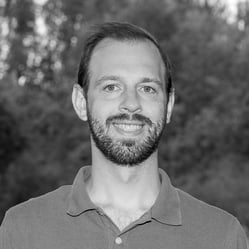 Andrew Knapp, EIT, is a graduate water engineer who specializes in the removal of PFAS from water supplies – including the commercialization of new technologies and their potential applications for public and industrial clients. He works closely with clients to provide support in the design and optimization of water treatment processes. Andrew has a Bachelor of Science in Chemical Engineering from Michigan State University, and earned his Master of Science in Environmental Engineering from the University of Michigan, specializing in Water Quality Process Engineering.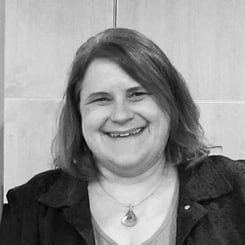 Melanie Niday, PG*, is a project manager and senior hydrogeologist who has dedicated 30+ years to the preservation of groundwater quality through regulatory permitting, monitoring, and reporting. Her experience has taken her through significant regulatory changes regarding waste characterization, waste management, hydrogeologic investigations, and water quality sampling and monitoring. Melanie also specializes in providing strategic and long-term support at facilities for clients throughout the Midwest.

*Registered Professional Geologist in MN, WI