Their radius and angles of entry are designed to slow traffic, but are roundabouts right for your city?
According to the U.S. Federal Highway Administration, roundabouts are becoming more popular based on the opportunities to improve safety and increase an intersection's operational efficiency, among other considerations and benefits.
Today's transportation planners and design engineers may consider a roundabout for a wide range of intersection types including freeway interchange ramp terminals, state highway intersections and local roadway intersections.
When designing a roundabout, there are many different design techniques and technical parameters to consider depending on the speed of traffic, the desired vehicle capacity and the number of connecting streets at your intersection site. Also, many of the design techniques are substantially different for single-lane roundabouts than for roundabouts with multiple lanes.
The good news for roundabout designers is that the basic form and function of roundabouts are very similar regardless of intersection type or location. This is because the modern roundabout is defined by three basic design principles.
Three basic roundabout design principles
1. Geometric curvature of roundabout
A roundabout's radius and angles of entry are designed to slow traffic speeds. By reducing vehicle speeds and eliminating crossing conflicts that are present at conventional (signalized and all-way-stop-controlled) intersections, roundabouts can greatly improve vehicle and pedestrian safety.
2. Yield-at-entry
Vehicles approaching a roundabout must yield to circulating traffic before entering a roundabout. The yield-at-entry feature further reduces traffic speeds and helps to improve intersection sight distances when compared to conventional intersections.
3. Deflection
Traffic is directed to the right (in the U.S.) using a curved path of entry into the roundabout. The circular roadway is able to process high volume left turns more efficiently than all-way stop signs or traffic signals, and it can handle a wide range of traffic volumes from connecting side roads.
In many cases, the geometric design parameters (roundabout size, entry and exit widths, and speed) are dictated by the ability of the largest vehicles to successfully and safely maneuver through the roundabout. As was the case of the roundabout at Peakview and Peoria avenues in Centennial, Colorado, where the geometric design was largely determined by the need to accommodate large semitrailers that routinely travel in and out of a nearby commercial and industrial business park.
Yet another design consideration is the central island, which is located in the middle of a roundabout. The central island often includes landscaping and other aesthetic treatments to help drivers recognize a roundabout as they approach. In the case of the roundabouts on either end of Cascade Avenue, a street that bisects the University of Wisconsin River Falls campus, the central islands also include structural monuments with signage and lights that serve as prominent gateway entrances into either end of the University campus.
Bringing it all together
These are just a few basic roundabout design principles and considerations in the intricate balance between a host of technical requirements and aesthetic treatment options. All of these considerations must be carefully analyzed when determining whether a roundabout is the right intersection alternative for your specific site.
About the Author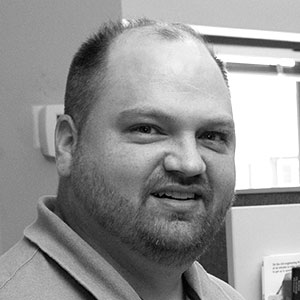 Scott Hotchkin, PE*, is an SEH roundabout design professional who has designed 200+ roundabouts across the country. Scott is often called upon to help decision-makers determine whether a roundabout is an appropriate intersection design treatment for their particular site and community.