The Wisconsin State Journal and Madison.com have named SEH one of the 60 Top Workplaces in the Greater Madison Area for 2022.
In the Small Category (35-99 employees specifically in the Madison area), SEH garnered the 18th overall ranking. Madison's 2022 Top Workplaces list recognizes companies that prioritize and excel in workforce development and organizational health, and provide a culture where employees feel heard and valued.
The rankings are based on survey information collected by Energage, an independent third-party company specializing in employee engagement and retention.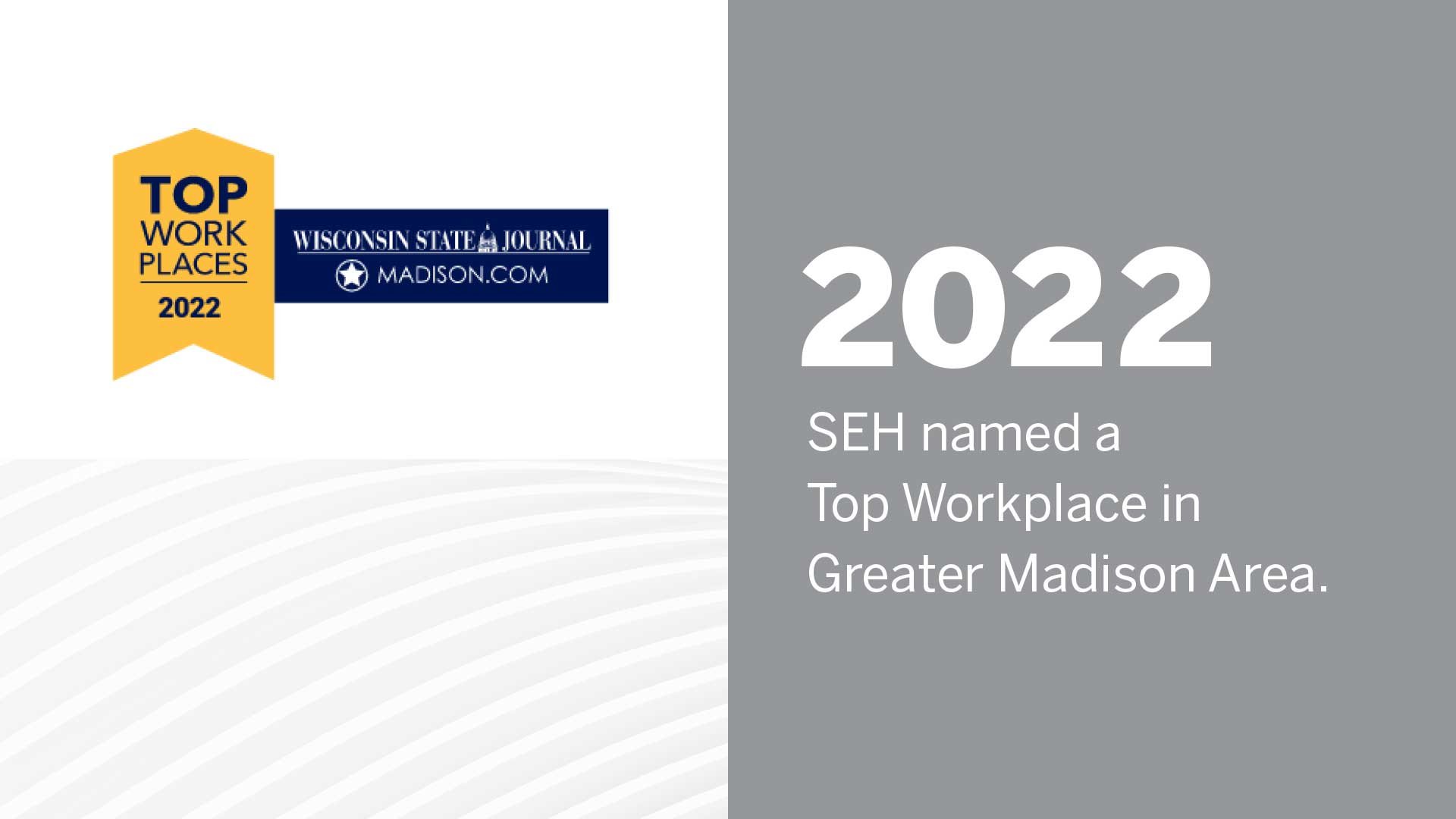 "We're thrilled to be named one of the Madison area's 2022 Top Workplaces. At SEH, we care deeply about empowering our employees to be their very best, and have worked hard over the years to provide an inviting culture that supports growth and development."
–Chris Blum, PE (WI), SEH Project Manager, Madison Office Manager
"Being named a 2022 Top Workplace in Wisconsin, Minnesota and Colorado is very affirming and also challenges us to continue to earn the trust of all employees as we expand our company nationwide."
–Greg Weyandt, PE (WI), SEH Vice President, Regional Leader
In addition to being named one of Madison's Top Workplaces in 2022, SEH was named one of the Top Workplaces in Minnesota by the Star Tribune for the 12th consecutive year. SEH was also named to The Denver Post's esteemed Top Workplaces 2022 list, the company's 5th recognition on this list in the past 6 years. See all previous Top Workplaces honors.
Get to know SEH below – including service offerings, locations, how the company brings its mission of Building a Better World for All of Us® to life for clients and employees, what it means to be 100% employee-owned, and company culture from the experiences of employees.