SEH has been named a Top 200 Workplace in Minnesota by the Star Tribune, ranking 41 on the midsize list. The prestigious recognition highlights SEH's ongoing commitment to fostering a positive and engaging work environment for our employees.
Produced by the same team that compiles the 32-year-old Star Tribune 100 report of the best-performing public companies in Minnesota, Top Workplaces recognizes the most progressive companies in Minnesota based on employee opinions measuring engagement, organizational health, and satisfaction. The analysis included responses from 124,719 employees at Minnesota public, private, and nonprofit organizations.
"This continued recognition as a Top Workplace is a direct result of our exceptional employee-owners who consistently demonstrate their commitment to excellence, says Benita Crow, Regional Leader. We strive to create an environment that values and celebrates diversity, fosters teamwork, and recognizes employee contributions."
SEH strongly emphasizes cultivating a supportive and inclusive workplace culture that promotes collaboration, innovation, and professional growth. SEH enables employees to reach their full potential through various initiatives and programs, including mentorship opportunities, ongoing training, and flexible work arrangements.
The Star Tribune Top 200 Workplaces rankings are based on survey information collected by Energage, an independent company specializing in employee engagement and retention.
SEH also earned national recognition as a Top Workplace in 2023 and the Wisconsin State Journal's Top Workplaces 2023 list for the Greater Madison Area.
SEH has 800+ employees across the United States, with the company's corporate headquarters in St. Paul, Minnesota. Want to work at a top workplace? Check out our job listings on our Careers page.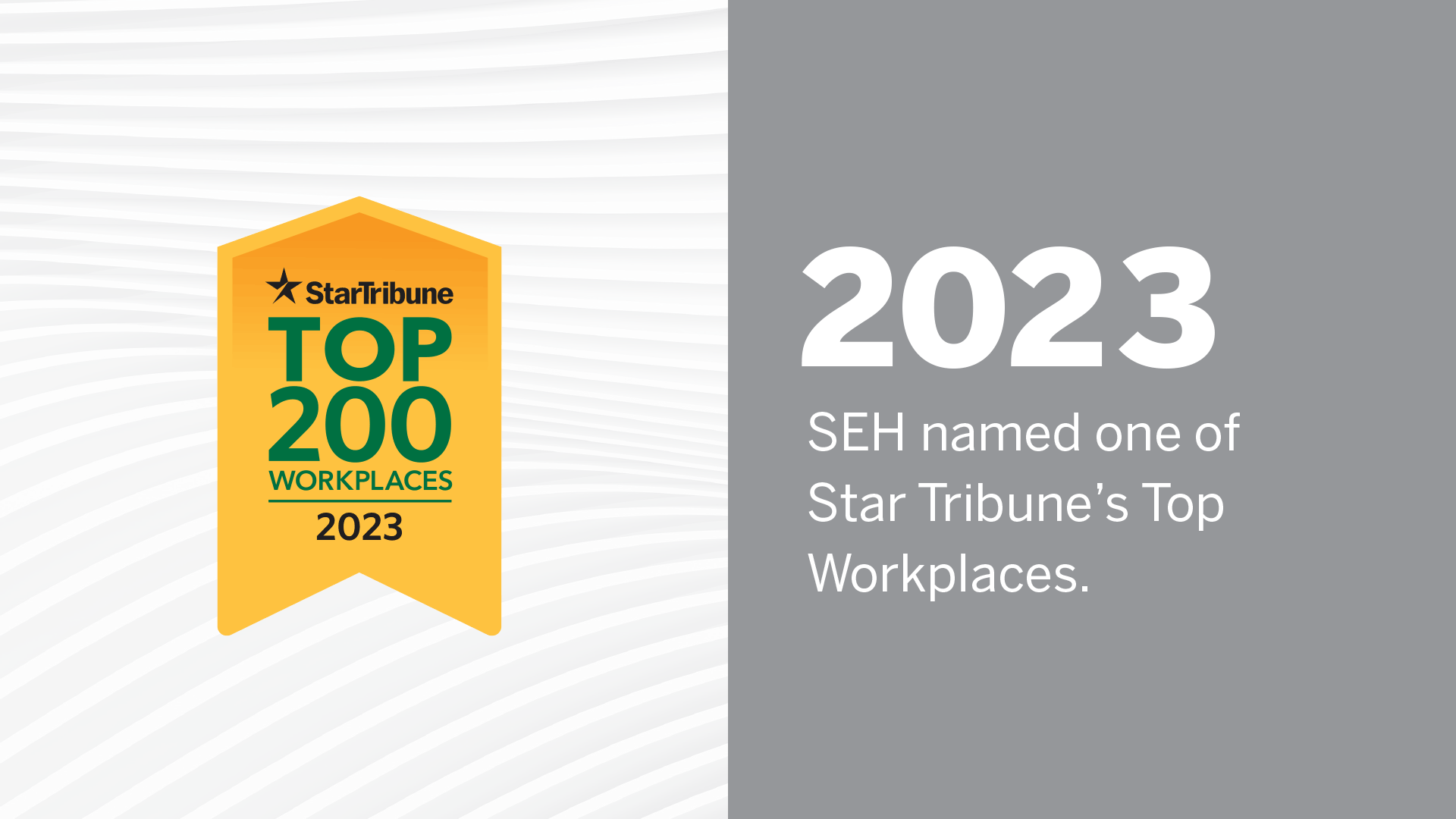 SEH has more than 800 employees Building a Better World for All of Us® throughout the US. Learn more about SEH.
Want to work at a top workplace? Check out our job listings on our Careers page.