She's back at it. SEH water tower inspector Jana Nyhagen brings us along as she inspects water towers across Minnesota and Wisconsin – and she shares some advice on properly maintaining your tanks.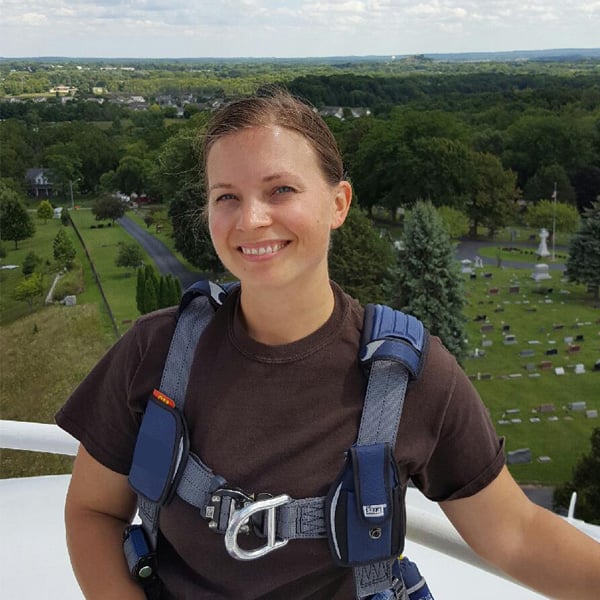 Inspecting the coatings and service apparatus on water towers across the upper Midwest is just part of what I do. Along with documenting tower conditions and maintenance suggestions, I also get to see some pretty amazing things. Take a look!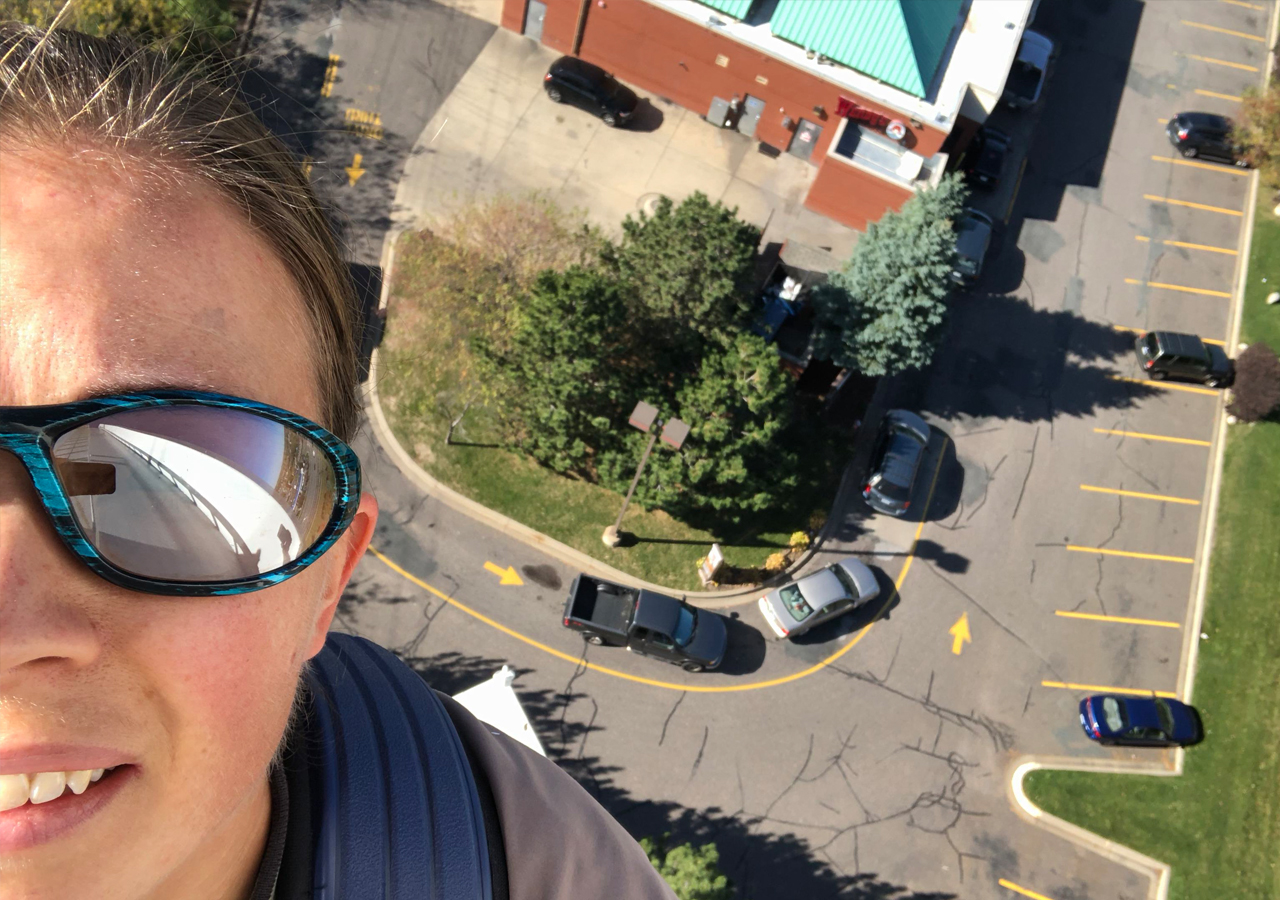 Hopkins, Minnesota (drive thru)
Would you like a frosty with that? This tank is situated in a busy commercial district, adjacent to a drive through. Development in close proximity to a tank can impact the cost or schedule of a water tower reconditioning project. It is important that the appropriate level of containment is planned for to keep the coating on the water tower and off of cars and buildings.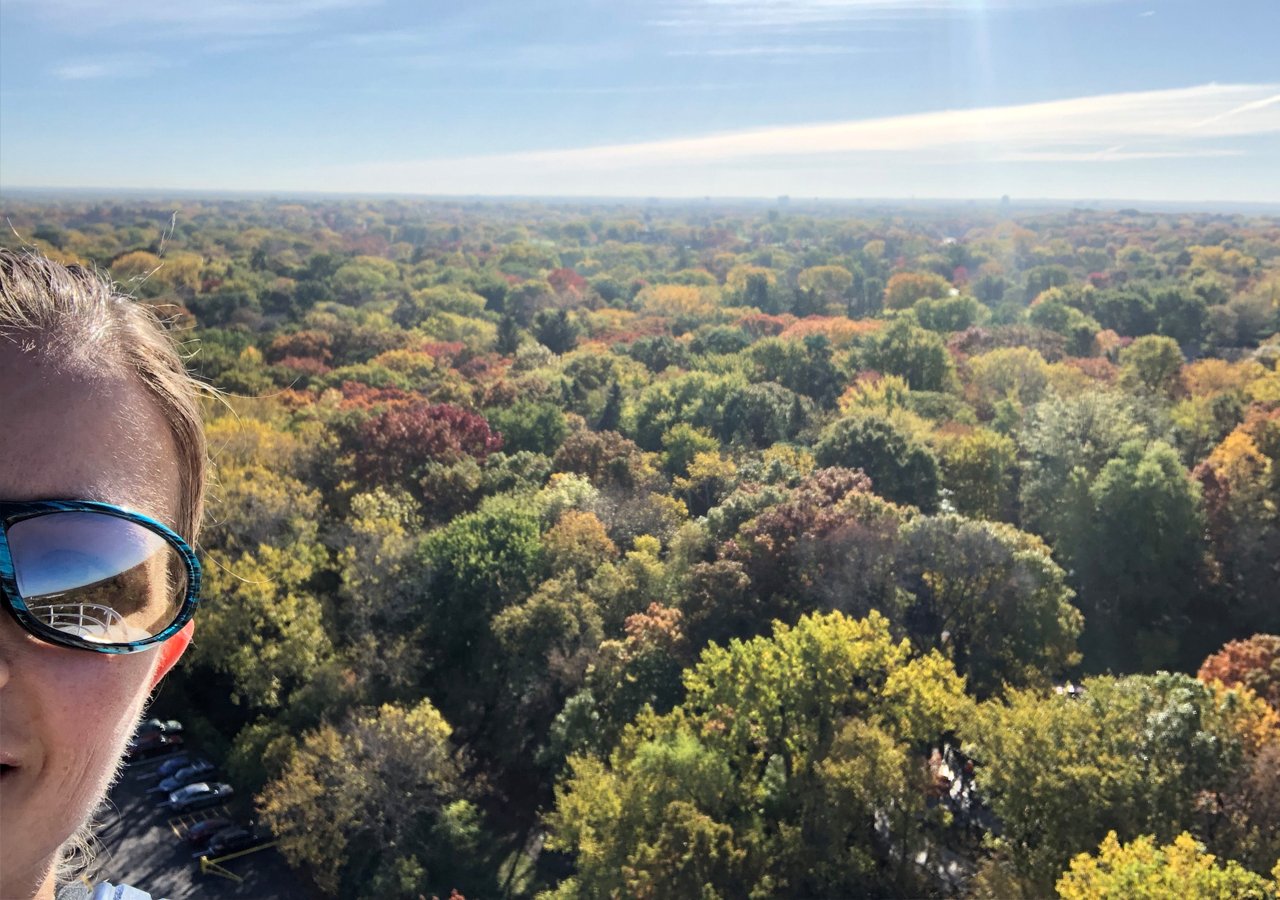 Hopkins, Minnesota (autumn leaves)
Some views just take your breath away. This water tower is difficult to find without the street address, due to the tree cover in the residential neighborhood. When a water tower is tucked away out of plain site, it is especially important that periodic inspections be made to check for site security and make sure that safe water storage is not compromised.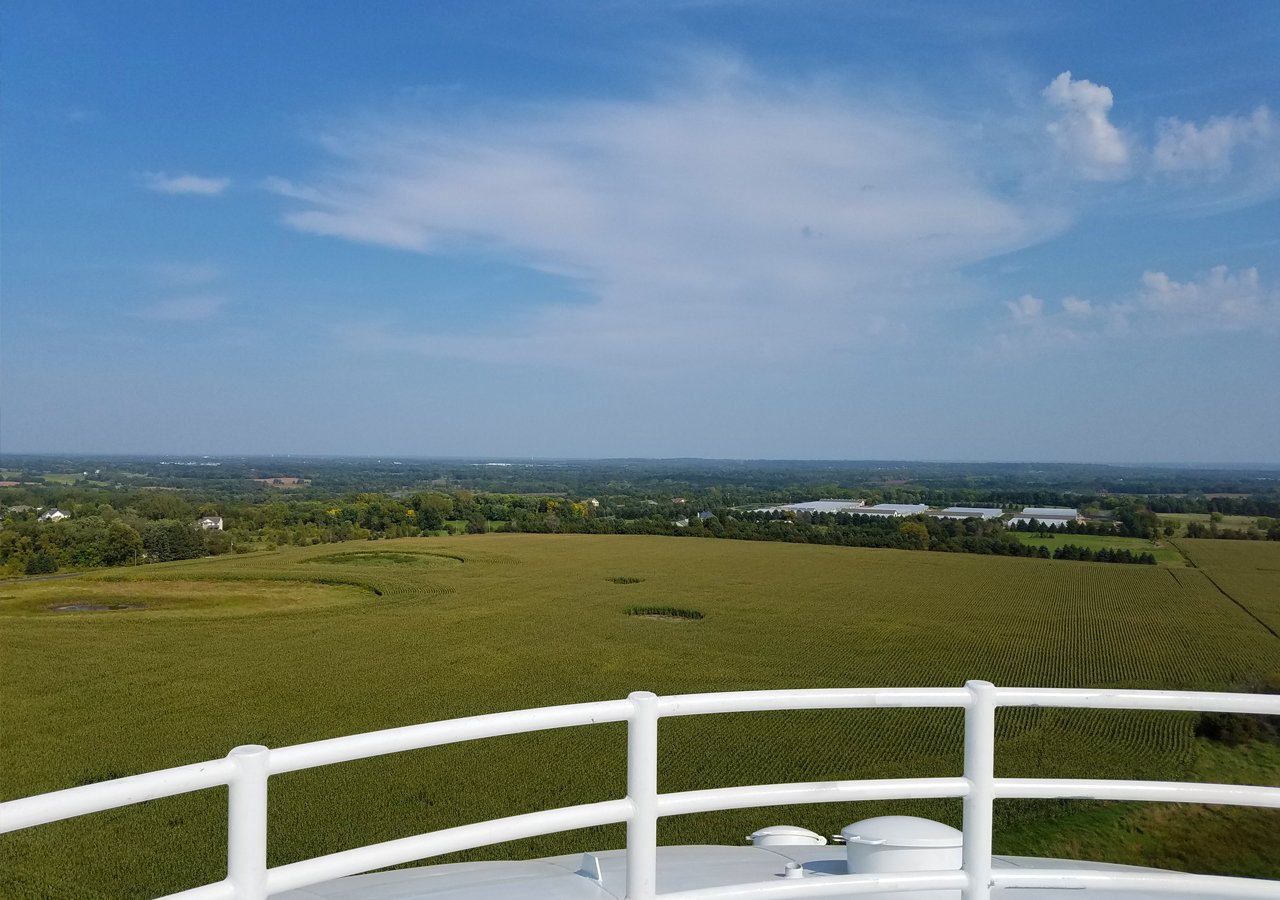 Lake Elmo, Minnesota (corn rows)
Fall in Minnesota, and this new tank construction is finishing up on time before the harvest and cooler temperatures. A welded steel water tank with proper maintenance can serve a water system for more than a century. This is why surface preparation, coatings application, and frequent inspections are critical for a new tank to set it up for a long life without unexpected coating failures.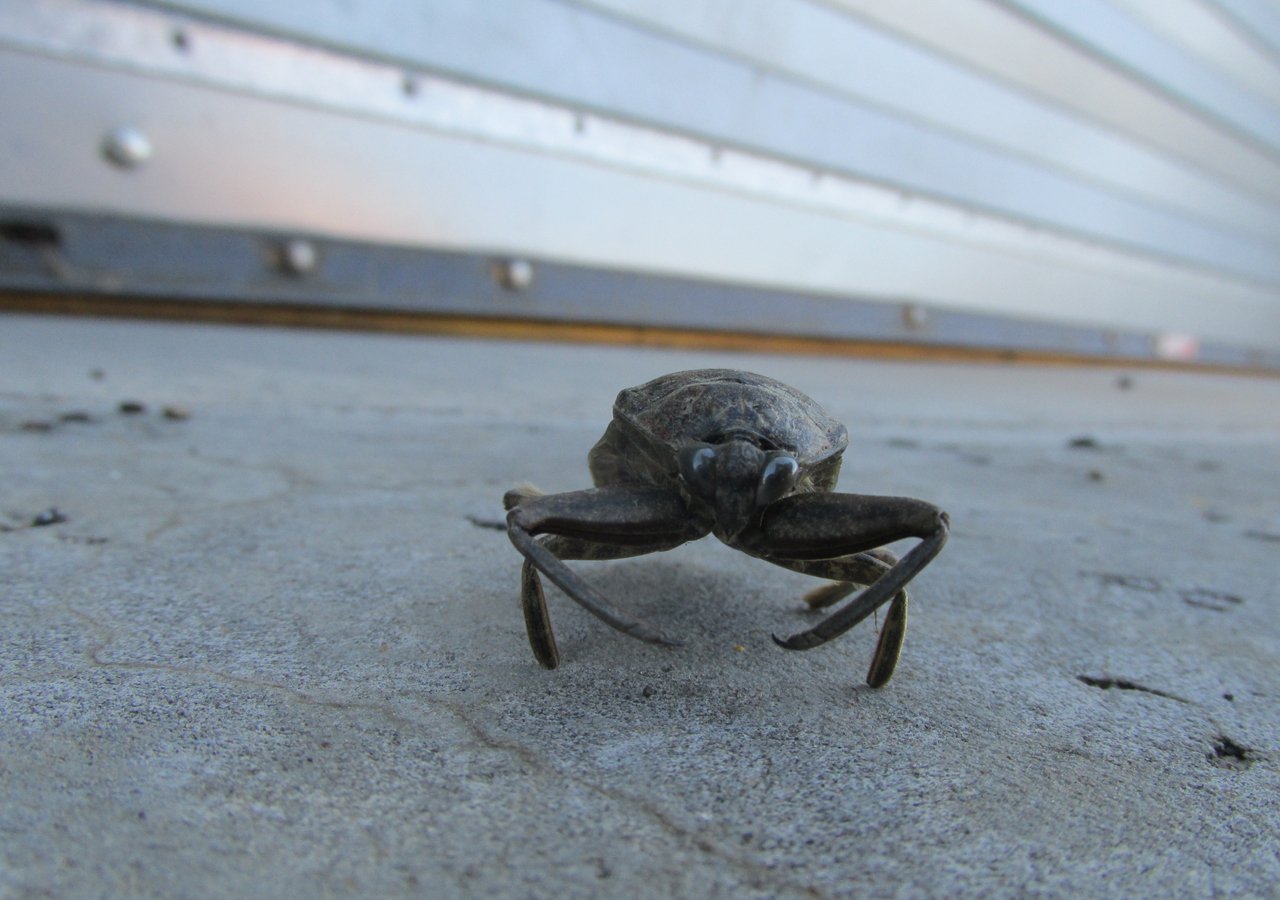 Anonymous (water bug)
As I arrived at the water tank for the inspection, I approached very slowly with my eyes trained on the two-inch long bug near the doorway. I was relieved to find that it was just the skin of the giant water bug, and not the creepy crawly itself. While almost any size mesh screen would keep this bug out of the water tower, many smaller bugs may try to enter through an unsecured opening. During inspections, I check the condition of the screen to make sure it is intact to keep bugs out.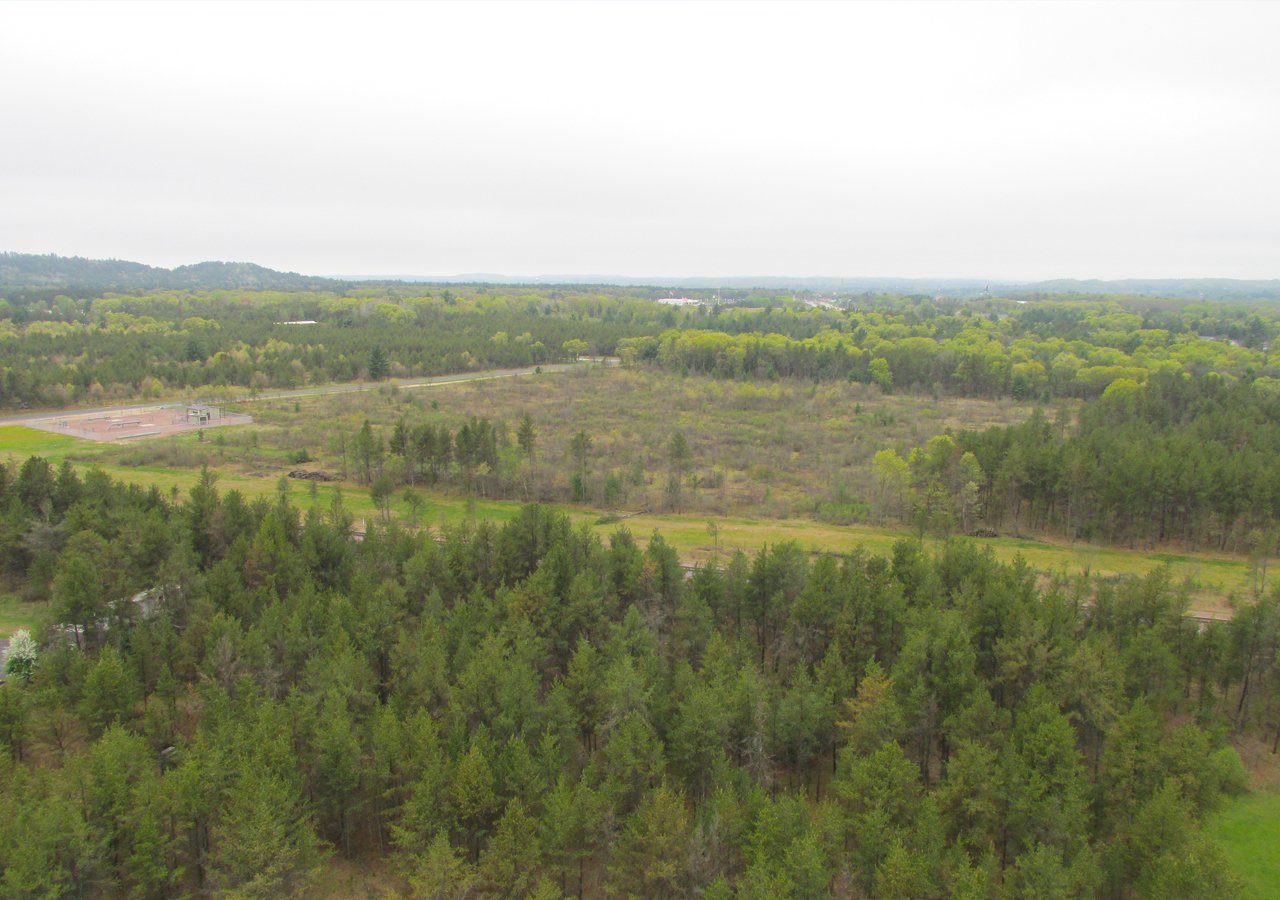 Black River Falls, Wisconsin (pine trees)
This area of Wisconsin is on the edge of the driftless area, and the Black River cuts through granite, making for spectacular views. This view is to the north, where the sandy soils support terrain consisting of primarily coniferous trees. Prior to water tower reconditioning, the tower should be inspected to determine not only the coating condition, but also the sanitary and safety conditions, so that all items can be addressed during the reconditioning.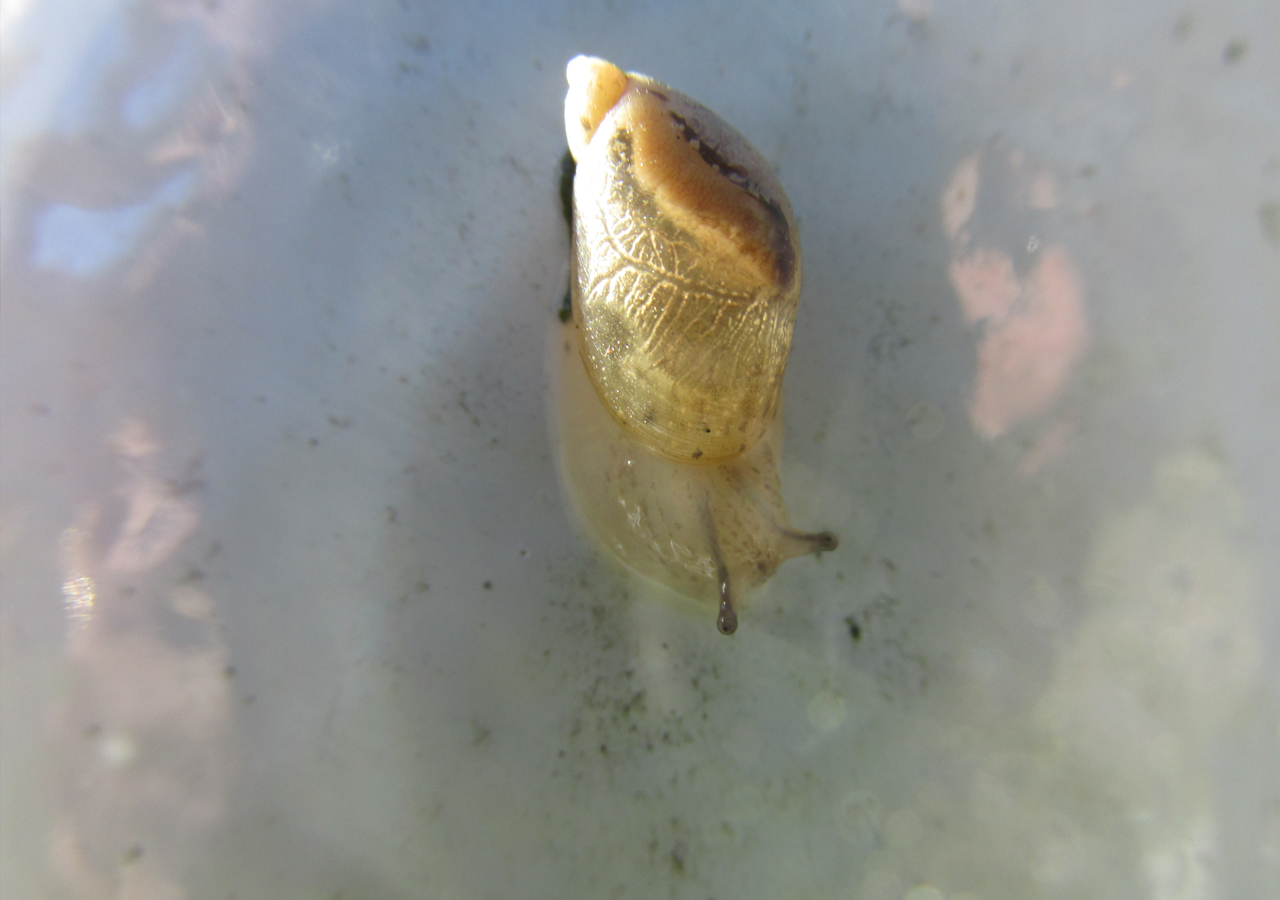 Orono, Minnesota (snail)
There are some water towers constructed in a location where an encounter with nature is expected. This water tower is one of them. I see frogs on every visit, and this year saw snails as well. Last year I saw a snake but wasn't able to capture a good picture.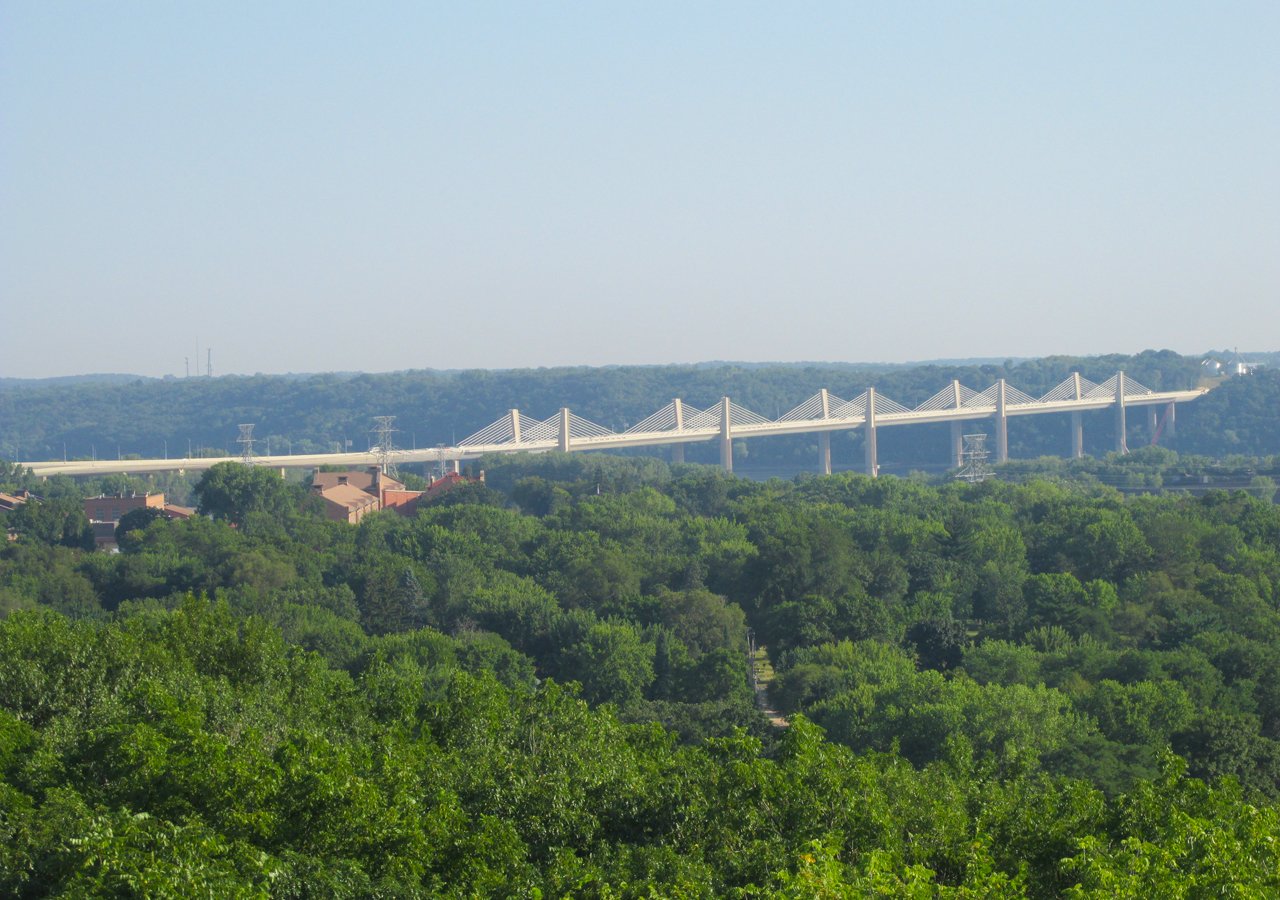 Bayport, Minnesota (new bridge)
After traveling across the historic Stillwater Bridge on the last day it was open to vehicle traffic between Minnesota and Wisconsin, I found myself atop the Bayport reservoir. From the reservoir, I realized I had a view of the new bridge, so I snapped a few photos. SEH played a role in the overall river crossing project, and until now, the only view I had of the new bridge was while crossing the old lift bridge. The final product was neat to see from a higher perspective.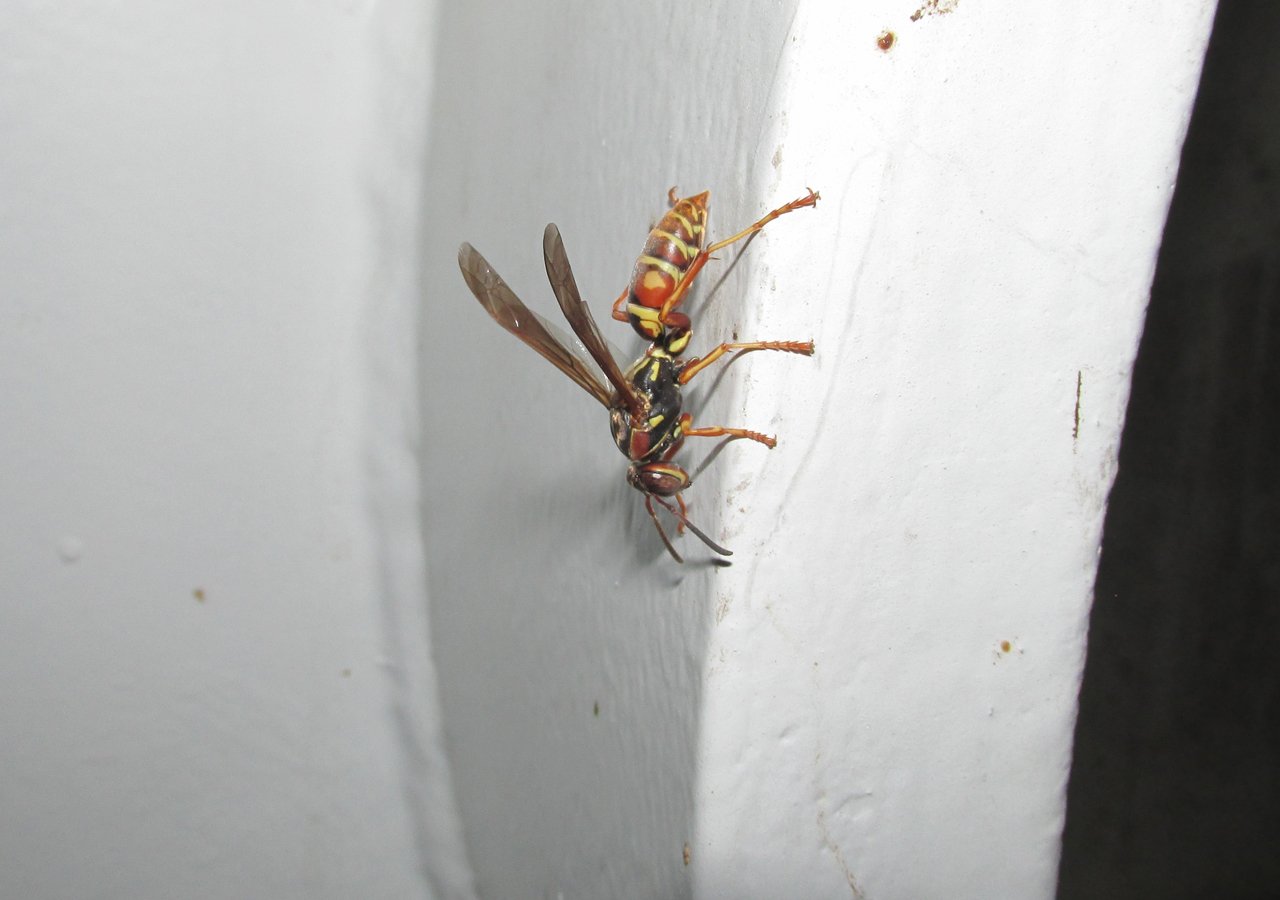 Cottage Grove, Minnesota (wasp)
While amphibians can be found outside of tanks, flying creatures sometimes find a way into the tank. I rarely see them within the water storage compartment, but wasps, flies and Asian beetles are common in the dry interior of tanks. Penetrations should be checked frequently, and sealed or screened to keep insects out.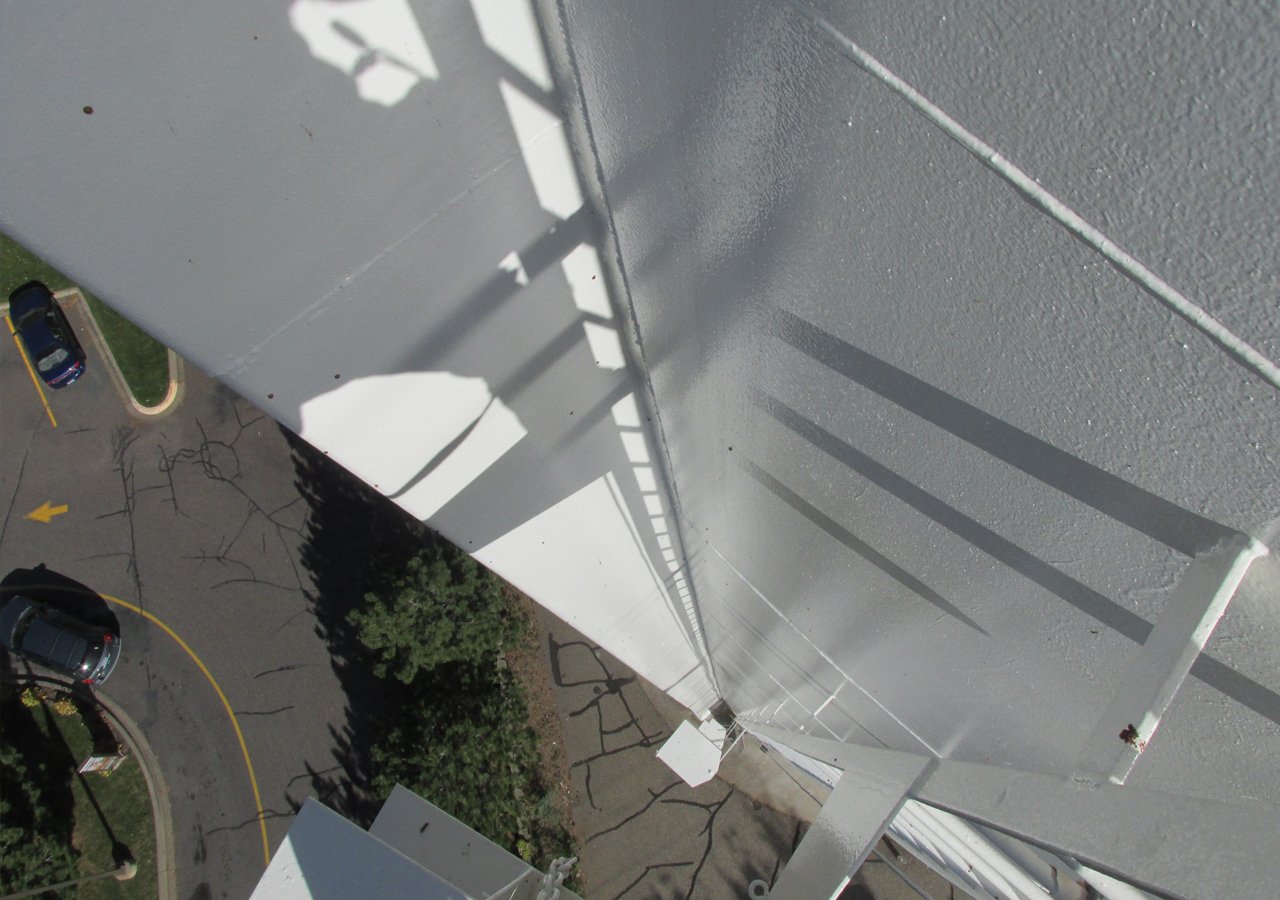 Hopkins, Minnesota (ladder)
Proper safety procedures must be followed while climbing elevated water tanks, and safety equipment (wearable and attached to the tank) should be checked each time the tank is climbed. Safety is critical, especially in the event of an emergency when the tank must be accessed quickly to restore or maintain a safe water supply. Keep wearable safety equipment in a specified location and check it prior to each use. Check the equipment attached to the tank each time it is used.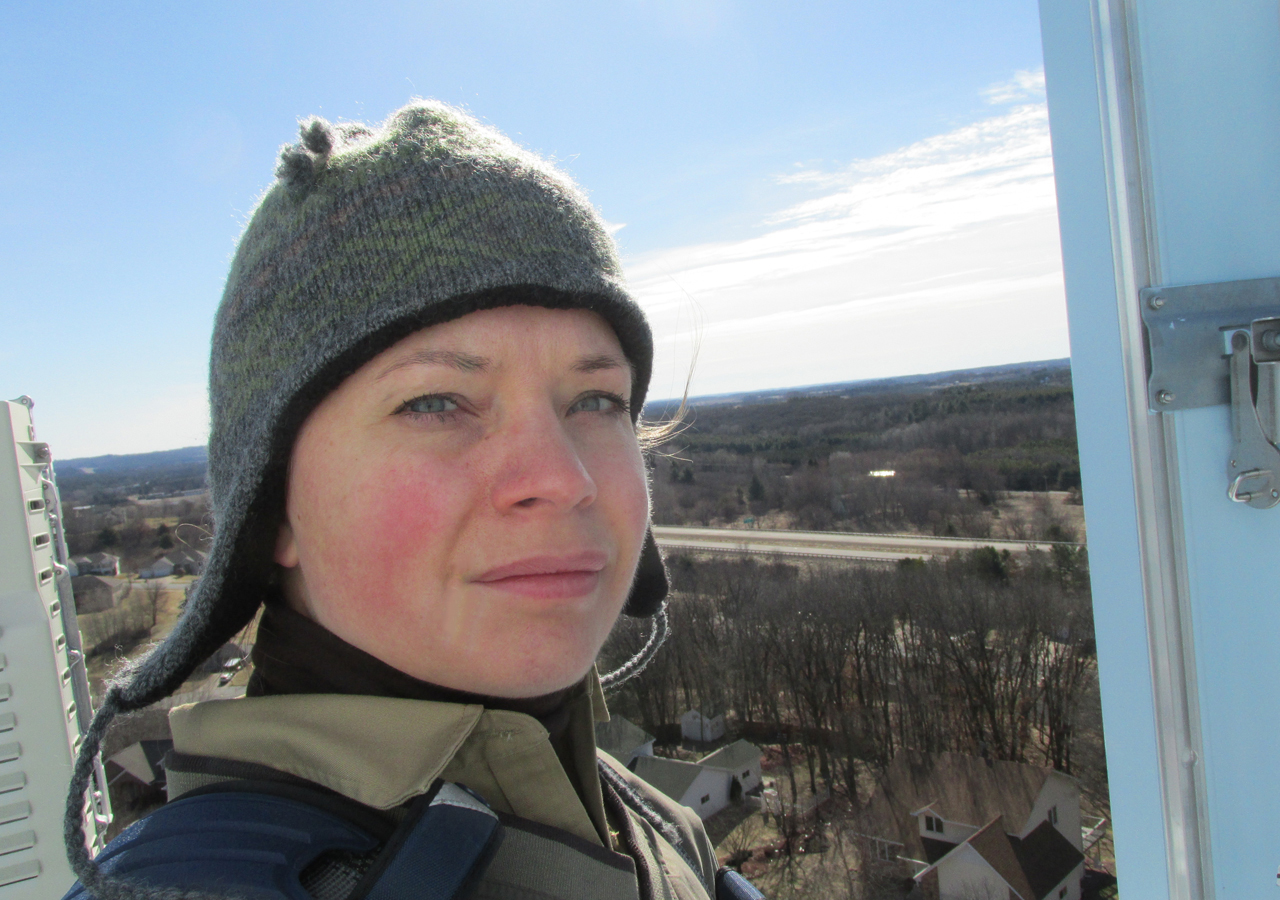 Eau Claire, Wisconsin (winter hat)
It is important to conduct thorough inspections of a tank's wet interior surfaces approximately every three to five years. Some jurisdictions require each tank to be drained at least once every ten years. Owners often request a drained inspection during periods of low water use — cold weather. With proper preparation and safety precautions, tank inspections can be conducted year-round.
Bringing it together
Over the years, climbing well over 100 feet into the air has become just a part of the job for Jana Nyhagen. Along with documenting water tower tank conditions and recommendations, she gets to see some incredible sights.
One of the most rewarding things about my job is being able to help our clients provide their communities with clean drinking water. And the views aren't too bad either!
About the Expert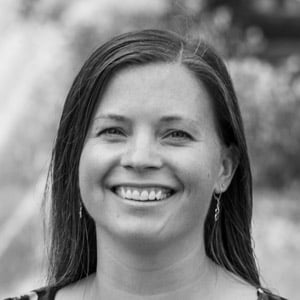 Jana Nyhagen is an SEH water engineer and tank inspector committed to providing municipalities with the knowledge they need to make smart decisions regarding their community's most important resource—water. Follow her on LinkedIn to see more adventures.
Contact Jana