We gathered six female experts at SEH to discuss all things Science, Technology, Engineering and Math (STEM) – including why they chose a career in STEM, the value it brings to our communities, and advice they have for young women seeking to enter the field.
Meet our Women in STEM experts: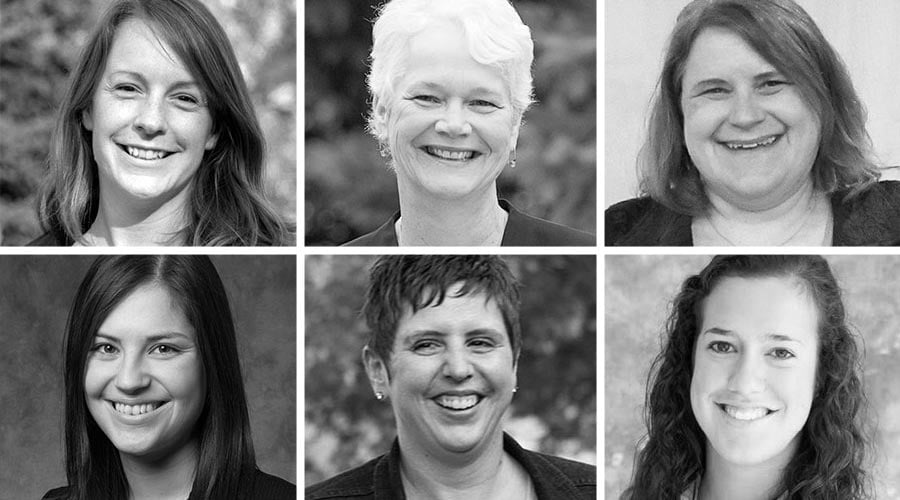 Nikki Farrington, PE*, (top left) is a senior professional transportation engineer with an appreciation for the importance of connecting the needs of a project – through collaboration with clients and local stakeholders – with creative, viable solutions.
*Registered professional engineer in MN
Sue Mason, PE*, (top middle) senior project manager/principal, is a civil engineer and leads the SEH Civil Practice in the Minneapolis/St. Paul metropolitan area. She helps implement public infrastructure projects.
*Registered professional engineer in MN
Melanie Niday (top right) is a senior hydrogeologist and solid waste scientist dedicated to solving our communities' wastewater issues and working to preserve the planet.
Ariel Christenson, PE*, (bottom left) is a structural engineer with a focus on designing complex projects that span from demolition to new construction and everything in between.
*Registered professional engineer in IN, MN, WI
Jennifer Schmitz, (bottom middle) is a technician with a focus on civil engineering and better streets with safer sidewalks.
Nina Bonanno, EIT, (bottom right) works with clients on comprehensive civil engineering services.
---
What piqued your curiosity in STEM?
Nikki Farrington
My competitiveness! When I was in elementary school, I raced to get my math assignments done before my classmates. I didn't realize at the time, but my competitiveness provided me a foundation in math that continued throughout my academic life and now into an amazing career.
Sue Mason
I was "good" in math and needed a career. Someone suggested engineering to me. Also, at a pivotal time in my life, I had a part-time job working for the City of St. Cloud. I worked in their engineering department and thought I could put my experience to good use.
Melanie G. Niday
I've always done well in science and math in high school, coupled with learning about the growing environmental issues during the 1980s.
Jennifer Schmitz
I've always enjoyed being creative. I had a high school drafting teacher who motivated my curiosity and recognized my talents.
Ariel Christenson
I've always been interested in math and science, so I started college as a biomedical engineering major. Once I realized physics was far superior to biology (laughs), I found a home in the civil engineering department. I was fascinated by the large scale applications (buildings specifically). Initially, I was interested in biomedical engineering because of its positive impact on the lives of others, so it was a smooth transition to civil engineering—which seeks to better our infrastructure for future generations.
Nina Bonanno
I don't recall an exact moment when I knew STEM was the right field for me, but growing up I was always a tinkerer. At any given time, I constructed some type of K'NEX or LEGO structure or model in my parent's living room. In addition to that, math and science were always my favorite subjects. I participated in MATHCOUNTS and Science Olympiad events in middle school and junior high, which only heightened my passion for the discipline.
---
What advice would you give your younger self, or a young woman about pursuing her passion in STEM?
Sue Mason
Take chemistry and physics in high school, as well as math! None of it is that hard. Get work experience to help guide your career choice.
Melanie G. Niday
Trust the science even though others may doubt it. Many people do not always understand the technical concepts, and, as a result, you must be able to describe, discuss, and teach the science whenever necessary continually so appropriate decisions and responses are made.
Nina Bonanno
Despite the growth and acceptance of women in STEM in recent years, there will always be someone or something that will say you aren't cut out for it. Don't listen. It could be a poor grade on an exam you thought you aced or getting passed over on a job you thought you'd be perfect for, but if it's what you enjoy, keep going. It seems like pretty standard and clichéd advice, but I still think it's the most important.
Jennifer Schmitz
Show interest and get involved in what you like.
Ariel Christenson
Understanding the needs of others is crucial from a problem-solving perspective (project-level) and on a personal level. In my industry, it's done through collaboration with other disciplines, the owner and the end-user.
Nikki Farrington
Don't listen to the naysayers. When I asked to visit the engineering department during a college tour, the response I received from the tour guide was, "engineering? Oh dear, that requires a lot of math – are you sure?" I look forward to the day when young women interested in engineering isn't uncommon.
---
What motivates you in the workplace?
Ariel Christenson
What motivates me is working toward building a sustainable end product that is safe, and that the client is proud of.
Nina Bonanno
The needs in our society are constantly changing, and we have to adapt to keep up. Working with such intelligent people here at SEH keeps that flame lit to continue to bring innovative ideas to the table to better serve our clients and communities.
Nikki Farrington
I'm motivated by continually learning something new – new technologies, new ways to communicate with people and unique solutions that can address problems. I like feeling like there's always a chance for something new to occur in my workday.
Sue Mason
I value the brilliant and creative people I get to work with, and I love serving our appreciative clients and helping solve their problems that result in an improvement for their community. And, having fun and challenging projects to work on doesn't hurt!
Jennifer Schmitz
I enjoy keeping up with the evolving technology and all of the impressive things we can accomplish with it.
Melanie G. Niday
Seeing the need to provide technical services to navigate regulations based on science to all my clients, I especially enjoy working with those in local governments that don't have the technical resources within their organizations.
---
What is your favorite thing about working in STEM?
Nina Bonanno
The fact that every day has the potential to be different. I love facing new challenges and the opportunity to find new ways to solve them.
Melanie G. Niday
Being able to mentor younger scientists and engineers.
Ariel Christenson
Innovation. Technologies are constantly changing, so the depth of our knowledge of the built environment is continually increasing. This results in life-long learning—there's never a dull day!
Nikki Farrington
Knowing I have a real impact on my community. I love being able to talk about the everyday transportation issues that I'm helping address as part of my job with family, friends and neighbors.
Jennifer Schmitz
There are never two projects that are the same. Each one has unique characteristics.
Sue Mason
The satisfaction of taking a problem and creating solutions for your clients, working in a team environment, collaboratively solving a problem or completing a project.
---
Who is/are your role model(s)?
Nikki Farrington
When I was in high school, I had terrific teachers who never questioned my desire to do more math and science courses. They were always available to help me when I struggled and provided encouragement.
Sue Mason
Dick Moore, former SEH project manager, and my eleventh-grade math teacher.
Melanie G. Niday
Elaine Hatzenbuhler, my college laboratory instructor. She helped me see that you can obtain respect amongst peers (male and female) and still be yourself.
Jennifer Schmitz
My parents. They have been small business owners for 37 years and taught me a great work ethic to reach my goals.
Nina Bonanno
First and foremost, my parents for always supporting me and my choice to pursue a career in STEM, despite the fact it currently has me 1,100 miles away from home. And second, to all the women actively pursuing their passions and achieving their goals in the STEM fields, committed to one day erasing the norm of this being a "man's world."
---
Give us one word to describe your working style.
Sue Mason
Collaborative.
Jennifer Schmitz
Focused.
Nina Bonanno
Diligent.
Melanie G. Niday
Flexible! STEM fields and regulatory-related aspects are constantly changing and we have to adapt.
Ariel Christenson
Efficient. I try to be focused on the work that I do so that projects stay on budget, client needs are met, and I can get home to snuggle with my baby boy (born Nov 4)!
Nikki Farrington
Impactful.
---
Bringing it all together
Combining passion and skill for STEM is an excellent approach for excelling in the workplace. Together, the women at SEH are actively making a difference and finding the best solutions to impact the world around us positively.
At SEH, we are all committed to sparking inspiration and cultivating mentorships for the next generation of women innovators and leaders in our communities, so together, we can build a better world for all of us.