Known as the "heart of the Native community," Little Earth is a vibrant and culturally rich community in Minneapolis that houses over 1,000 residents from 38 tribal affiliations.
Little Earth, and the East Phillips neighborhood in which it resides, is home to a mix of residences, small businesses, daycares, places of worship, and greenspace. Little Earth is the only urban indigenous preference project-based Section 8 community in the United States. The Little Earth Resident Association (LERA) has established itself as a community model for organizing around environmental and social justice issues through its provision of engagement, holistic programming, and representation.
The lasting impacts of generational trauma on this indigenous community were compounded by the pandemic and the civil unrest that began in 2020. Facing additional challenges such as rising crime, safety concerns, and increased speeding, the residents of Little Earth and East Phillips came together to devise innovative, community-driven solutions focused on enhancing safety and celebrating their distinctive cultural identity and assets.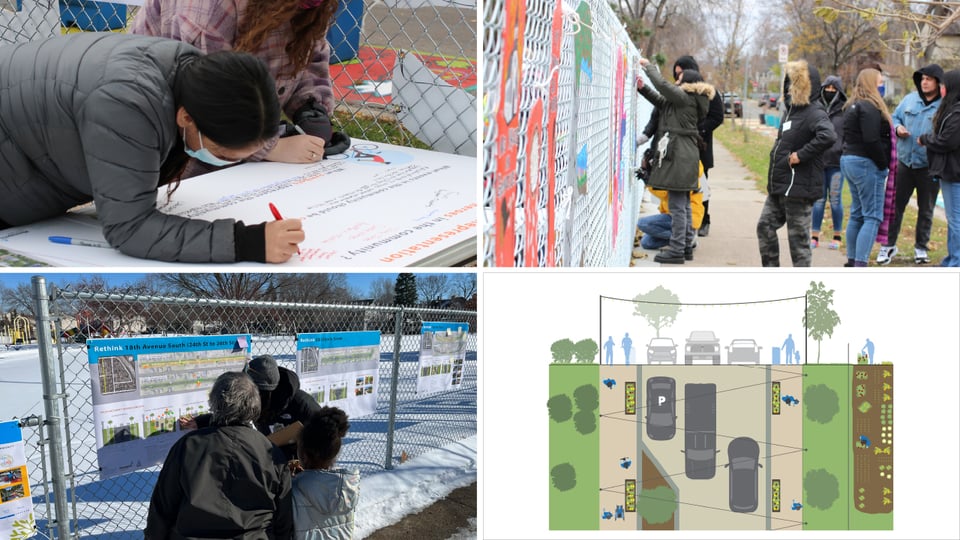 Community-based solutions
In 2021, the City of Minneapolis and LERA formed a unique community partnership to implement a demonstration project to test temporary safety improvements, placemaking features, and to conduct community engagement. They obtained funding for this project through a NACTO Streets for Pandemic Response & Recovery grant which also allowed for the City's Project Manager to co-work with the LERA director fostering trust and understanding. These partners engaged SEH to assist with the next steps to complete a Transportation Study and design concepts that reimagined three primary streets within the community: 18th Avenue South between 24th and 26th Streets, Ogema Place, and EM Stately Street. The goals for the project were to develop concept designs that improve safety and security, limit non-resident traffic on local streets, and enhance the public realm with green space and a sense of place that reflects the community. The project included innovative engagement and comprehensive traffic analysis to ensure future designs will meet the needs of the residents, businesses, and partners.
Engagement framework rooted in equity
Early engagement directed by the City's Project Manager and supported by SEH was key and included partnerships with multiple departments, organizations, and agencies, such as LERA, Hennepin County, Mississippi Watershed Management Organization, Minneapolis Public Schools, the Minneapolis Park and Recreation Board, and the City's Community Planning and Economic Development department, to name just a few.
The community engagement process was innovative and inclusive, with activities designed to engage residents and stakeholders who may not typically participate in decision-making processes. Adhering to pandemic protocols, SEH led two highly attended outdoor community meetings during winter months with partner assistance, including fire pits, hot cocoa, s'mores, and children's activities at nearby Cedar Field Park. The SEH team designed interactive and fun activities to engage and inform community members who were able to design their own streets and identify preferences, expressing their community values.
Throughout the process, the team worked with the partners to create an equitable engagement plan that emphasized representation, supported the community in connecting to resources and partners, and reflected the needs, wants, and cultures of Little Earth, the East Phillips neighborhood, businesses, and agencies. This public input was then incorporated into the analysis and design concepts, ensuring that the result aligned with the community's needs and vision.
Aligning with the community's vision
The team evaluated the data and demographics of the area and found that walking, biking, and transit were primary modes of transportation for residents. Along 18th Avenue South, up to 30% of daily roadway users relied on walking and biking. A speed study conducted on 18th Avenue South found that nearly 50% of vehicles travel over the speed limit of 20-mph. With the risk to pedestrians increasing as speeds exceed 20-mph and the high percentage of vulnerable users on 18th Avenue South, pedestrian safety is a top concern.
To address such safety concerns and other issues learned through the technical analysis and engagement, the study included several design goals, including:
Deter criminal activity by limiting non-resident traffic while maintaining access for residents and park users
Add traffic calming measures to reduce speeding and advocate for livability and safety
Improve safety and access to Cedar Field Park and other community destinations
Incorporate public right-of-way space for active community use
Seek low-cost interim improvements with a long-term plan
Include native trees, greenery, and sustainable design solutions
Based on community and city design preferences, SEH completed 10% designs to reimagine safer, more comfortable, and walkable streets for the community. SEH's community engagement and in-depth study sets the stage for future design plans to secure funding for permanent, meaningful change in the neighborhood.


Project
18th Avenue South and Little Earth Transportation Study
Location
Minneapolis, Minnesota
Client
City of Minneapolis
Features
Equity-rooted and inclusive community engagement process
Designs to align with community's vision and transportation needs
Traffic calming measures to improve livability and safety, including diverter, raised crosswalk, curb extensions/chicanes, narrowed street, wider walk space, speed table, raised decorative painted plaza, and a new trail
Improved green infrastructure and landscaping amenities, such as trees, tree trenches, landscaping, reduced street width, rain gardens, and partial street conversion to a greenway
Streetscaping enhancements that represent the community, such as pedestrian lighting, string lighting, planters, decorative paving, and public art


Services
Civil engineering
Multimodal design
Urban design
Traffic engineering
Transportation planning
Community engagement