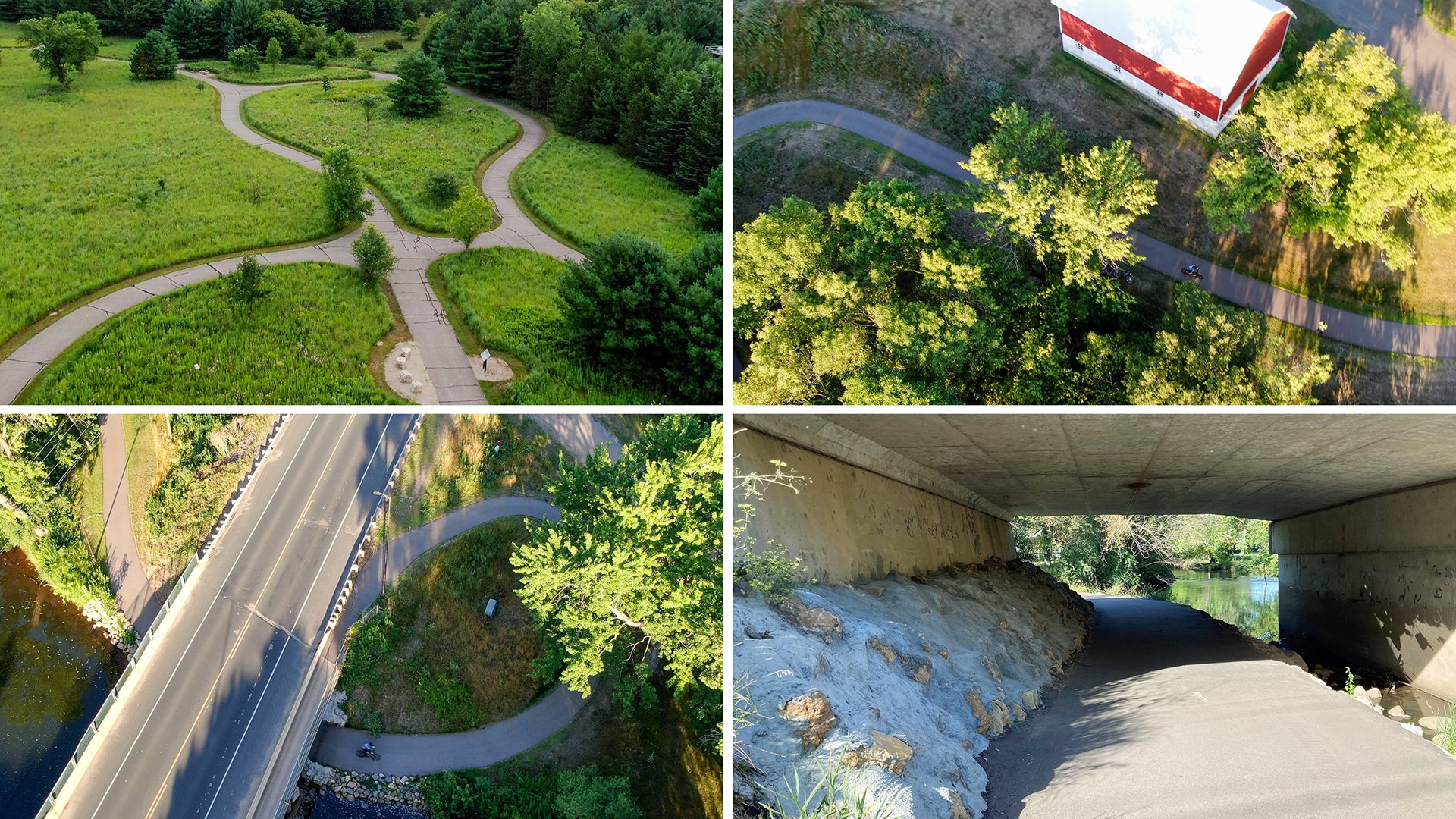 Challenge
Continued community growth, increased development on the City's west side, and the need to fill critical gaps in the trail network highlighted the need for better bicycle and pedestrian accommodations along Business Highway 64 in New Richmond. One of these gaps exists on the outskirts of the City, where there are no trail connections to the Nature Center and Doar Prairie Restoration - both significant areas that feature natural parklands and native prairie vegetation.
SEH closely collaborated with New Richmond, from the early planning stages through final construction, to execute a new scenic trail that provides a crucial connection in the City's trail network and offers safe access for pedestrians and cyclists to the surrounding natural areas. The Nature-Doar Recreational Trail meets the growing demand for outdoor recreation opportunities in the community and serves as a foundation for future improvements.
Solution
SEH engineers and natural resource scientists partnered with the City to design and construct this missing segment. It was a complex process, starting with the conceptual design, which was used to successfully secure grant funding from the Stewardship Local Assistance, Federal Land & Water Conservation Fund, and Recreational Trails Program Grant by the Wisconsin Department of Natural Resources.
The 8 ft. wide, 2,680 LF bituminous trail includes a river crossing as well as a highway underpass crossing, providing a new, safe connection for people walking, biking, rolling, and scooting.
Designed with sustainability and environmental preservation in mind, this trail prioritizes connections and encourages outdoor recreation in natural areas. The trail commences at the Doar Prairie Restoration Park area and ends at the 16.5-acre Nature Center, which includes a pavilion, grass trails, and urban forest. The park borders the east side of the Willow River, offering a scenic space for hiking, birdwatching, and fishing, and is a popular fat-tire bike area in the winter. Just half a mile away on the west side of the Willow River is the Doar Prairie Restoration, featuring 14.6 acres of natural prairie grasses and 0.7 miles of paved walking trails.
Navigating these natural areas was challenging due to wetland and floodplain crossings, steep terrain, and ADA and FEMA requirements. The team's sustainable design approach and proactive planning addressed these difficulties through:
ADA compliance: Ensuring maximum ADA access by selecting a longer, curvilinear alignment that reduced the grade and created a scenic setting.
Permitting: Obtaining a DNR Stormwater Notice of Intent permit application and a Wetland General Permit application for the project's two impacted wetland areas totaling 5,400 sq. ft.
Safety: Incorporating safety measures, such as avoiding a shared access drive and adding two roadway underpasses, provides a safer environment for both trail users and shared access drive users.
Easements: Proactively securing easements for two portions of the trail by coordinating with private property owners.
Utility coordination: Carefully coordinating with overhead power lines in the public right-of-way along Business Highway 64.
Now complete, the Nature-Doar Recreational Trail provides a unique, scenic addition to the City of New Richmond's parks and trails system.

Awards
2023 Engineering Excellence State Finalist Award | American Council of Engineering Companies, Wisconsin Chapter (ACEC-WI)
2023 Project of the Year – Small Cities/Rural Communities ǀ American Public Works Association, Wisconsin Chapter (APWA-WI)
Project
Nature-Doar Recreational Trail
Location
New Richmond, Wisconsin
Client
City of New Richmond
Features
Improved access to and encouraged use of outdoor recreation near the Willow River
Expanded the City's cross-country ski and fat-tire bike trails
Provided off-street bicyclist and pedestrian accommodations along Business Highway 64, a heavily traveled road with gravel shoulders and a posted traffic speed limit of 45 MPH
Ensured ADA compliance throughout the project
Services
Civil engineering
Environmental
Natural resources
Survey