Challenge
Lake George, a central gathering space for community events in St. Cloud, Minnesota, suffered from algae blooms, low water clarity, high phosphorus levels, and unpleasant odors. As a result, this urban lake was placed on Minnesota's Impaired Waters 303(d) List in 2012 for failing to meet the standards for aquatic recreation.
The area includes the Lake George Municipal Complex and Eastman Park, the most utilized park in the City of St Cloud. Lake George is the centerpiece of many community events, including a weekly summer music series with an estimated attendance of 125,000 people annually. With walking trails, paddle boat rentals, fishing opportunities, and wintertime skating, lake health is important for park users and the City of St. Cloud.
Recognizing the lake's significance, the City implemented a plan to reduce phosphorus concentration, improve the ecosystem's health, and create a more favorable environment for lake users, ensuring the sustained well-being of this vital community resource.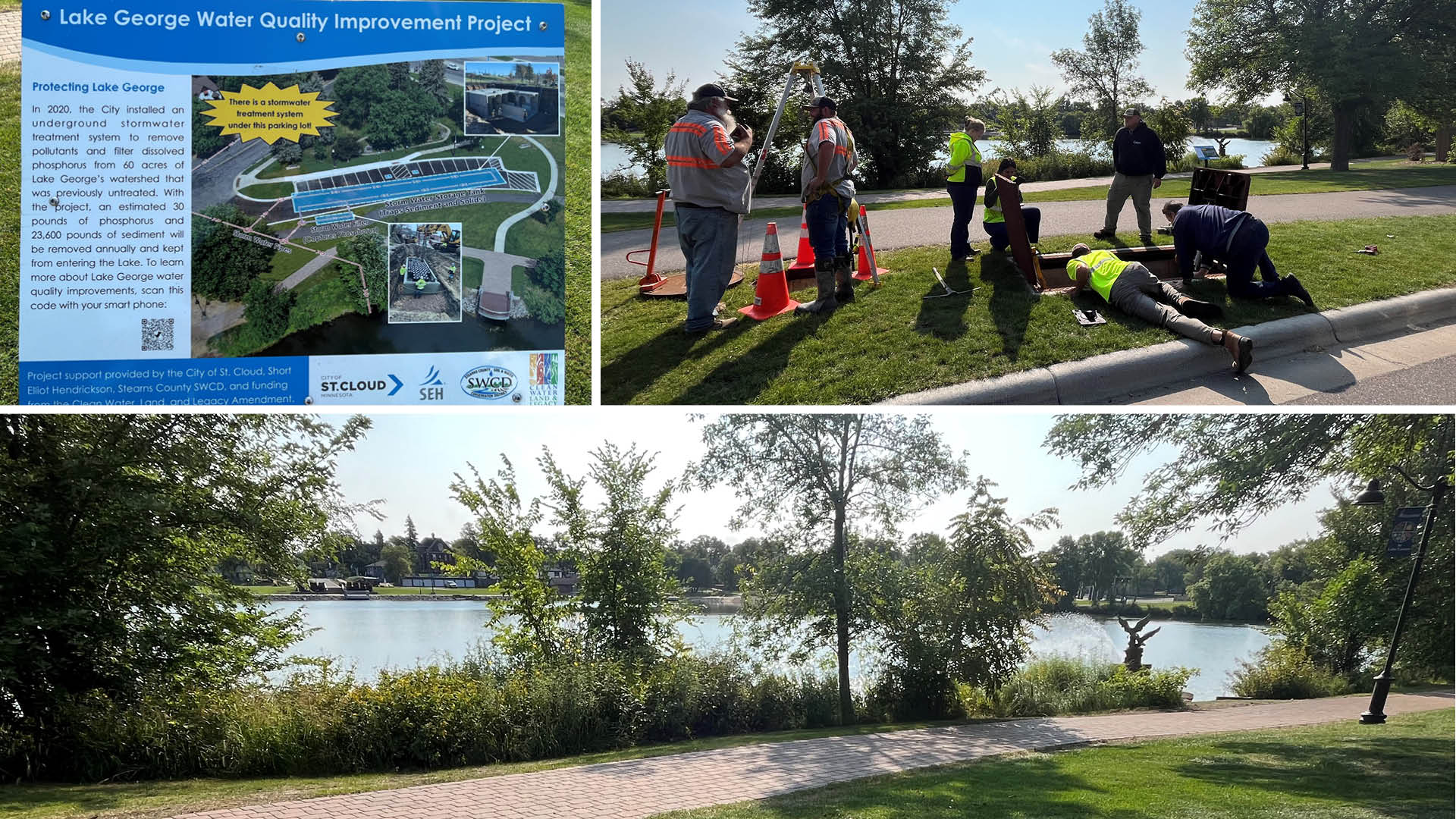 Solution
SEH scientists and engineers collaborated with St. Cloud Public Utilities and other stakeholders to protect and enhance the water quality of Lake George and its 125-acre watershed. The first step in this multi-year coordination process started with the Lake George Sub-Watershed Assessment. Initiated in 2017, this Assessment had the following objectives:
Reduce Lake George phosphorus concentrations to have the lake removed from the state's impaired waters list and to remedy algae-related aesthetic problems
Create a healthier environment and habitat for fish and wildlife
Based on this analysis, the team developed a Water Quality Improvement Implementation Program – incorporating modeling, a detailed action plan, and cost estimates.
These plans included an in-depth look at the causes of the lake's water quality impairment and the proposed treatment program, which comprised of in-lake alum treatments, the construction of an underground stormwater management system to treat runoff before discharging into Lake George, and an annual assessment of lake conditions summarized in an annual Limnology Report. The City also worked with the University of Minnesota on a pilot study adding iron filings to an upstream stormwater pond to reduce phosphorus.
In-Lake Alum Treatments
Alum treatments provide a safe, cost-effective, and durable approach to managing phosphorus, curbing algae proliferation, and enhancing water quality. SEH coordinated between the City and MPCA to ensure proper permitting and approvals for a series of alum treatments beginning in 2018. SEH and the City managed the alum treatments and analyzed the data from sample collections to determine future treatments. The first dose inactivated mobile phosphorus in Lake George's sediment, followed with smaller monthly doses designed to "strip" phosphorus from the water column – making the phosphorus unavailable as food for algae growth. The City has completed intermittent alum treatments over the past five years. Each treatment resulted in noticeable improvements in water quality. Ongoing monitoring by city staff ensures a thorough assessment of lake conditions, validating the efficacy of alum applications.
Iron Filings and Phosphorus Management
A stormwater treatment pond – referred to as Little George – was constructed two decades ago to capture sediment and pollutants before they reach Lake George. While Little George had done a great job capturing sediment, the pond had too much nutrient buildup to keep it from doing its job effectively. The City dredged Little George for the first time in 2018 to restore treatment capacity. An impressive 902 tons of sediment was removed from the pond (approximately 50 semi-truck loads) and disposed of at a landfill.
In 2019, the City added iron filings to the pond as part of a partnership study project with the University of Minnesota. The iron filings are intended to reduce phosphorus release from the pond and its sediments to keep the phosphorus out of Lake George. The City completes ongoing bi-weekly water monitoring on Little George to measure the effectiveness of the iron filings for reducing phosphorus release and the feasibility of using iron filings on stormwater ponds statewide.
Regional Underground Stormwater Retention Chamber
SEH designed a regional underground stormwater retention and filtration system beneath an existing city parking lot in the northwest corner of Lake George to treat stormwater runoff from an untreated 60-acre drainage area before it enters Lake George. Put online in 2021 and funded with a $697,000 Clean Water Land & Legacy Grant received in partnership with Stearns County Soil & Water Conservation District (SWCD), the underground treatment system targets phosphorus reduction by capturing sediment and phosphorus through settling and filtering. The system captures an estimated 29.7 pounds of phosphorus and 23,600 pounds of sediment annually.

Annual Limnology Report and Education Efforts
The City of St. Cloud continues to monitor the water quality of Lake George by taking water quality samples throughout the year. The City measures Dissolved Oxygen (DO), temperature, total Nitrogen, total Phosphorus (TP), Chlorophyll-a, and clarity. The sample results, along with aquatic plant assessments and fisheries assessment, are used to evaluate the overall condition of the lake and assign a Trophic State Index (TSI) value. The TSI value summarizes the lake's overall nutrient levels and overall water quality.
Due to these collaborative advancements, Lake George has experienced a 50% reduction in phosphorus levels, a nearly 3-foot enhancement in lake clarity, and improvement in the trophic state. In 2022, Lake George was successfully removed from the 303(d) Impaired Waters List.
To help residents understand the importance of Lake George and water quality throughout the community, the City does a number of public education efforts, including presentations for local community groups, installation of education signs around the lake, and presentations at various technical conferences. The City will continue to monitor and improve water quality, ensuring Lake George remains one of St. Cloud's greatest assets.
Project
Lake George Regional Treatment
Location
St. Cloud, Minnesota
Client
City of St. Cloud Public Services
Features
Comprehensive efforts resulted in getting Lake George delisted as impaired
Large underground sedimentation and filtration water quality treatment system
Services
Civil engineering
Structural engineering
Survey
Natural resources
Water resources engineering
Environmental impact assessment