Flood-prone communities face a unique set of challenges due to erratic climates and an increasing number of storm events.
Resiliency planning – that is, the ability of a community to prepare for, respond to, withstand and overcome adverse situations – is key to remaining proactive and prepared.
Resiliency and preparedness are proactive measures essential to avoiding reactive, disorganized cleanups after storm events, protecting and informing your community, and ensuring your long-term viability. Here, we explore six keys to flood resiliency and gaining deeper knowledge of a critical issue.
1. Take time for research
In the U.S., we typically consider areas as floodplains only if they are shown on a Federal Emergency Management Agency (FEMA) Flood Map or if they are located in low-lying areas along a river or lake. The level of flood risk increases in the areas identified as floodplains or those that have flooded in the past. However, areas that have never flooded or aren't listed in a floodplain are experiencing flooding – making the importance of careful research and understanding your community's standing increasingly important.
Whether identified on a flood map or not, uncover your community's flood risk and/or the areas that are most susceptible to flooding. Understanding the trends, risks and likelihoods will help you proactively define your course of action. Deeper understanding also empowers you to educate local businesses, residents and other stakeholders – leading to greater trust and buy-in community-wide.
For example, SEH and the City of La Crosse, Wisconsin, used a flood event to capture new, more accurate data of its floodplain by distributing surveys to landowners within a 1.13 square-mile region near the floodplain. Past modeling showed that 90 homes should have been inundated because of the flood event, but they weren't. New data showed these homes were no longer part of the floodplain, and therefore residents were saved from having to pay for unnecessary flood insurance.
Flooding is the costliest natural disaster in the U.S., accounting for $268+ billion in damage in 2017. This number has steadily climbed over the past 20 years – in fact, every state has experienced at least two major floods in the past 10 years.
– Before the Next Flood, Protect America's Infrastructure, The Hill
2. Incorporate resiliency efforts into your long-term plans
Flood damage to area businesses, residents and critical facilities has a lasting impact. For example, businesses may move away or decide to avoid opening in flood-prone communities. In addition, damage to residential areas can negatively impact the social fabric of a community by discouraging new residential and retail developments, thereby stunting confidence and limiting growth potential.
Strategic communities are incorporating hazard mitigation and flood planning into their comprehensive planning efforts. They're doing so by bringing local government emergency response personnel, the community floodplain manager, the state hazard mitigation officer and the department of public works into the planning process. Other ways these communities are incorporating proactive, pre-disaster mitigation measures include:
Acquiring flood-prone lands and easements for emergency overflows of flood water
Adopting more restrictive floodplain regulations
Incorporating green infrastructure into local hazard mitigation plans
Even if flooding occurs, working this effort into your long-term plans empowers you to bounce back more quickly and move toward measuring recovery time in hours of receding floodwaters – rather than days or weeks. Long-term planning also positions you for future pre- and post-disaster grant applications.
Remain strategic by incorporating hazard mitigation and flood planning into your comprehensive or master planning efforts, and bring key personnel into the planning process – such as those explored above.
– Brad Woznak, Senior Water Resources Engineer
3. Begin implementing your plan
Once you have researched where flooding occurs most and which areas are most vulnerable, begin to implement your plan to mitigate flood risks and increase the resiliency of affected areas. Plan implementation should include a variety of strategies, including:
Property acquisition and relocation
Stabilizing river and stream banks
Green infrastructure improvements
Installation of flood warning systems
Flood response practice drills
Structural and non-structural flood mitigation measures
FEMA's National Flood Insurance Program (NFIP) Community Rating System (CRS) is a valuable place to begin. This voluntary incentive program encourages community floodplain management activities that exceed the minimum NFIP requirements. If your community takes part and the following three goals are achieved, FEMA discounts flood insurance premium rates to reflect the reduced flood risk.
Reduce flood damage to insurable property.
Strengthen and support the insurance aspects of the NFIP.
Encourage a comprehensive approach to floodplain management.
The U.S. Climate Resilience Toolkit is a free online resource created by the National Oceanic and Atmospheric Administration and dedicated to walking communities through the CRS. The Toolkit offers fact sheets, maps of participating communities, details about how discounts are calculated and other valuable insight.
4. Involve the community, key stakeholders
Take every opportunity available to engage businesses, residents and other key stakeholders. Obtain and track feedback, ask questions, and partner with them when seeking to develop or beginning to implement your flood resiliency plans. Promote an active discussion and help educate your stakeholders about the benefits of your community's short- and long-term project solutions.
This may sound like an obvious and straightforward step, but the impact is significant. Transparency creates trust which reverberates throughout your projects' timelines, budgets and buy-in. Make sure your stakeholders never lose sight of the community's primary objectives: increase resiliency, safety, as well as social and economic viability for all.
The most effective form of emergency management is one in which every member of the community understands his or her important and indispensable role … The ability of the nation to be truly ready depends on everyone knowing and understanding the part they play in our collective resilience.
– 2018-2022 Strategic Plan, FEMA
5. Tap into funding and fundraising opportunities
Funding for flood mitigation projects can take many forms and largely depends on the project being pursued. For example, over 50 percent of levees in the U.S. are locally owned – placing a large financial burden on our communities. More than 50 percent of all dams in the U.S. are owned by private entities; the federal government owns just 4 percent of them.
More than 90 percent of spending on water infrastructure comes from the local level which has created an urgency to be strategic and proactive with your project decisions. In brief, funding your projects is complex and carries significant consequences if not put to best use. Explore federal avenues, such as the FEMA Hazard Mitigation Grant Program, but also carefully examine state grant opportunities and low-interest loans.
In light of spending often falling to localities, many communities earmark funds in their capital improvement plans, funds from sales tax revenue, or sales tax levies and special assessments. Because of the complexities involved in funding and fundraising efforts, in most cases you will need review and approval by the applicable governing agencies. However, you will also need to secure project buy-in from area businesses and residents.
6. Build a foundation for change; share the results.
The benefits of resilient, sustainable infrastructure and flood mitigation efforts are practical and long lasting. It's incumbent on you to communicate them to area businesses, residents and community stakeholders during outreach and buy-in efforts – but also to follow up and share results once projects are completed so that these parties see and feel the results of their investments.
Here are just a few proven benefits of resilient planning and action:
Noticeable reduction in flood damage
Improvements in community safety
Improvements to infrastructure and aesthetics
Increases in community pride and peace of mind
Greater economic and social stability
Increases in more resilient commercial and residential development
Increased tax base and quality of life
Speaking to E&E News in early 2020, American Society of Civil Engineers Executive Director, Thomas Smith, summarized it all very insightfully, "When you have a disaster and want to rebuild, it doesn't make sense to rebuild to the standards we had before. We're in a vastly different environment now. We have to be thinking about resilient, sustainable infrastructure."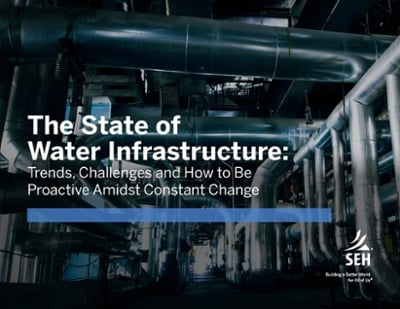 The State of Water Infrastructure – 8 Trends in Drinking Water, Wastewater and Stormwater
From PFAS to climate resilience, 8 trends are re-shaping the industry. In this eBook, uncover the trends, how they will impact your projects and the steps you can take.
About the Author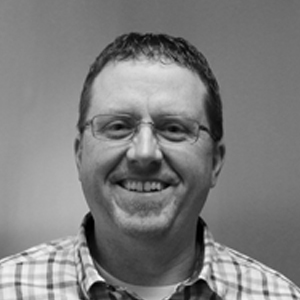 Brad Woznak, PE*, PH, CFM is an SEH project manager, senior water resources engineer and certified floodplain manager with more than 24 years of industry epxerience, striving daily to prepare his clients for more resilient futures – through hydraulic and hydrologic analysis, watershed modeling and floodplain analyses.
Contact Brad