The biggest impact on fire station design over the past four decades is perhaps the most obvious – construction costs.
Forty years ago, fire station construction cost $50-60 per square foot. Today, this average has risen to $190-250, with significant inflation over the past decade especially. As municipalities face stricter budgets and pressure from the public not to raise taxes, building new and renovating current fire stations has become an exhaustive challenge.
This issue is just one of the major trends impacting not only fire station architecture and design but the industry as a whole. Below, we take a look at key fire station architecture and design trends (in addition to rising construction costs), trends impacting the communities we call home and the approaches municipalities are taking to overcome.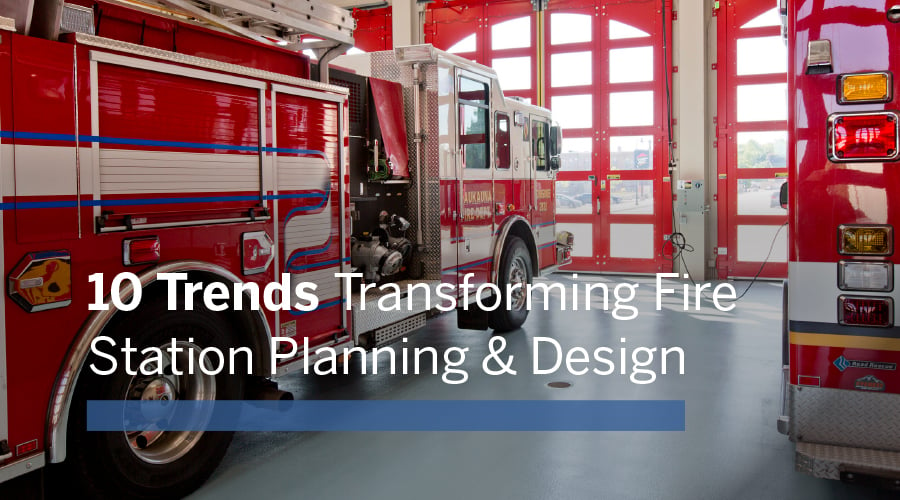 In this free eBook, a fire chief of 30+ years and senior architects share 10 trends that speak to the transformative state of fire services – including planning and design steps you can take to future-proof your departments and communities.
1. Technological precision for fire station site selection
As communities grow, new land developments pop up and road connectivity changes, it's important for local leaders to continuously evaluate the location of their public safety and protection teams. One route is the use of technology. Specifically, the use of Geographical Information Systems (GIS) by fire departments and architect researchers is rapidly growing. They use the data collected to create overlays for maps to pinpoint the best location for a station.
The use of GIS technology to pinpoint ideal station location might look like the following:

A) Create custom GIS map. At SEH, we create custom GIS maps that include community hazard locations (e.g., wetlands, floodplains, open water and future land use plans), population densities and access to major, efficient roadways.

B) Evaluate historical and relevant data. We evaluate historical trends from 911 calls and perform drive-time analyses throughout a community to show emergency response times to specific "hot spots." These maps are overlaid on to land-use maps that show where the community plans to grow.

C) Connect with community leaders. Once the data is carefully evaluated, we connect with community leaders to outline options and deduce the best possible location for a new station. If there is a current station, they can use the research to determine whether building an entirely new station is ideal or if dollars would be better spent in renovation.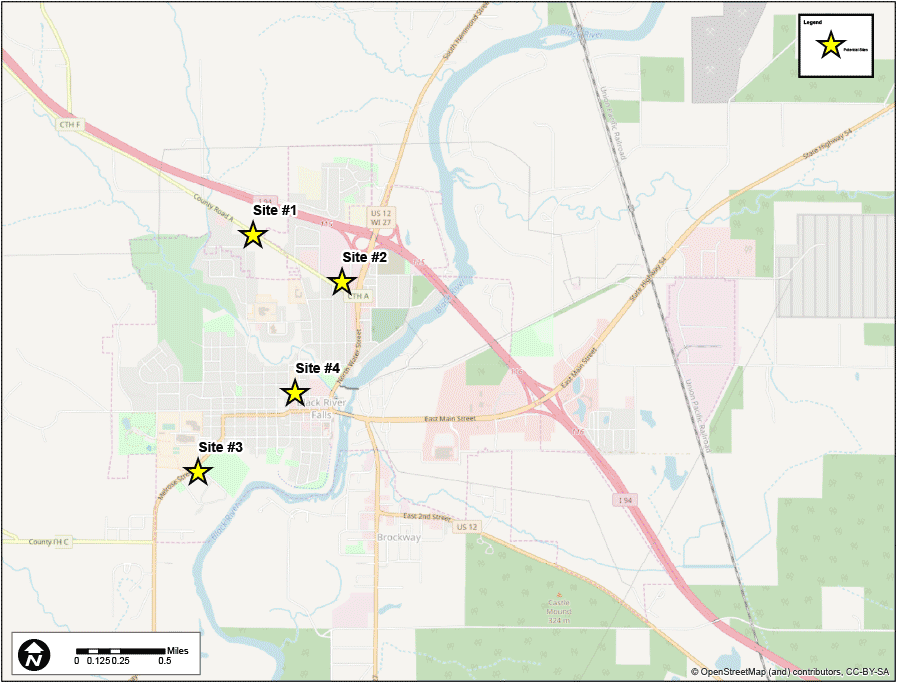 Technology is creating precision for communities and fire departments across the country. Its use is growing rapidly, and allowing municipalities to make confident decisions rather than educated guesses.
– Brian Bergstrom, Senior Architect, Principal
2. Dedicated training facilities
The best emergency response teams train rigorously and continually. However, with 70 percent of the firefighting profession being volunteers, training is more than just a way to sharpen career skills – it's integral to the health and safety of these volunteers and our communities.
To enable top-notch, real-time training, more fire departments are building training facilities into their fire departments. Decision makers have recognized the need and opportunity to outfit their operations with training facilities, also understanding how these facilities can foster collaboration among neighboring departments and support recruitment of interested, young candidates.
3. Rising construction costs; smarter planning
As mentioned above, perhaps the biggest change (and challenge) over the past 30-40 years in getting new fire stations built is construction costs – leaping from $50-60 per square foot in the 1980s to $190-250 or more per square foot today.

Beyond simple inflation, there are a number of reasons why construction costs and costs for new stations as a whole have risen.
Combination/career departments. Volunteer departments are transitioning into combination (e.g. police and fire) and/or career departments. As a result, today's stations now need sleeping quarters, bathrooms, shower rooms, kitchens, training areas, public spaces and parking, to name just a few components.

Rigorous regulations. Public safety buildings have to adhere to very strict codes and guidelines, significantly impacting the materials used – much more expensive than a traditional commercial building like a car dealership.

Higher land acquisition costs, etc. Construction costs don't factor in land acquisition costs, financing and professional service fees (i.e., architecture, engineering and legal, to name a few).
This "new normal" has been a shock for many municipalities as they budget for renovations or new fire stations. In light of this, we've seen significant growth in communities aligning their comprehensive plan budgeting with that of their fire stations. Communities are laying out their budget first, then focusing on design goals. Teaming designers and architects are then uncovering whether adjustments in size and space are needed.
Above all, this approach is keeping the public and local leaders fully informed of their options before important decisions are being made – creating transparency and eliminating the potential for skyrocketing costs mid-project.
4. Involving fire departments in city planning
State and local governments in the U.S. spend around $2 billion each year on the construction of fire departments, a number that is slowly but steadily climbing. However, as local governments face stricter budgets and pressure from the public not to raise taxes, the need for a new fire department is increasingly scrutinized and held accountable.
Similar to No. 3 above, another trend that's on the rise is letting fire services "in" on fire station design, budget alignment and even city growth planning. As an example, fire departments are beginning to play an important role in the design of new housing developments – especially developments with tree-lined, narrow streets and houses clustered together. Designed without emergency services in mind, streetscapes and walkways can be built too narrow which can hinder response time and access.
There are nearly 30,000 fire stations throughout the U.S. housing more than 1.1 million career and volunteer firefighters. In addition, state and local governments are spending close to $2 billion each year on fire station construction.
This trend involves municipal planners intentionally focusing on road connectivity and design. As an example, flat curbs can help large fire trucks make sharp turns, while parking regulations and restrictions make sure fire trucks (in addition to school buses, trash pick-ups and ambulances) have access at all times.
Fire services are expected to arrive in less than five minutes of the station receiving a call. By involving fire departments in city growth planning and designing our streets and developments with emergency response in mind, local leaders are inciting healthy, safe growth of their communities.
5. Green fire station design
Vegetative roofs, photovoltaic (PV) panels, energy-efficient windows – a generation ago these words were only in the design vocabulary of the most progressive architects. Today, these sustainable design trends have become our reality. Green building design directly benefits owners through lower energy bills, lower water usage, and provides safer and healthier environments for occupants. As featured in the video below, two unique examples include the cities of Kaukauna and Fitchburg, Wisconsin.
Kaukauna Fire Station
Kaukauna opened a 25,000-square-foot fire station in late 2017. As a result of the project team using geothermal heating and cooling, solar PV and LED lighting, the City not only has a design that will last for decades but is set to save more than $37,000 each year in energy costs alone.
Kaukauna Fire Department's new 90 kW PV array is now the largest PV system serving a fire department-owned building in Wisconsin. In addition, each room in the fire station is equipped with motion-activated LED lighting (further saving energy costs) while the parking lot is equipped with a charging station for electric cars.
North West Fire Station, Fitchburg
The North West Fire Station in Fitchburg, also built in 2017, hosts a single-level, 25,000-square-foot station. The windows around the building have a low-E glazing, which reduce solar heat gain. The transparent metallic coating from these low-E glazing windows works in two ways to economize heating energy; the dual action coating reflects heat back into the room, while allowing heat and light from the sun to pass into the building.
The design also incorporated a geothermal system, radiant in-floor heating, rooftop PV panels, LED lighting and a solar hot water heating system – all of which are set to save the City $46,265 per year in energy costs. Beyond supporting each city's budget, these features benefit community residents and the environment as a whole.
6. Designs inclusive of all genders
Firefighting is a male dominated field, with nearly 95 percent of the U.S. firefighting labor force today being made up of men. Although the number of women in the industry has grown from 1,500 (0.8 percent) paid positions in 1985 to more than 14,000 today (5 percent, not counting the 35,000-40,000 female volunteer firefighters), the gender imbalance is still eye opening.
In response, communities across the country are striving to make the industry more gender inclusive and inviting to all demographics. One important and intentional effort that we're seeing is the rise of "gender neutral" designs. Traditionally, fire stations have featured a large dormitory, one furnished with individual beds, bunk beds, wall beds or Murphy beds. Today, fire stations are being designed with private sleeping quarters and bathrooms while still featuring collaborative public spaces. Unlike gender-specific designs, gender neutral stations create flexibility as the makeup for fire staff shifts frequently.

Fire stations are open 24 hours a day, 365 days a year and, as a result, need to serve as more than just public and residential space; they need to provide a home away from home for staff during lengthy stays. As more cities, counties and towns seek greater diversity, one way to embolden inclusion is making fire stations inviting to all demographics.
7. Co-location
There are about 18,000 state and local law enforcement agencies in the U.S. As noted above, there are approximately 30,000 fire stations throughout the U.S. According to a study performed by Michigan State University, 128 of these agencies have merged fire services and law enforcement. Although a small percentage, the trend of co-location and, at times, cross-training, is on the rise.
Why? For much of the 20th century, police and fire departments have been a low-cost, high labor operation. But there has been a shift as pay and benefits for public safety continues to grow. In smaller jurisdictions especially, the cost of running separate police and fire departments with large workforces has become challenging to sustain.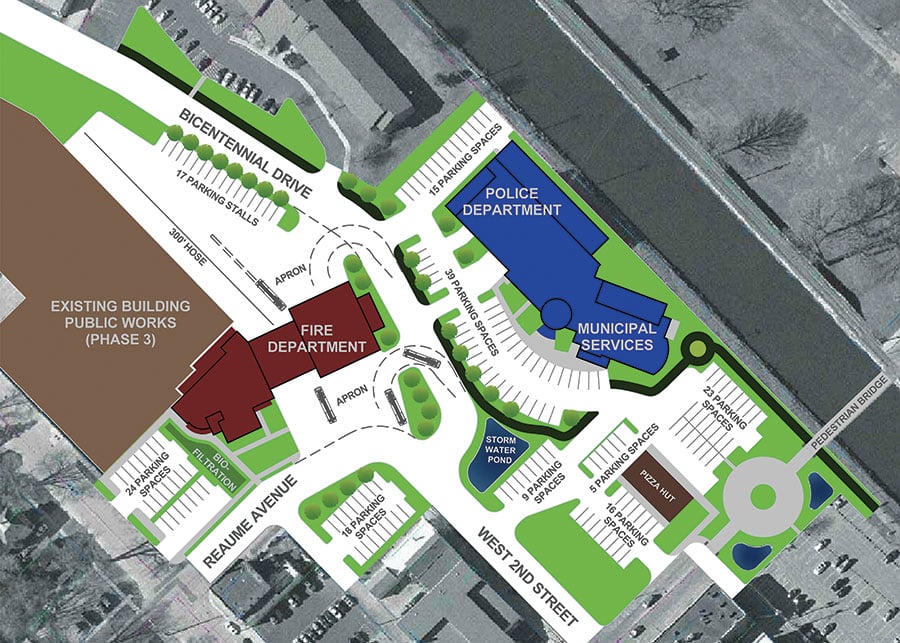 8. Performance-forward fire station design
Fire stations in the 21st century hinge on how well the building design enables staff to train, perform at their peak and get emergency responders to the scene as quickly as possible.
As a result and for example, the majority of designs today are single-story (when site constraints allow), featuring clear paths to apparatus bays and four-fold side-motion doors. Four-Fold doors clear the opening at an average speed of 24 inches per second, compared to conventional overhead and coiling doors which operate between 8-12 inches per second.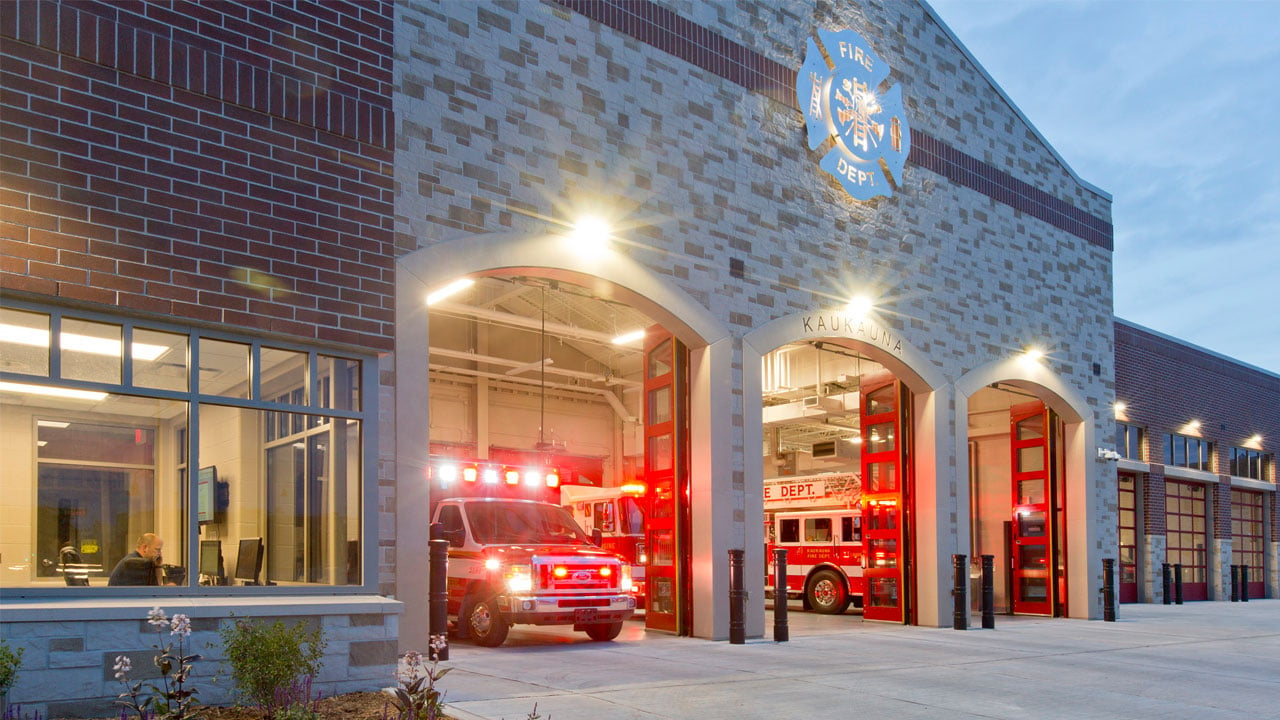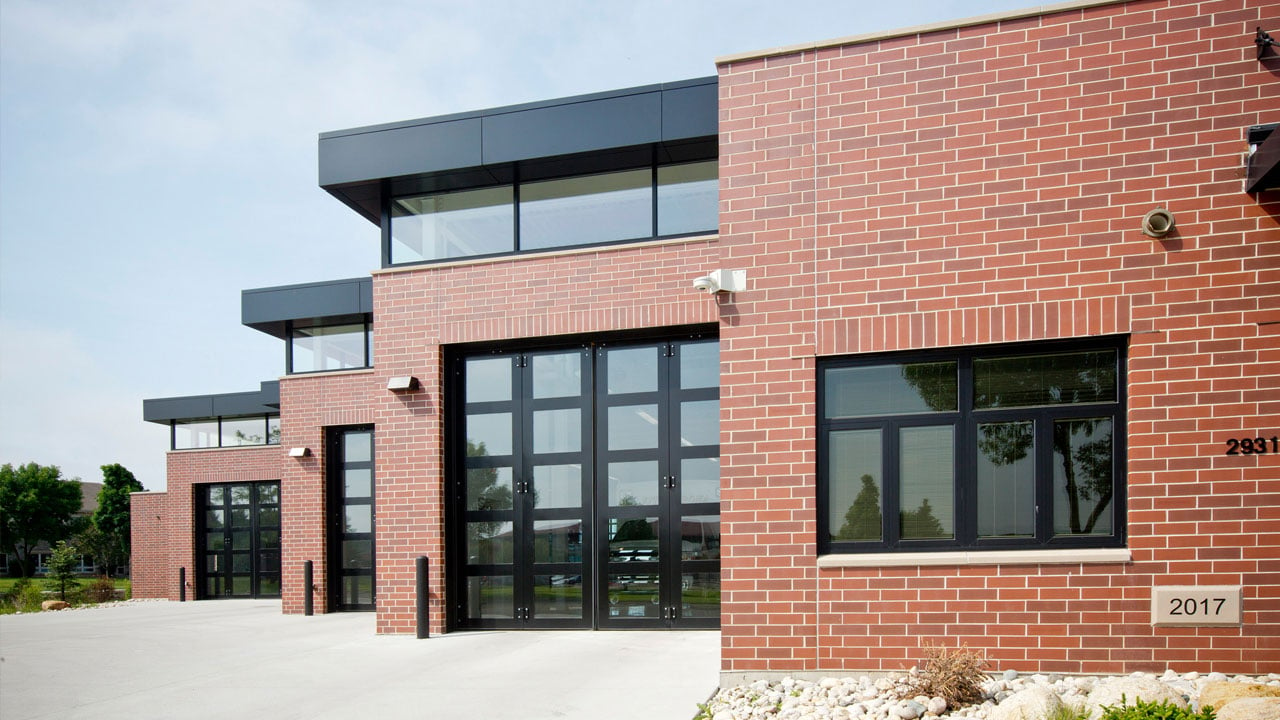 9. Focus on community and community education
In addition to serving the community through performance-forward designs, modern fire departments are recognizing the opportunity to play a larger role in the community.
At the updated fire station in Kersey, Colorado (a town of just 1,500), the department strengthened its connection to the surrounding community by building into its fire station an 80-person community room complete with full kitchen, restroom facilities, AV system, as well as tables and chairs where citizens host community events like birthday parties, baby showers and family reunions.
In addition to serving as a meeting room, training room and rentable public space, this room has also become Kersey's town hall.
Similarly, community education is playing an important role in gaining public and local stakeholder buy-in – especially with fire departments needing to prove the "why" behind building new stations. There's many things the general public doesn't know about not only fire services but emergency responders as a whole. For example, 70 percent of the 1.1 million firefighters in the U.S. selflessly serve our communities on a volunteer basis. They also contribute millions of community service hours educating the public, schools and local businesses on fire prevention.
Intentional community education about fire services, in addition to various design concepts, budget needs and limitations, the growing diversity of the workforce and everything in between are playing critical roles in garnering support (and appreciation) for local fire stations and their futures.
About the authors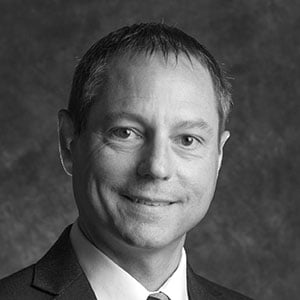 Trevor Frank, AIA, LEED, AP®, PMP, NCARB* is a company Principal, Senior Architect, renovation specialist and facilities visionary. Trevor volunteers his time to work with public safety officials across the Midwest, and has designed a number of award-winning public safety, library, city hall and fire station facilities. Contact Trevor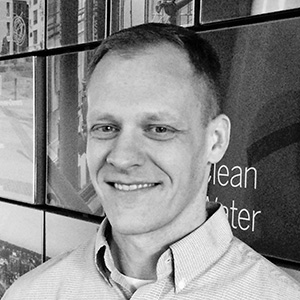 Brian Bergstrom, AIA, NCARB** is a senior architect and SEH principal with 20+ years of experience in architectural-related work. He strives to develop creative and innovative design solutions that meet the needs of the communities and clients he serves. Brian has led project teams on large-scale building renovations and construction of various building types – including fire stations, libraries, city halls, recreational facilities and maintenance buildings. Contact Brian