Cost efficiency is critical, but prioritizing engineering cost alone when making major project decisions can increase your expenses and limit the value you receive.
The engineering "sweet spot" lowers overall costs while simultaneously improving project quality. Here's how you can find it.
How the engineering sweet spot lowers total cost, improves quality
There is a point of diminishing returns (i.e., unnecessary costs) if you spend too much on engineering. Conversely, rushed or a lack of strategic engineering can lead to poorly planned and inadequately designed projects – leading to a higher number of change orders, inaccurate construction contractor bids, as well as higher construction and maintenance costs.
Digging deeper, though this percentage varies depending on a number of factors, the cost of engineering for a typical project is often just 10-20 percent of your total project costs when factoring in both engineering and construction. When you add lifecycle maintenance to the equation, the cost of engineering services for a typical project is even less at 1-2 percent of total project costs.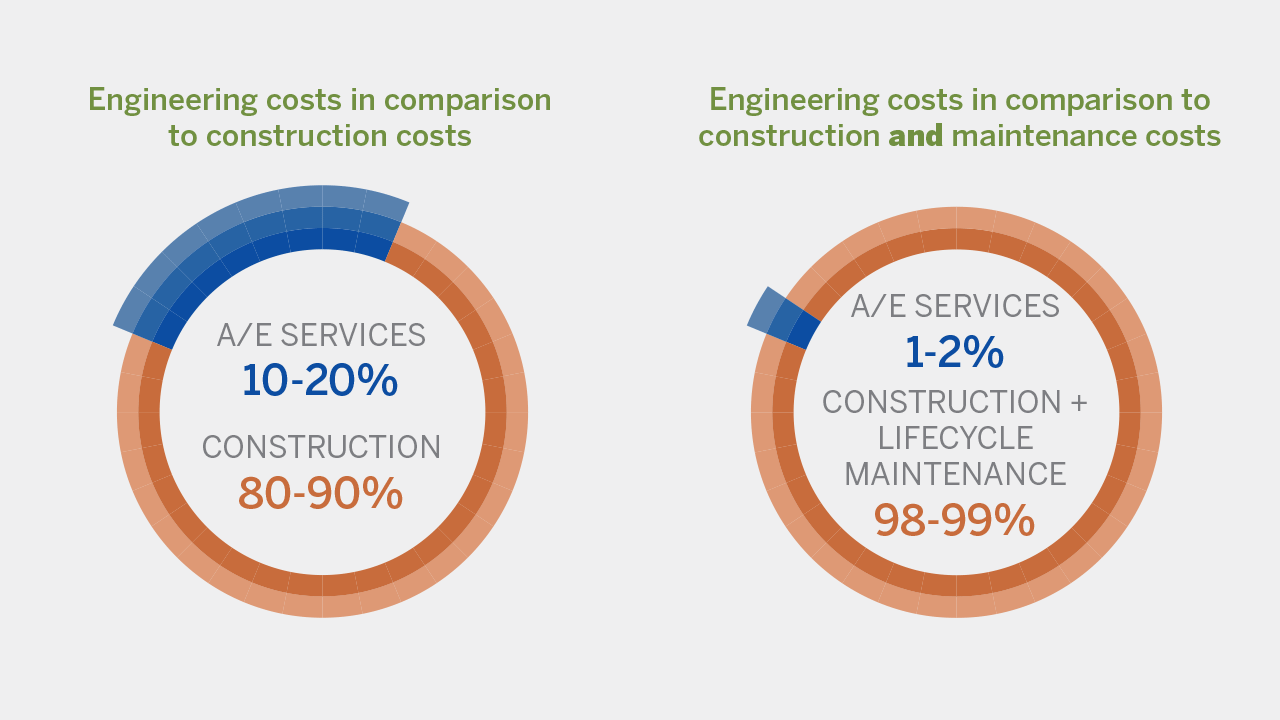 Despite the low cost impact, the strategic impact of engineering is far reaching because it influences nearly every aspect of your projects:
Budget
Schedule
Site selection
Permitting
Design alternatives
Aesthetics
Operating costs
Maintenance needs and costs
Community outreach
Stakeholder buy-in
While engineering represents a fraction of total project costs, investing the right amount in this phase can result in long-term savings and greater return. Finding the engineering sweet spot can lower your construction and maintenance costs, lower total cost, and provide you with the best possible value for your dollars.
With every project there is a direct relationship between total cost, construction and maintenance costs, and engineering costs. As shown in the illustration below, they shift together depending on your investment. Not enough engineering can dramatically increase the lifecycle costs of your project; too much can also increase costs. Strategically balancing engineering, construction and maintenance costs collectively ensures your total project cost lands in the sweet spot – that is, the greatest value.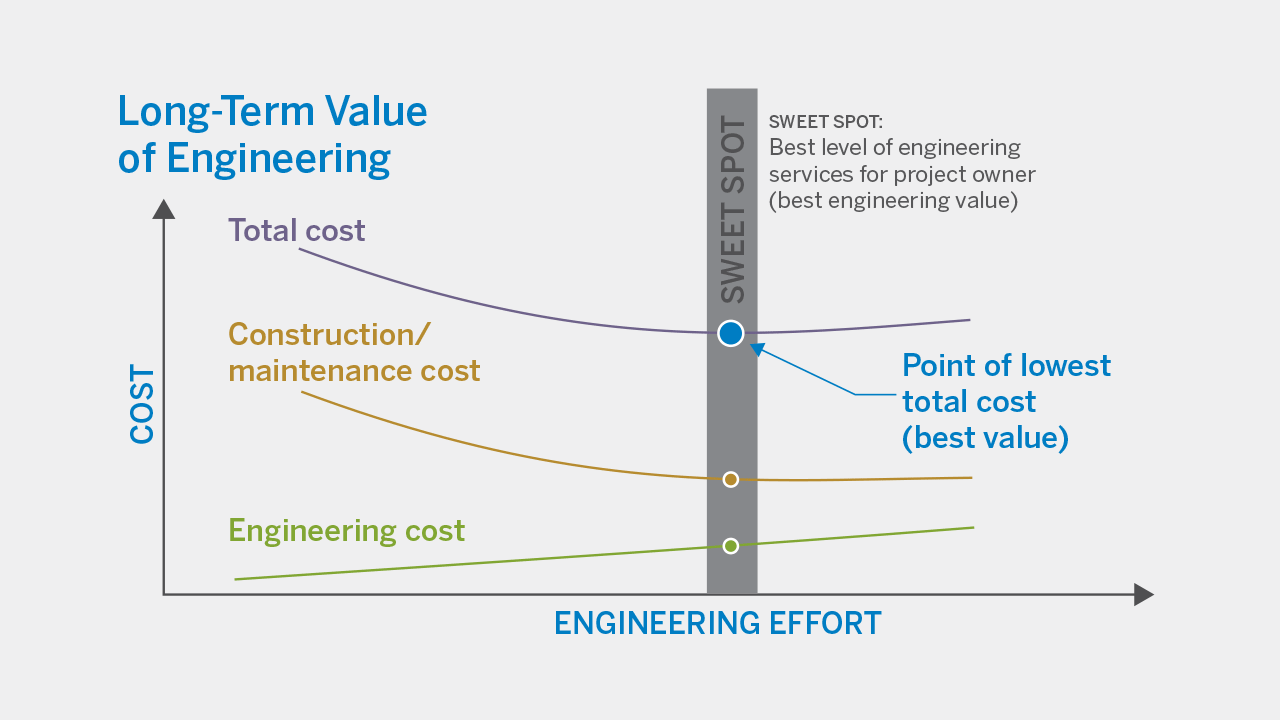 How quality-based selection helps uncover the cost vs. quality sweet spot
Cost is often the first thing project owners look at when soliciting proposals for engineering services and making project hiring decisions. It's understandable why this is so as return on investment (ROI), financial viability and the economic health of your community are top priorities. However, focusing on cost over quality can also lead to less value:
Higher operations and maintenance costs (therefore higher total project costs)
Rushed, sub-par or too much infrastructure
A consultant partner who cares only about the project at hand rather than your long-term goals
Because of this, quality-based selection (QBS) is the selection process of choice for many project owners. It's being used to uncover the engineering cost sweet spot. QBS is the practice of selecting consultants based on their competency, qualifications and experience rather than price factors. Once the QBS process is complete, only then do price negotiations commence.
Speaking as a former public works director, quality-based selection doesn't lead to higher expenses; in fact, it secures objectivity and fair competition, and removes the possibility of low-ball, impractical proposals.
– Dave Hutton, former director of public works/city engineer, SEH project manager
3 proven benefits of quality-based selection
1) QBS protects your budget
A well designed project and qualified team will keep things on schedule and budget. This also ensures fewer change orders during design and construction, and reduces maintenance. In fact, research by the University of Colorado and Georgia Tech found that QBS lowers construction costs and makes it more likely for schedules to be met.
2) QBS creates fully defined, aligned project scopes
QBS gives you the ability to fully craft and define your project scope during the selection process or in partnership with the selected engineering consultant. This process creates an aligned, cost-efficient partnership from day one which limits change orders, ensures quality infrastructure and activates accountability.
3) QBS supports public health and safety
Engineers design our highways and bridges, our water treatment systems, and the public service and safety buildings that serve our communities, to name just a few – meaning design services directly impact the health and safety of the public. QBS ensures these systems are delivered at the highest possible quality.
Brief overview: the quality-based selection process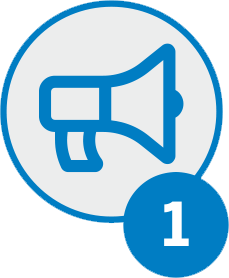 Project owner announces need for engineering services and invites interested firms to submit qualifications (e.g., team, experience and expertise). The proposed project budget or capital improvement plan budget is often shared with competing firms.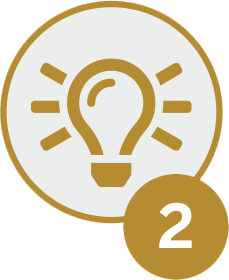 Shortlist of 2-3 firms is developed. Interviews are often conducted to discuss each firm's qualifications, philosophies, experience and overall approach to the project.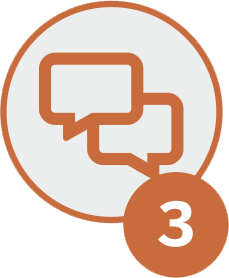 Project owner ranks each engineering consultant based on quality. The top-ranked firm is invited to negotiate a formal agreement – including discussion of owner's concepts and goals, alternatives, specific scope of work and compensation. Here, the owner has the opportunity to carefully evaluate cost proposal.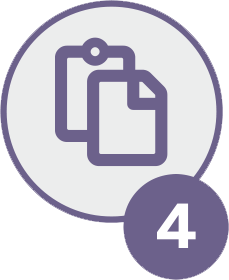 Project owner is free to terminate negotiations if they're unsatisfied with approach or price. If unsatisfied, the owner can elect to move on to the next most qualified engineering consultant.
Take action: use quality-based selection to develop a trusted "pool"
Many municipalities and private project owners use QBS to develop a trusted, qualified pool of engineering consultants to hire and go back to for future projects. With this pool, project owners are confident in the quality they'll receive; they can freely assign projects based on specialty; and they know with certainty they're receiving value for their dollars. Fee negotiations take place, but the process is seamless given the trusted relationships in place.
For example, City X has bridge renovation, water tower inspection and fire station re-design projects on the horizon. The City can select the best suited firm from their pool for each project; procuring the consultant with more water engineering experience to undertake the tower inspection while assigning the fire station design to a dedicated architecture team with relevant experience.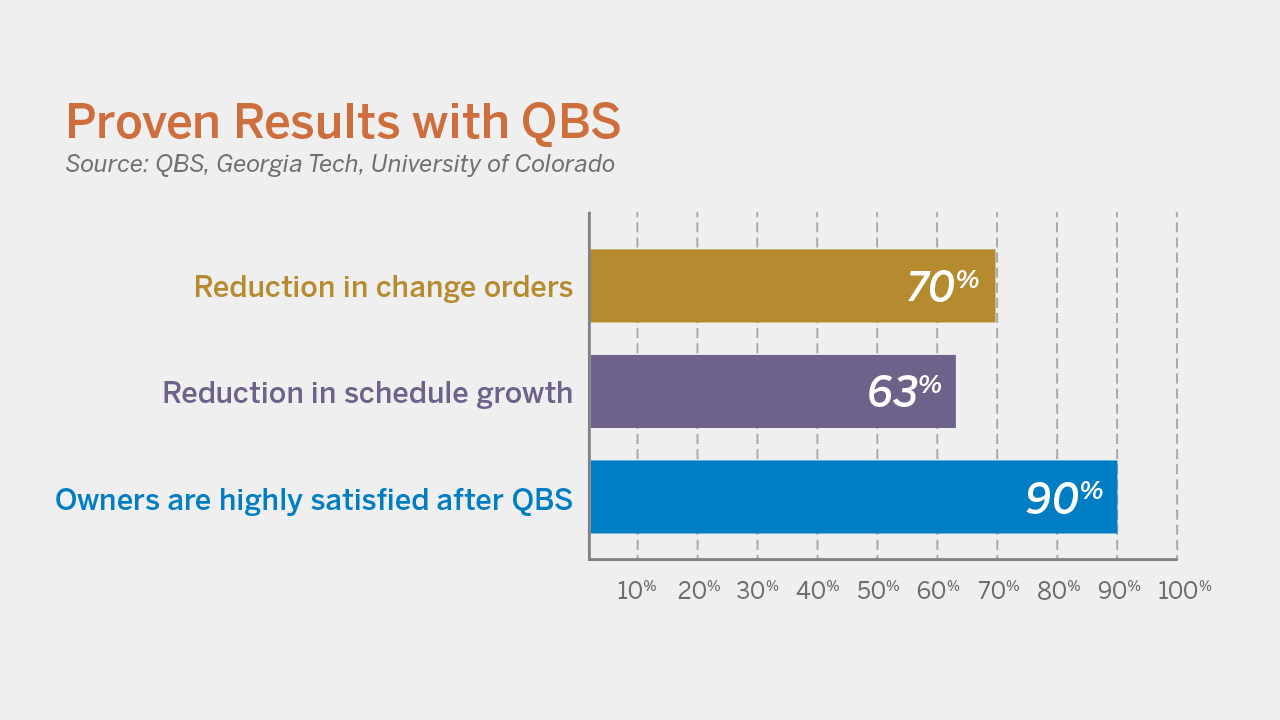 The City is able to skip the time-consuming, expensive effort of developing and releasing a full request for proposal – along with evaluation, vetting, interviews and selection – because they have done the work to create a group to confidently choose from. Once the City selects its team, they can collaborate to determine the precise scope of work. Above all, the City knows it's paying for and receiving the best value before signing any contracts.
For example, Florida relies on QBS while in Maryland price is "the dominant selection factor." As a result, according to a comprehensive study by The American Institute of Architects, Maryland's engineering project selection process is "significantly more time consuming and expensive than Florida's."
QBS lays the foundation for higher quality and lower costs, and removes all fear of receiving low-ball or impossible to deliver on offers. Once you have a pool of consultants to select from, each specializing in a specific area, your return maximizes tenfold.
– Dave Hutton, former director of public works/city engineer, SEH project manager
5 FAQs surrounding quality-based selection
1. Why shouldn't we bid engineering services similar to construction contracts?
Consultants take a project owner's idea and create its definition. This demands high quality to ensure it's done right or all other phases can fall apart. Construction contractors then take this "definition" and build it. As a result, bidding and selecting a construction contractor differs greatly from selecting an engineering consultant for design. With a precise set of plans and specifications from the consultant, you can confidently award construction contracts to the lowest (most responsible) bidder because all major aspects of the project have been developed – including type and amount of materials needed.
2. Why isn't price a factor in the QBS process?
Cost discussions cannot be meaningful until the project owner and consultant understand in detail what services and solutions are needed. By focusing first on qualifications, project owners are certain the selected consultant has the technical capabilities, experience and judgment to turn their vision into reality. Trust is also established, leading to fair cost negotiations and the best possible value.
3. Does QBS promise fewer project challenges?
Studies by the Government Finance Officers Association, American Council of Engineering Companies (ACEC), Georgia Tech and University of Colorado, among others, have shown that projects completed using QBS have shorter schedules and fewer change orders. Fewer change orders keeps your budget a priority and ensures the lowest cost. QBS followed by cost negotiations creates a transparent relationship between you and the consultant from day one.
4. Does QBS increase total project costs?
Negotiated design fees are usually 1-2 percent of a project's total lifecycle costs. Yet, the time spent uncovering the best solution for your project has a dramatic impact on long-term operations and maintenance. QBS places you and the selected consultant on the same page regarding budget, schedule and goals. You then have full power to negotiate a contract you're confident in. This limits your costs and lays the groundwork for higher ROI through the life of your project.
5. How can we know for certain we're getting a fair price?
You need to have detailed discussions around your project scope and expectations. This will enable the selected engineering consultant to develop the most accurate professional services budget. From here, you can compare the consultant's proposed budget to budgets from successful past projects to ensure you're getting the fairest price. Once trust is established with your consultant, or the well of consultants you rely on, cost remains a priority but never at the expense of quality.
This and more can be found in our latest eBook, How Much Should You Pay for Engineering Services? In this eBook, I and others with consultant and client experience share tips to help you answer this ever-pressing question. We also share cost proposal warning signs, how to ensure promises of value-added services are delivered, and the key factor in cost increases and uncertainties.
About the Expert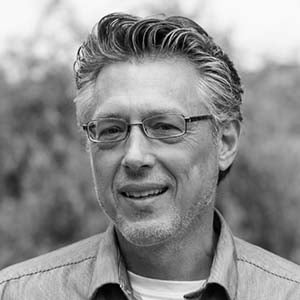 Dave Simons, PE*, leads the SEH Civil Engineering practice in Wisconsin, Illinois and Indiana. He's an SEH principal, member of the Board of Directors and has been with the company for over 30 years, bringing deep experience to a wide variety of civil engineering projects. Contact Dave