U.S. water infrastructure has reached a watershed moment. Change is happening. Historic funding is available through the Infrastructure Investment and Jobs Act (IIJA). Yet, much work needs to be done to overcome the aging and at-risk infrastructure in our communities.
From emerging contaminants like per- and polyfluoroalkyl substances (PFAS) to climate resilience and population migration away from cities, 4 trends are re-shaping water, wastewater and stormwater projects. Below, we spotlight each trend in-depth, how they will impact your projects and the steps you can take to ensure your infrastructure is performing at a high level.
1. U.S. Water Infrastructure Earns D+ Grade
Every four years, the American Society of Civil Engineers (ASCE) releases its Infrastructure Report Card. In 2021, U.S. infrastructure received a C- grade. This is the first time our country's infrastructure as a whole has been above a D since the turn of the century. The collective progress is encouraging, but an important subset of our nation's infrastructure – water infrastructure – still falls in the D+ range.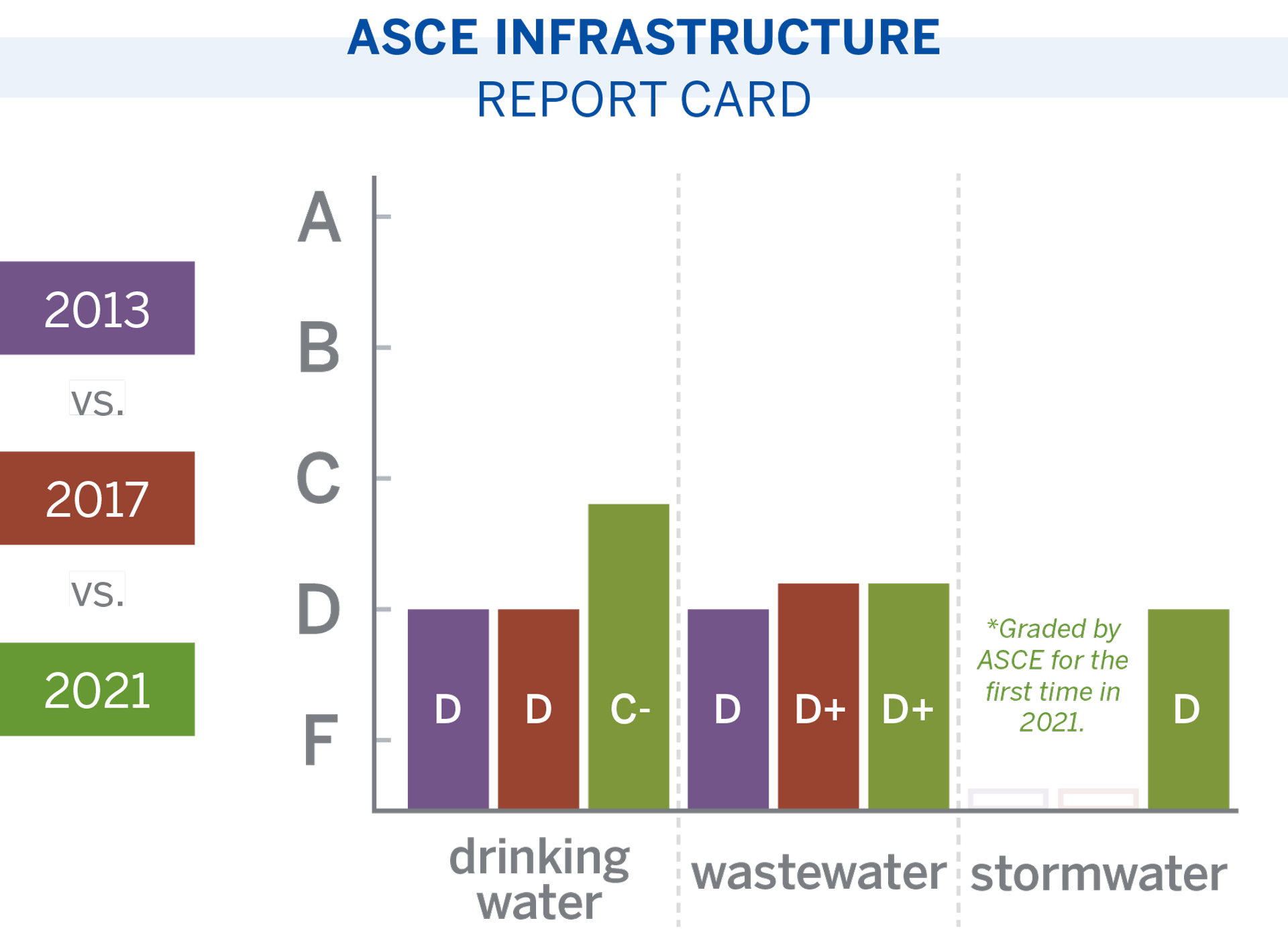 Why the D+ average?
Aging water and wastewater pipes and facilities that are nearing or past capacity
Lagging operations and maintenance procedures, plans
Expansive migration from metro areas to suburbs where water infrastructure is not yet equipped to handle an influx of residents and businesses
Funding challenges; confusion around how to secure what's available
Ever-evolving, complex regulations

How will this impact your projects?
According to ASCE, our nation's 16,000+ wastewater treatment plants are functioning at an average of 81% capacity. Fifteen percent (nearly 2,500) have reached or exceeded capacity.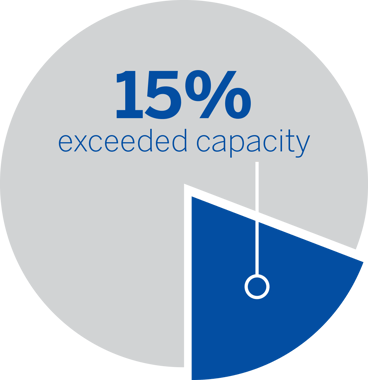 In addition to aging infrastructure, drinking water utilities are having to keep up with rapidly changing regulations specific to emerging contaminants like PFAS, lead and other chemicals.
Stormwater performance has declined due to an expanding funding gap, complicated ownership structures, stringent water quality regulations and climate projections.
Our nation's water infrastructure – wastewater, drinking water and stormwater – is in critical need of investment to support today's demands and set communities up to succeed for the next several decades. Projects need to move forward, but they need to be strategic with long-term plans in mind.

Steps you can take
Identify. Evaluate the state of your infrastructure. Our 7 Signs Your Wastewater Facility Needs a Condition Assessment article and the accompanying video share proactive ways to uncover whether your wastewater and other similar water infrastructure systems are in need.
Align. Align all water infrastructure efforts with your strategic goals.
Plan. Build water infrastructure needs into your comprehensive, master, floodplain management and other long-term plans.
"Positive change starts by gaining a clear understanding of your infrastructure. Identify problems and plan for timely fixes, but make sure they align with your long-term goals and plans."
–Susan Danzl, PE (CA, CO, IA, MN, VA), Wastewater Market Lead
---
Related: 4 Components Your Comprehensive Plan Needs to be Successful
---
2. Capital Funding Gap Continues to Expand
In 2020, the cost of the capital investment required – federal, state and locally – to maintain and upgrade U.S. drinking water and wastewater treatment systems was roughly $126 billion. Just 33% of this was funded, creating a capital funding gap of nearly $85 billion. The Environmental Protection Agency (EPA) believes this will expand to more than $140 billion by 2040.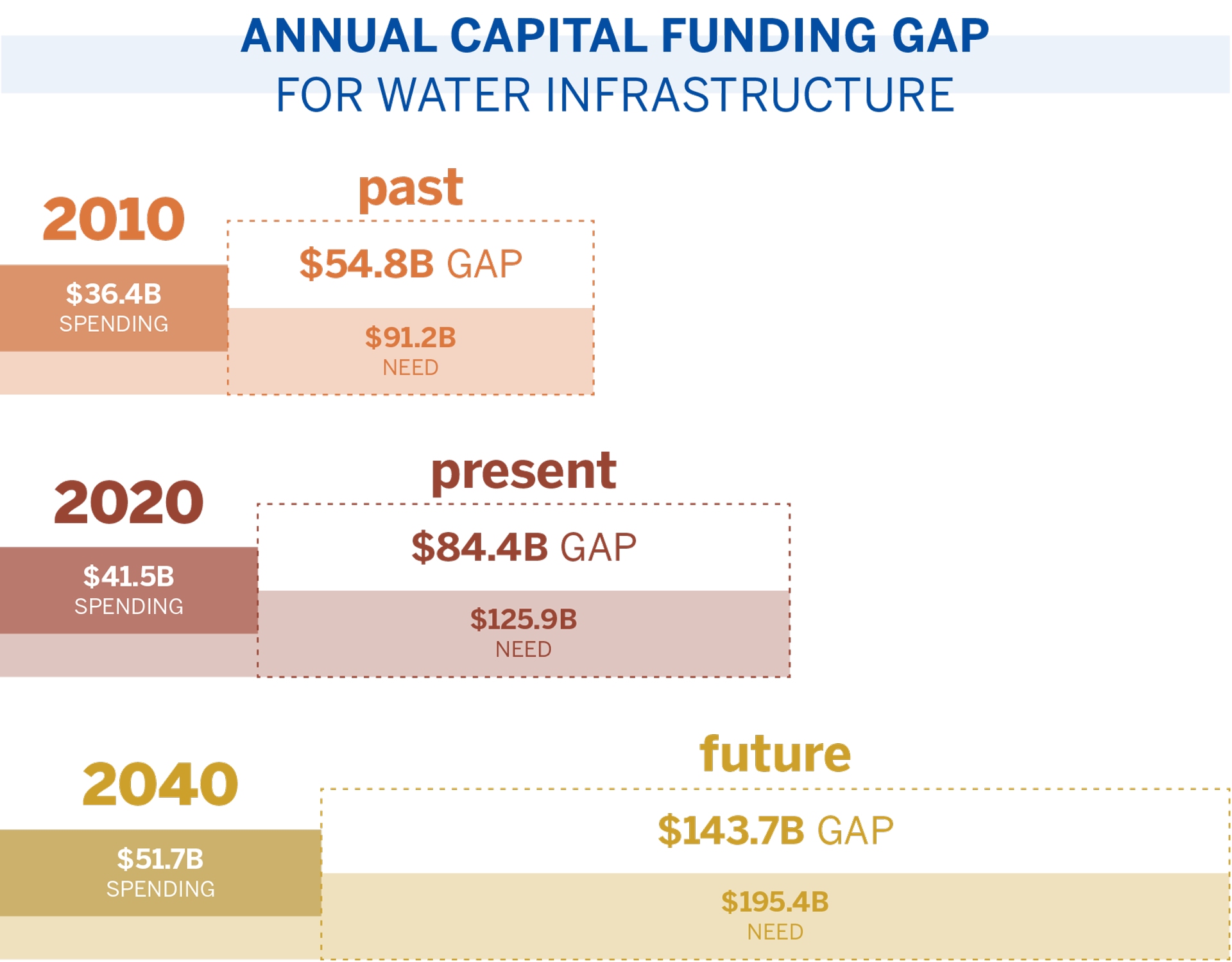 How will this impact your projects?
If the gap continues to expand, your ability to make strategic decisions will be limited and the industry's cycle of short-term fixes will perpetuate. Monitor funding sources closely, like the IIJA, to keep tabs on new funding eligibility and timing.
Most importantly, gain a clear understanding of the state of your infrastructure – that is, what you have, precisely what you need and your next steps – so that you can secure your fair share of funding then use it wisely.

Steps you can take
Identify funding options. Be vigilant in uncovering your funding options and reach out to local and state representatives to let them know your project needs. The IIJA is an infusion of $55 billion in federal funding to municipal and state budgets – a transformative shift in the funds available to improve our nation's water infrastructure.
The IIJA funds a range of projects through two primary programs, both overseen by the EPA:
Explore bond opportunities. Look closely at the projects identified in your capital improvement plan (CIP) and determine if you may have any bond-worthy projects. Many states issue bonds – such as direct payment bonds and tax-exempt bonds – for major infrastructure projects that impact people and/or the economy.
Examine consultant experience. When partnering with a consultant, explore their experience finding federal, state and local funding opportunities, securing grants and understanding regulations. You're more equipped to benefit from timely funding opportunities and leverage funding sources with matching dollars if you and your partners fully understand your infrastructure needs and potential solutions.
In need of help uncovering your funding options? Spend two minutes with SEH's FundStart™ tool and receive free guidance from one of our funding specialists.
3. Population migration from cities to suburbs
Many individuals and families in the U.S. are migrating from larger cities to smaller suburbs and non-metropolitan areas, seeking more green space, open air, parks and trails. In fact, major metro areas experienced significant population loss in 2020 and 2021.
According to the U.S. Census Bureau, this is the first time these areas recorded negative annual growth since 1990. Conversely, growth rates in smaller metropolitan areas climbed, while non-metropolitan counties experienced their highest annual growth rate in over a decade.

How will this impact your projects?
Many communities are approaching capacity and need to increase their infrastructure's ability to meet new growth demands. With limited time and money, and unless strategic plans are in place, communities are having to make tough decisions on how to spend their money – clean water or safe roads, more affordable housing developments or a new park, among other investments.

Steps you can take
Note the trends. Look closely at the recent past, present and expected growth trends in your community.
Plan for the long term. Use these trends to ensure the plans and projects you're developing meet the needs of today but also help your community thrive long term.
"The American Water Works Association reports that U.S. water systems need $1 trillion in improvements over the next 25 years. With 90-95% of spending on public water infrastructure coming from the local level, the urgency to be strategic and proactive with your project decisions cannot be overstated."
–Susan Danzl, PE (CA, CO, IA, MN, VA), Wastewater Market Lead
4. Emerging contaminants (e.g., PFAS) and evolving regulations
Chemicals not previously detected, or chemicals found in far lesser concentrations, are sometimes discovered in a community's water supply. These are known as "contaminants of emerging concern" or simply emerging contaminants.
Emerging contaminants are a priority because they pose significant risk to public and environmental health. However, the risk is not yet fully understood. Federal agencies are investing heavily in research and how to improve the methods used to test, measure and identify removal technologies. In fact, $10 billion from the IIJA is earmarked for emerging contaminants.
PFAS are at the top of the list of chemicals of emerging concern.

How will this impact your projects?
There are many ways PFAS can penetrate a community's drinking water or impact aquatic life by contaminating lakes, rivers and streams. One way is when PFAS-containing products are spilled onto the ground. PFAS can move through the ground, getting into groundwater that may supply drinking water. PFAS can also enter surface waters through wastewater treatment plants and can be released into the air where they are taken up by rain or snow, ending up in rivers and lakes.
PFAS have been found in all 50 states, and the CDC reports PFAS are in the blood streams of 97% of the U.S. population. This exposure is leading to more testing, new monitoring plans and policies, and other timely efforts that will provide communities with critical guidance. Monitoring, and in some cases treatment, will likely be required by state law. Yet, many questions remain about methods, timing and who is responsible.

Steps you can take
Research your state. Research applicable state agencies to learn about upcoming plans and policies. One example, the Minnesota Pollution Control Agency issued a PFAS 101 report that shares important water quality criteria requirements for local communities.
Join a statewide membership organization. Membership with organizations like the Virginia Municipal Drinking Water Association or the Association of Missouri Clean Water Agencies gives you access to key resources, news and regulation alerts, and information-sharing events.
Research nationally. In addition to state-specific reports, the EPA's PFAS Strategic Roadmap: EPA's Commitment to Action 2021-2024 lays out advisory level guidance for all industries, timelines (e.g., enforceable drinking water regulations expected by the end of 2023) and where you can begin.
Plan and design ahead. Start planning and designing your community to be prepared for and equipped to navigate PFAS. When designing a new water treatment plant, consider leaving space for a potential addition should PFAS be found and removal processes needed. Make sure new water supply wells are upstream from potentially contaminated sources like industrial waste sites, Superfund sites, wastewater treatment plants and land-applied biosolids. Look closely at the aqueous film-forming foams (AFFFs) used by your emergency response teams as well as other PFAS-containing products your community may be using.
"Invest in gaining an understanding of PFAS and what your levels are, but most importantly do not panic or react too quickly. Guidance and regulations will arrive in time; with these in hand you can make the most strategic decisions about your infrastructure."
–Susan Danzl, PE (CA, CO, IA, MN, VA), Wastewater Market Lead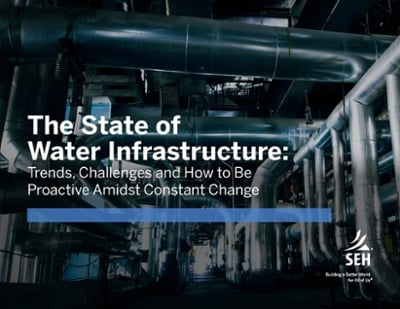 The State of Water Infrastructure – Trends, Challenges and How to Be Proactive Amidst Constant Change
The trends above offer a glimpse of our State of Water Infrastructure eBook, which includes 4 additional trends, 7 signs your infrastructure is close to a break down, 6 keys to flood resiliency, 4 steps to sound water utility finances and more.
About the Expert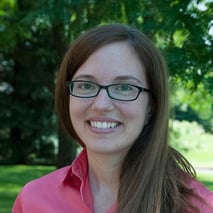 Susan Danzl, PE*, is SEH's wastewater market lead and a trusted resource to her clients – partnering with communities, facilities and operating staff to guide them through all kinds of wastewater challenges, questions and regulations. Passionate about water quality and providing better service day after day, Susan is a member of the Water Environment Federation, Central States Water Environment Association and Minnesota Wastewater Operators Association.